As Fall (my favorite season) fast approaches and the new fashion and beauty trends hit the runway (and the malls) here is a trend that I bet we don't often stop to think about.  As women in our 30s get caught up in the hustle and bustle of life, with our careers and loved ones often taking precedent over our health, it often becomes easy to look beautiful on the outside but neglect making sure we feel beautiful on the inside.
As a member of the 30 & over crowd, if you are anything like me, you had a blast in your 20s (especially in college), we sported the latest trends in clothes, hairstyles, and makeup with ease and now that we are 30-something, all that fun we had is now catching up with us. We can't fit some of our clothes, we are not eating right, we can't drink and party like we used to, and we can't live on the edge without realizing that we have responsibilities like a professional career, a family, car and mortgage payments, and just plain struggling to keep our busy lives organized. We are getting aches and pains in places we never knew existed, we find that we get winded from the simplest of tasks  like walking up stairs or lifting things.  And while this is all normal in the aging process, as we do grow older, our 30s is probably a good time to start taking an assessment of what we need to do to survive the next decade of our lives. So, before we head off to pick up all of the latest bargains at the local department stores, boutiques, and online specials, here are a few tidbits to work into our daily routine that might help us reinvigorate our energy levels.
According to Fitness Magazine (www.fitnessmagazine.com) the 30 & over crowd should try to choose a food regimen that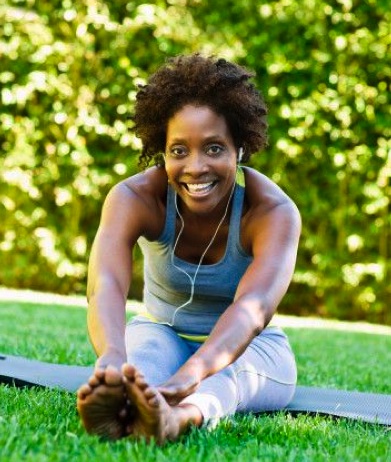 Exercise: Get It In!
will increase our energy level.  They suggest a "Diet To-Do List" that includes foods like sweet potatoes, red peppers, and almonds that help bolster our immunity and provide antioxidants.  Also, for those of us always on the go, we often skip meals. In our 30s, this is a no-no.  Fitness Magazine tells us to aim "Aim For Three Squares", meaning that dinner shouldn't be your first real meal of the day.  If we don't eat the right foods at breakfast and lunch, by the time the evening arrives  we can become somewhat irritable and not so great to be around.  We should make sure we build time into our schedules for three meals of 400-600 calories each with a 150-calorie snack in between. Fitness Magazine also recommends that we "Power Up Our Plate" by filling up on fruits, vegetables, legumes (beans), and whole grains which all may reduce our risk for diabetes, cancer, and heart disease.
In addition, as a result of the aging process, according to The Decade-By-Decade Guide For Exercise by Carol Mithers (for www.oprah.com), "Your basal metabolism drops by 1 to 2 percent every decade, and as lean muscle decreases and body fat increases, you don't need as many calories to sustain yourself." In our 30s, it is recommended that we practice: One hour of circuit training (cardio and resistance) 4x per week, plus at least one day of cardio for 45 to 60 minutes at a high intensity. And as in every good routine, take one day of rest.  According to everyone's favorite workout guru, Jillian Michaels, "Exercise is the number one activity for preventive medicine", (star of NBC's The Biggest Loser) "You won't see that big of a difference between ages 31 and 39 if you've been living a healthy lifestyle, but if so, you'll see a huge difference in muscle tone, weight, and shape."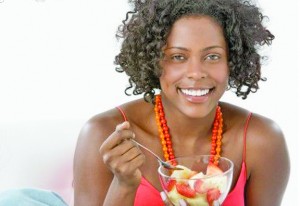 For someone like me, who loves to eat, the food tips seem fairly easy to follow and I have no problem following these rules (especially the snacking part LOL). But recently, I had to challenge my own eating and exercise habits and really stop to take an assessment of my energy levels, my food habits, aches and pains, and my lack of activity. I definitely don't get enough exercise and my body is telling on me big time. LOL. So in my effort to increase activity, I tried joining a gym last year right after the  holidays. That lasted for, oh, about a month. Then, I had a genius AHA! Moment! Why don't I just utilize the tools I have at home: my TV, my computer, my DVD player, and oh, my floor!  All of these things are free and don't require any monthly fees (unless you want to – there are some online exercise services that are available at nominal costs). Also, if you have extended cable, there is FIT TV (www.fittv.com), great channel with great 1/2 hour exercise shows and there are some great exercise DVDs out there, some cheap or free (try your local library).  To stretch my muscles I started doing Yoga and for core strength training, I do Pilates. Don't get it twisted, Yoga nor Pilates is easy but both do give you a good workout if you do them regularly (an area I need to work on) and they somehow stretch parts of your body that you never knew you had.  I could stand to work in some more cardio, and since I work on a college campus, my job allows for me to get some walking time in. I often have the opportunity to walk to meetings, to run errands, or to just take a stroll in order to wake me up when I start nodding off at my desk in the late afternoon, LOL.  In August 2011, I joined Weight Watchers Online (www.weightwatchers.com). My co-workers and I will often spontaneously breakout into song with the Jennifer Hudson theme song, "Feeling Good", as we all manage our day to day relationship with food and exercise.  I'm not being paid by WW or anything but it's a fun way to track what you are eating, even if you every so often go on a binge to your favorite fried food joint. LOL.
I have also been thinking heavily about my childhood eating habits and how my parents made (yes I said made) me eat my vegetables, how I was highly involved in sports and other activities, and the one conclusion and quote I came up with is: "In order to stay healthy we have to treat food like our mothers did; She made us eat balanced meals, sit down to eat, and it was homemade" – Why this has become so hard to remember is beyond me. I guess it's the way we multitask all around town, paying attention to everything else except our health.  It's time to change that.  So, as we move into the Fall Fashion season,  into what to wear and what not to wear, as we move into the busyness of Back To School with our kids and towards the busyness of the  holidays,  I challenge us all to remember the habits we were taught early on in life. And to Take Care Of Ourselves!
the 30 & over project
Follow me on Twitter: @ivywriter
Stay Tuned for a "30 & over project"  book coming in 2012!