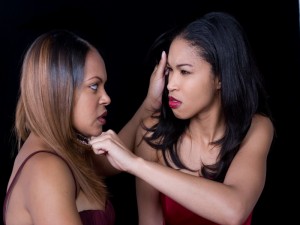 As a member of the 30 & over crowd, it often becomes difficult to navigate being a mature, single, educated, career minded Black woman when there are often very negative images in the media that tend to counteract that notion. As women in this age group, it often seems as if we have spend a large amount of our waking moments defending ourselves to our co-workers, to men, and to the public at large and trying to convince them that, although we can and will get you together, when necessary, we are not in "Angry Black Woman" mode 24 hours a day. Many of us lead "normal" lives as women as mothers, friends, daughters, sisters, and friends and rarely do we get into the types of confrontations that we see displayed so blatantly and irresponsibly on TV.
Recently, on Facebook, one of my FB friends started a conversation thread about the show Basketball Wives on VH1.  She was outraged at what she described as the "the most saddening, inexcusable, ridiculous showing of Womanhood ever shown on national TV" and sent out a solemn plea to viewers of all races to "please don't think that we (women of color) treat each other or act the way those women do".  
And while I've not spent alot of time watching Basketball Wives (I have interest in other types of reality shows like Project Runway, America's Next Top Model, The Next Food Network Star), my FB friend's comments got me to thinking and thusly struck a cord with several others and we ranted for much part of the day on this top, commenting on the deplorable behavior that gets passed as "friendship" between Black women.  Here are my thoughts on the topic:
(Basketball Wives) further exacerbates the notion that Black women don't get along. All women have some differences and disagreements, but all in all Black women are the backbone of the Black community and always/usually have each others' backs in time of need. Some of our girlfriends, sisters, cousins, aunts, etc. are some of the only true and consistent relationships that some women have so the only thing some reality shows do is make young girls think that all we care about is money, hair, clothes and men.
This is so not true. Do we want a man? Yes, Do we like getting our hair/nails done, clearly we do! And do we all want money?  Yes, we need it to survive in America, however, shows like Basketball Wives turn black women into caricatures. And they don't show an image of the Black women who are out here working for a living instead of sitting around thinking about how we are going to scheme on some man or on each other.
The very premise of "Basketball Wives" conjures up the idea of a woman who wants to live well off and doesn't want to work. Now, there is nothing wrong with actually being married (which I believe most of them are not) and there is nothing wrong with wanting a nice life with nice things, but the way in which some of these women (and let's not forget those damn Kardashians) go about getting it is dispicable and embarassing to those of us who are single out here living legal, sometimes may  struggling lives, maybe waiting on the right person to come along, if he does. It's also a disgrace to women like my mother and other women who have been married and in committed relationships for 40, 50, 60 years to the same man and who never in their lives dreamed of showing their a*s on TV acting a plum fool over some man and fighting their fellow women. Whatever happened to the "Claire Huxtables" of the world, the women who were discreet in their battles and would tell you off with as much class and dignity and offer you a glass of lemonade all in the same process, and you wouldn't even know what just happened. We need to teach our girls how to be Classy not so Sassy, because sassiness is getting us into trouble.
And the sad part is that they manufacture and edit the scenes so much that all we see is the drama for ratings. Between Basketball Wives and Toddlers & Tiaras our poor girls are jacked. Toddlers & Tiaras tells them they have to look like grown women before their time with big sprayed up hair, spray tans, bathing suits, and false teeth and have to compete to be called beautiful and on the flip side Basketball Wives tells them they have to act foolish in public and stab other women in the back to get the attention of a man. This is a very jacked up view of womanhood and many of us are sick of it!
And there are other shows like Love & Hip Hop (VH1) and The Real Housewives of Atlanta (Bravo), that also often provide a distorted view of Black women and our relationships. Love & Hip Hop, with rapper Jim Jones – whose girlfriend knows she shoulda left him long ago, but chose to embarass herself by asking his dumb a*s to marry him, on national TV, with his crazy a*s mother in the background hating on her the whole way through, is interesting. My theory is if a man can't be a man and say he loves you without me making you do it for him, then a women should peace out. Now, I had faith in The Real Housewives of Atlanta when it first premiered because I was tired of Bravo TV showing nothing but  white women living the good life in NYC, New Jersey, and California as if there aren't Black women living the same type of lives and who are  married. Unfortunately, the  "Housewives" theme of RHOA lasted for only about two seasons until all of a sudden everyone was damn near single. And once again, Nene Leakes, the loudest, most obnoxious "caricature" of all, became a superstar for being a hot mess! The few wives that were on the show, at the beginning, I guess  were too docile, and didn't provide enough drama.
All in all, the images of Black women in the media seems to have been highjacked by a few major networks and the responsibility of our image no longer lies at the feet of only BET.  No longer are the Big 3 networks (ABC, NBC, CBS) and others like Fox and the CW worried about portraying the role of the Black woman as that of mother, career oriented, and friend (The Cosby Show, My Wife And Kids, Girlfriends, Martin, Living Single, etc.). No, the image of Black women, on TV at least, has been left to that of the budget friendly reality television show format.  These shows have put us in a comical, dysfunctional caricature, that, if we don't nip it in the bud at home and in the schools, many of our young girls will aim to emulate these women and we will be left trying to combat their unrealistic goals of getting their 15-minutes of fame by any means necessary, including sex tapes, stripping, and putting themselves in positions that will cause them to abandon their womanhood and their history of being strong black women.
Kellea ( ivywriter@live.com)
the 30 & over project