Anyone who knows me, knows that the "Back To School" season is one of my favorite times of the year. One of my favorite fall rituals was going back to school clothes shopping with my parents and haggling with my mother over which clothes were necessary versus which ones were just cute (but not necessary), and having to parade around in the shoe store trying on "sensible" shoes while my dad checked the size of the shoe by pressing on my toe asking, "can you feel that?".  As embarassing as this ritual may have been, I  know that many of you have the same fond memories and I hope you are creating the same for your kids. Also, not only is it time for the kids to go back to school and college (I work in Higher Education), it's also a great time to take advantage of all of the school and office supplies that are on sale. Yes, for me, it's selfish, since I don't have children, it's definitely more about getting the good deals on cool matchy-matchy office stuff (yes, I'm hardcore like that – don't judge me!).
But besides the memories of buying school supplies and clothes,  those of us who are 30-something, probably have some other memories from our experiences in childhood and school that today's kids couldn't imagine.  Today, we live in such a fast paced, action packed, social media influenced world that didn't exist when many of us were in high school in the 1980s.  There were no cell phones, no internet, there was no texting (or sexting for that matter), no "googling" anyone or anything, no Tweeting, and no Facebooking. If you wanted to contact someone, guess what, you either had to pick up an old rotary dial phone (or push button if your family was advanced, LOL), or how about this, The Yellow Pages to look up addresses, phone numbers or to find a business. If you wanted to send a message, well, there were things called, paper, pens, letters and stamps (can you believe they are getting rid of cursive in the schools? – another story). And if you wanted to read, Aha! You had to go to this placed called a library and read something called a BOOK! Wow! What a concept. And forget about doing a research paper from the comfort of your couch; You had to go to the library (again), look up info on a card catalog (and if you were in a very nice library, they might have an electronic card catalog), find the book, and probably make copies of the pages you wanted and then, Aha! You actually had to type your paper, on maybe a typewriter and if you were lucky, a word processor (there were no laptops), and even with a word processor, there was no cut and paste, you actually had to THINK and CREATE sentences, and cite your work. I also remember when I got to college in the early 90s,  professors were very hesitant to let you cite an internet resource for a research paper (sounds crazy by today's standards right?).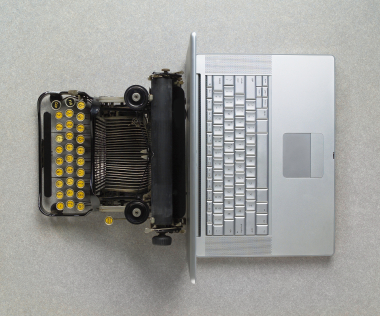 Fast forward to 2011.  My question to you, my 30 & Over friends, is:  What skill did you learn growing up in junior high or high school that you are glad you learned and how does it help you get along in today's fast paced world? What can you do with that particular skill that, even without all of this new technology and new media, it would still allow you to get along in life, do your job, and get along with people?
My answer to this question is:
Typing 65 words per minute – I took two years of typing class in High School and boy does it come in handy even when I'm texting. I refuse to get phones without a QWERTY keyboard and I despise touch screens, they cut down on my typing speed. LOL
The Joy of Reading – I love that my parents instilled in me the love of books and the love of reading. And while I'm all for new technology and I love new media and the internet, there is nothing like reading a real book. I will never let a "reader" take the place of a book in my life (and it just makes it easier to participate in a book club – LOL).
Writing Well – I will be forever grateful for the gift of writing and great communication skills. Not only is it good to be a great writer, but these skills are easily transferable into may work and social situations. One of my only issues with new technology and gadgets, etc. is the opportunity to create shortcuts. While shortcuts and abbreviations are great, they are only great if you know how to actually spell a word in the first place. In my daily work with students, I often see the results of these shortcuts in emails, research papers, essays, flyers, posters, messages on social media, etc. and the results are not pretty.  I believe that schools need to really focus on student writing  so that this technique of writing well doesn't become a lost art.
Human Relations – Even without the ability to stay connected with people on social media all day, everyday, I am grateful that I have the ability to be able to socialize and connect with people outside of all of that in face to face settings. Social media should be more of a tool in your life, rather than run your life. If I'm out with friends for dinner/drinks, I try not to let my phone and texts disturb the flow of conversation and comraderie that takes place.  My motto is, if someone calls, they  can leave a message, that's what voicemail is for.

I'm so grateful that I know what life was like before all of this new technology came along and I will be curious to know what will happen in a few years when this "technology driven lifestyle" is all that the kids of the future will know, a life full of stimulation. I often have to make myself sit down and relax or tear myself away from all of the "action" so that I can focus on being me.  I hope our kids are able to do the same.
I look forward to your feedback.
Kellea Tibbs
the 30 & Over project