by Guest Contributor Jezebel Lake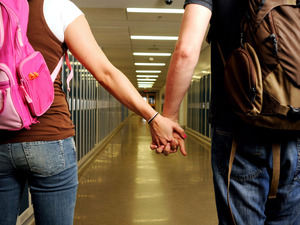 It can come as a bit of a surprise to you when your children are ready to start dating. You may feel as though they are too young, or that they will make harmful decisions. The truth is that no parent feels ready for their child to start dating, and if you are feeling a little nervous about the entire endeavor, it is only natural. Consider some of these tips when you are at a loss for dating advice for your teen.
Maintain Other Relationships
No healthy relationship forces someone to give up other relationships. Talk to your teen about the fact that though there are many romantic stories about two people becoming one, the truth is that a a healthy relationship thrives on the presence of other relationships. Tell them to be very wary of someone who wants to isolate them; this is predatory behavior, and it can mean some very bad things. Remind your child that their family and their friends should still be an important part of their lives
Open Door Policy
Tell your child that no matter what is going on in their relationship, they can talk about it with you. Some teens are apprehensive about bringing up things like sexual matters, social matters or abuse with their parents. Tell them that while you might be angry, you still want to help them solve their problems. This reassurance is very important as your teen will be navigating territories that they have no experience with.
Warning Signs
Teens who are embarking on their first relationship are often not aware of the signs of abuse. Tell your teen clearly that no one should touch them without their permission and that no one should ever try to bully them into something that they are not comfortable with. Explain things like indirect pressure, passive aggressive behavior and suicide threats. Some teens feel like they need to handle everything on their own, and this can lead to some harmful situations. Make sure that your teen is familiar with verbal abuse, physical abuse and sexual abuse, and that they can recognize when a situation is turning into a serious threat.
Safe Sex and Safer Sex
Talk to your teen about sex, and make sure that your teen is educated on STD and pregnancy prevention. Sex is a topic that will come up, and the more prepared your teen is, the better.
It is more than a little harrowing when your teen starts to date, but this can be a very happy time in their lives. They are growing up and becoming more independent. As a parent, one of the best things that you can do for them is to help them be prepared for anything that they might face.
Author Bio:
Jezebel Lake is a popular blogger that enjoys writing about dating and health. She is currently promoting http://www.datingwebsite.com.