By Chelsea Young
Tai Bowen, founder and creative director of White Flag Clothing, sat down with us here at Bronze to discuss her clothing brand and what we can expect from the spring campaign. Tai started the clothing line with a purpose of bringing luxury and quality clothing to the everyday consumers at a reasonable price. In a market where your options are either high fashion or fast fashion, White Flag brings you a median.
White Flag Clothing sends out a message of confidence and power to the men and women who wear it.
"We want you to create your own perception of yourself." Tai explained.
The brand also runs a retained therapy blog entitled "Safe Space" that discusses mental health, breast cancer, and other important issues.
"White Flag is not just a place for shopping, it's a place for a plethora of things."
Likewise, "A plethora of things " could be used to describe the range of clothing White Flag offers its customers. When Tai started the brand, she wanted to model it after the fluidity of her personal style. From boho, to sporty, to glam, to casual, Tai explained how her style changes depending on her mood. She made sure that White Flag would offer something for every genre of style.
This spectrum of styles is clear in the upcoming spring campaign entitled "Le Printemps Collection," set to drop June 9th.
"The spring campaign is unique because I threw in a piece of my signature series and sort of mashed it with my elevated pieces."
With every collection White Flag releases, Tai likes to connect it to previous collections. Since many of the pieces are never restocked, this gives customers the opportunity to buy something similar to a piece they loved or missed out on.
A few of Tai's favorite pieces from the upcoming line are a romper and dress that are a combo of casual and elevated, a few long satin gowns, floral dresses and bodysuits, and a new men's two-toned short set.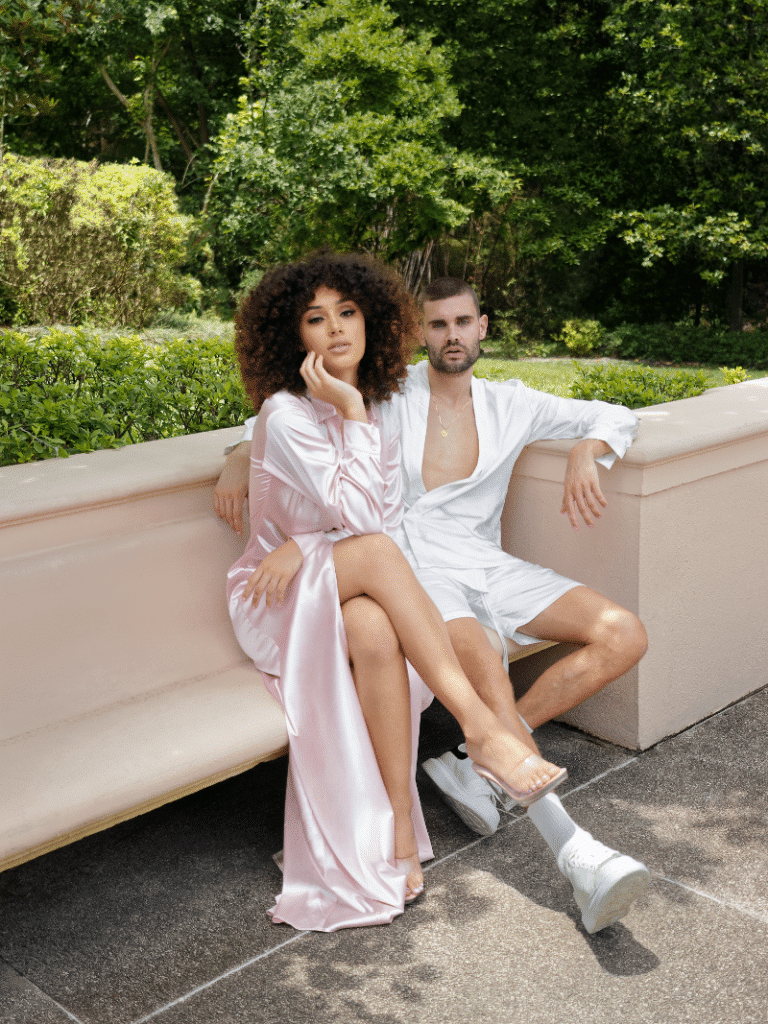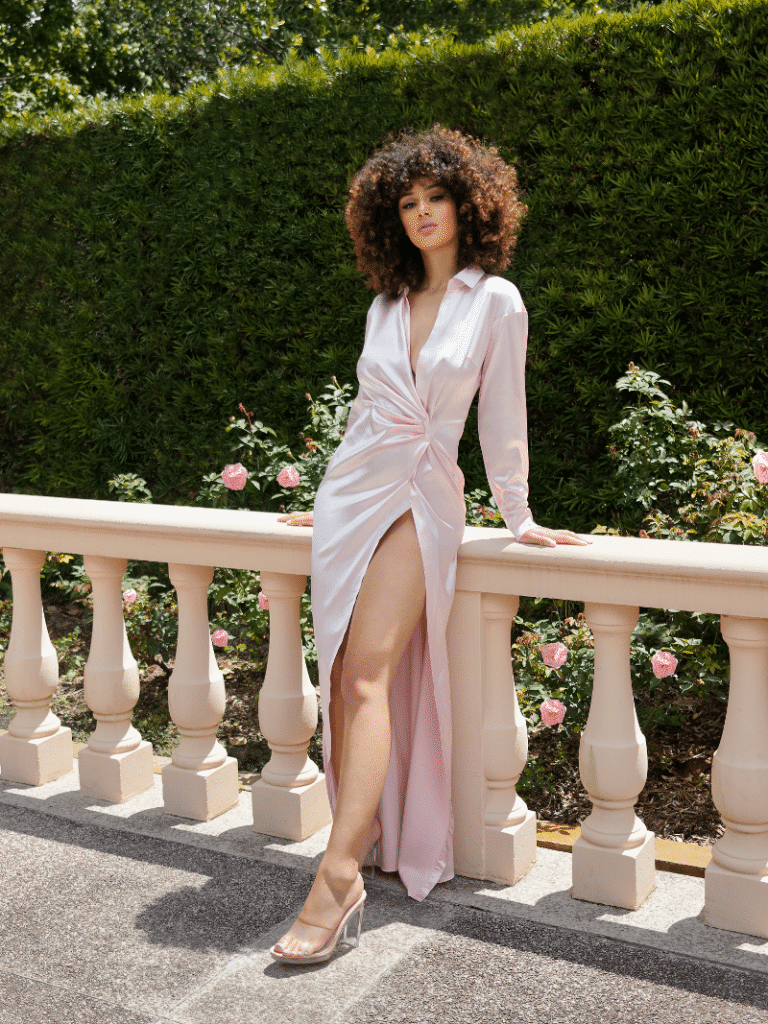 "The spring line really embodies what I mean by 'different style of clothing for each type of person," Tai stated. "I'm really looking forward to the client's feedback about new logos and the new things we're doing."
The most exciting part item in the Le Printemps Collection is the Charlotte dress. Pale pink, satin material, and floor length, this dress is for anyone and everyone, even women who are expecting.
Inspired by her personal life, Tai is using the Charlotte dress in her gender reveal photoshoot to announce to the world that she is having a girl!
"I love how I'm incorporating my company with me being pregnant," Tai shared "The dress also opens up White Flag to pregnant women and maternal clothing."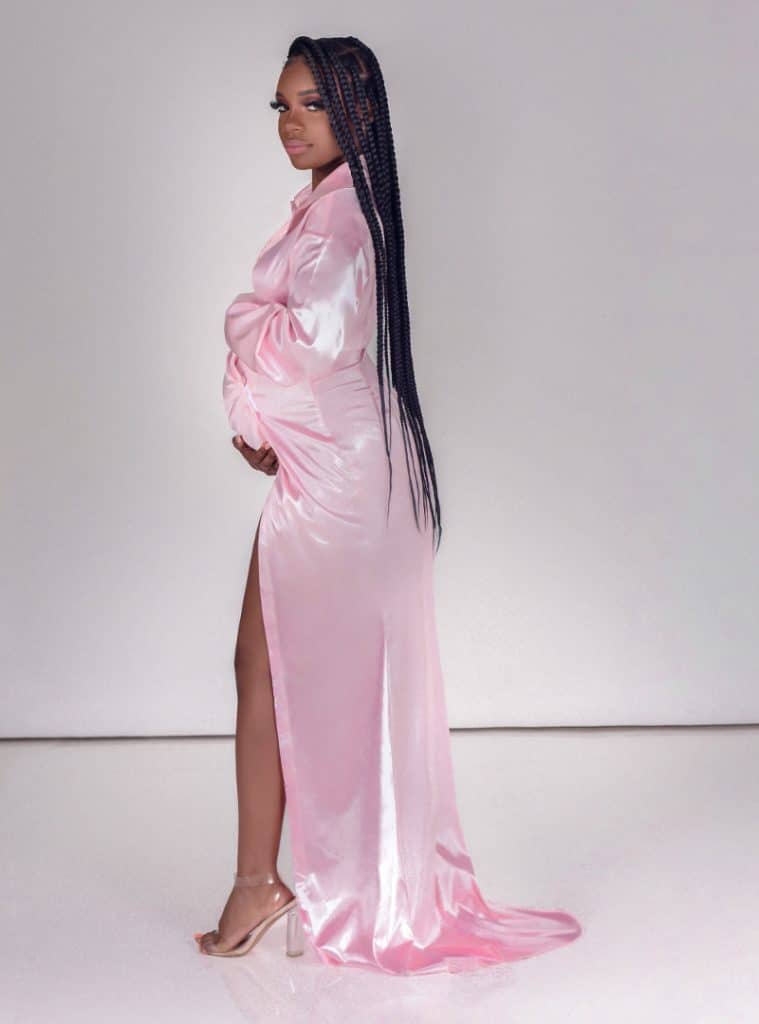 With the spring campaign so close to release, Tai also has a few summer and fall pieces in the making.
"I am so excited for my summer campaign and literally the rest of the year," Tai exclaimed.
Before the White Flag campaign, Tai likes to drop a signature collection. For the summer collection, White Flag will be releasing a collection of boxing sets for women in neon colors as well as new windbreaker shorts for men's essential wear.
A few upcoming summer pieces Tai mentioned are a lime green chiffon jumpsuit, lots of floral and bright colors, and a two-piece men's set inspired by their fall best-seller "cognac affair" that will come in teal with short sleeves.
As for fall, Tai is working on creating a unique and signature pattern for White Flag that should be ready to drop by the end of this year. The fall drop will also include the return of the sweatsuits that put White Flag on the map in an array of different colors.
To shop White Flag Clothing you can visit their website, and be sure to follow them on Instagram to stay up to date with the latest collections and campaigns. Tai Bowen is revealing her pregnancy photoshoot this weekend so check out her Instagram to get a peek at her own photos of her gender reveal!