by Tennille Price, Professional Makeup Artist
Here is break down of what you need to know in order to protect yourself from the suns harmful rays and how sunblock and sunscreen really work!

UVA Rays
UVA, which penetrates the skin more deeply than UVB, has long been known to play a major part in skin aging and wrinkling (photoaging), but until recently scientists believed it did not cause significant damage in areas of the epidermis (outermost skin layer) where most skin cancers occur. They are present with relatively equal intensity during all daylight hours throughout the year, and can penetrate clouds and glass.
Studies over the past two decades, however, show that UVA damages skin cells called keratinocytes in the basal layer of the epidermis, where most skin cancers occur. (Basal and squamous cells are types of keratinocytes.) UVA contributes to and may even initiate the development of skin cancers.
UVB Rays
UVB, the chief cause of skin reddening and sunburn, tends to damage the skin's more superficial epidermal layers. It plays a key role in the development of skin cancer and a contributory role in tanning and photoaging. Its intensity varies by season, location, and time of day. The most significant amount of UVB hits the U.S. between 10 AM and 4 PM from April to October. However, UVB rays can burn and damage your skin year-round, especially at high altitudes and on reflective surfaces such as snow or ice, which bounce back up to 80 percent of the rays so that they hit the skin twice. UVB rays do not significantly penetrate glass.
Protective Measures
Protect yourself from UV radiation, both indoors and out. Always seek the shade outdoors, especially between 10 AM and 4 PM. And since UVA penetrates glass, consider adding flat, tinted UV-protective film to your car's side and rear windows as well as to house and business windows. This film blocks up to 99.9 percent of UV radiation and lets in up to 80 percent of visible light.
 Also, broad-brimmed hats and UV-blocking sunglasses help shield the sensitive skin on your head, neck, and around the eyes – areas that usually sustain a lot of sun damage.,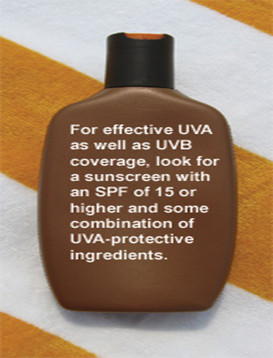 Sun Protection Factor (SPF)
Since the advent of modern sunscreens, a sunscreen's efficacy has been measured by its sun protection factor, or SPF. SPF is not an amount of protection per se. Rather, it indicates how long it will take for UVB rays to redden skin when using a sunscreen, compared to how long skin would take to redden without the product. For instance, someone using a sunscreen with an SPF of 15 will take 15 times longer to redden than without the sunscreen. The Skin Cancer Foundation maintains that SPFs of 15 or higher are necessary for adequate protection.
Since both UVA and UVB are harmful, you need protection from both kinds of rays. To make sure you're getting effective UVA as well as UVB coverage, look for a sunscreen with an SPF of 15 or higher, plus some combination of the following UVA-screening ingredients such as titanium dioxide, and zinc oxide. You may see the phrases multi spectrum, broad spectrum or UVA/UVB protection on sunscreen labels, and these all indicate that some UVA protection is provided.
                                                                    
SUNSCREEN VS SUNBLOCK
 
SUNBLOCK
Sunblock contains physical or inorganic ingredients that reflect and scatter the UVB light and acts as a wall between your skin and the sun. Look for Titanium Dioxide or Zinc Oxide as the main ingredient. These ingredients may cause a white cast on skin. (Sunblocks do not protect against UVA rays.)
This may be a better choice for your family if you have anyone with sensitive skin since titanium dioxide and zinc oxide are less irritating than Parsol 1789 found in sunscreen.
SUNSCREEN
Sunscreen contains chemicals that protect your skin by absorbing and reflecting UV rays and allows a certain range of UV light to be absorbed into the skin. Look for Parsol 1789 in many of today's sunscreen brands. It helps protect against UVA rays as well as UVB. So, you get a bit more protection. This wears off after a while so you may need to reapply it.

The Bottom Line on Sunblock vs Sunscreen:

1. Most lotion is a combination of both sunblock and sunscreen, so read the ingredients carefully if you are needing a pure sunblock.
2. Be sure to look for a sunblock or sunscreen that does NOT contain vitamin A and its derivatives, retinol and retinyl palmitate, as this may speed up the cancer that sunscreen is used to prevent.