By Nicollette Samuels
Although being at home constantly during the pandemic is not ideal, being stuck in the house this past year has amplified the importance of taking time for self-care, which can include anything that helps you feel good about yourself; ranging from taking a bath, exercising, doing your skincare routine, cooking your favorite meal, or reading a book. Basically, it is learning to pamper your mind, body, and soul, which can positively affect your mental health – something that people have been struggling with during these challenging times.
Suave haircare recently launched their new Pink Line which was inspired by a skin priming concept popular within skincare routines. They recently held a virtual deskside event featuring celebrity hairstylist, Ursula Stephen and special guest, actress Lacey Chabert to commemorate the launch and demonstrate the products because they know that more women are looking for professional quality products that fit their at-home routines for everyday life.
The new Suave Pink Line is segmented into different collections: Smooth Performer, Luscious Curls, and Up the Volume, perfect for all hair types and catering to different hair needs. They are all sulfate free and contain an Amino Acid Complex. The formula works double time in the shampoos and conditioners to help strengthen the inside of hair, while protecting the outside from everyday breakage. The line also comes with additional prep and styling products specific to each collection as well as products that all hair types can benefit from. The haircare line has launched in Walmart stores nationwide in February 2021 and retails for $4.98.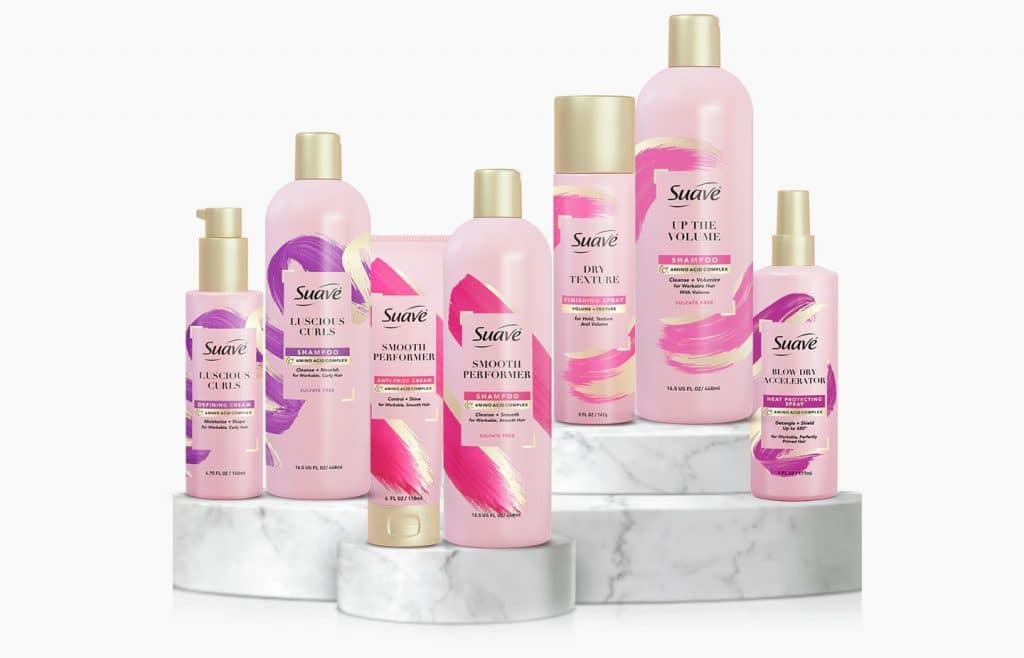 Suave Smooth Performer Shampoo & Conditioner
This smoothing duo includes a sulfate-free shampoo to gently cleanse, fight frizz and help tame unruly hair, while the hydrating conditioner softens and detangles unruly hair and adds shine for workable smooth hair. "For the girl who's natural but she may be into silk pressing, we have the smoothing formula which helps that blow out or silk out," said Ursula Stephen.
Suave Smooth Performer Anti-Frizz Cream
A cream that smooths away unwanted frizz and flyaways, leaving hair shiny. Also formulated with Amino Acid Complex technology.
Suave Luscious Curls Shampoo & Conditioner
This sulfate free shampoo gently cleanses and removes product buildup, while the conditioner nourishes and enhances softness, for workable, curly hair.
Suave Luscious Curls Defining Cream
This cream works to style and define, while adding bounce and long-lasting definition and light hold for workable curly hair. "For the girl who is experimenting with natural hair, but quarantine happened so now she has to figure things out on her own," said Stephen.
Suave Up the Volume Shampoo & Conditioner
The sulfate-free and lightweight shampoo cleanses and helps build body from root to tip for thick-looking hair with added shine, while the conditioner gently detangles and moisturizes without weighing hair down.
Suave Dry Texture Finishing Spray
Keep your volume with Dry Texture Finishing Spray to hold your weightless, textured look.
Suave Blow Dry Accelerator Heat Protecting Spray
This heat protecting spray helps shorten blow dry time, protects hair up to 450ËšF while styling with heat, and detangles knots. Blow dry, curl, or straighten hair for the perfect day and night look! "Perfect for the girl who has to blow dry herself because she can't go to the salon anymore, which helps to detangle and protect the hair from heat, and also to dry the hair faster," said Stephen.
Suave Air Dry Cream Heat-Free Styler
This styling cream tames frizz and flyaways while enhancing the natural texture of hair – all without the heat.
Suave Hair Refresher Dry Shampoo
This shampoo helps transform 2nd+ day limp, dull hair into hair that's revived. This formula absorbs excess oils and helps eliminate odor without any visible residue.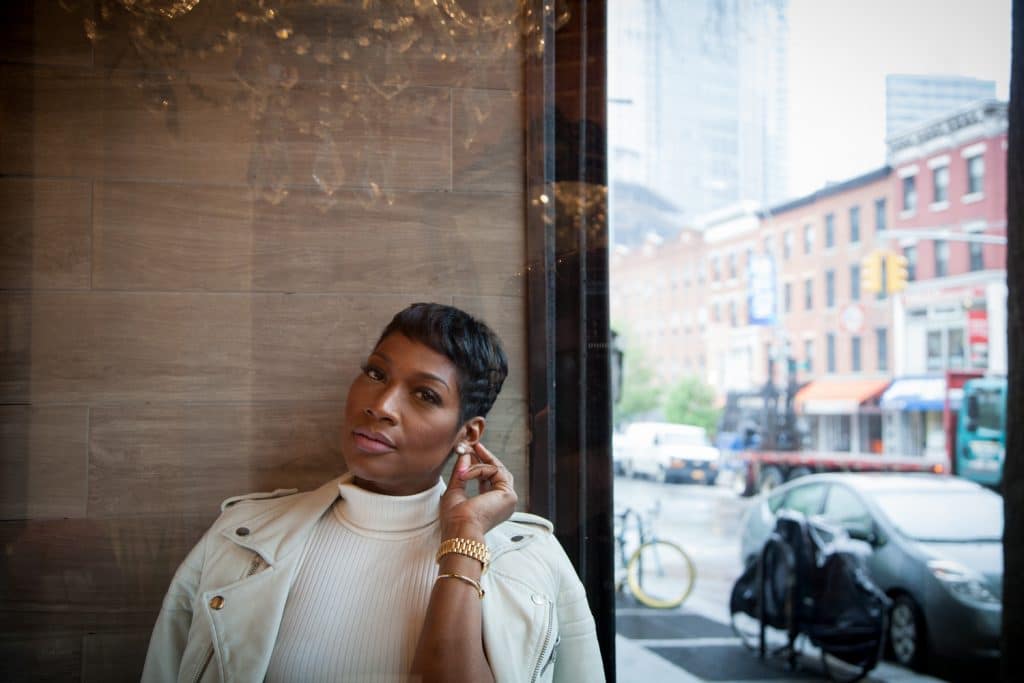 To explain how the Pink Line works Ursula Stephen demoed the products on a professional styling head to show the many ways one can use the products. She started off prepping the wavy/curly hair piece with the Luscious Curls Shampoo and Conditioner. Then she cocktailed the Air Dry Cream Heat-FreeStyler with the Luscious Curls Defining Cream to help tame the flyaways while keeping the natural texture of the hair defined. "The Air Dry Cream is genius for the girl who is natural and is into protective styles or twist outs and now she wants to try the wash and go or free style curls." She recommends not to be too heavy handed with products because even though you might not see the product, it is still there doing its job. To avoid product build up, she uses water to spritz the hair and reactivate that product already in the hair. "You can also create your own recharging spray by taking plain water, add a few pumps of your newfound defining cream, shake it up and now you have a recharging spray," Stephen said. She then styles the now defined curls in a half up half down hairstyle, perfect for summer. As a last step, she adds the Blow Dry Accelerator Heat Protecting Spray for protecting the hair from the heat of the sun when going out. "It's kind of like SPF for the hair."
One of Stephen's favorite products is the Hair Refresher Dry Shampoo. She tends to use it in between wash days when her hair looks too good to be washed yet. "The best way to refresh a natural style without having to start over is to invest in a good dry shampoo! The new Suave Pink Hair Refresher Dry Shampoo not only refreshes your hair, but it absorbs excess oil and leaves it smelling amazing," Stephen explains. Furthermore, it provides weighed down hair a pick me up by giving it more life and body. The hairstylist also reveals her tips for healthy, manageable natural hair. "I always say healthy hair starts at the bowl. This is why it's important to choose a shampoo and conditioner duo that has strengthening benefits. The Suave Pink Luscious Curls Shampoo & Conditioner are filled with amino acids, which help to strengthen the hair from the inside out, while protecting it from everyday breakage."
To further celebrate the launch, Stephen brought out a surprise guest, actress Lacey Chabert who has collaborated with Suave to create the hashtag, #OnWednesdaysWeWashWithPink, inspired by her Mean Girls character Gretchen Wieners, whose hair is full of secrets. "It was really fun to step back into those [Gretchen's] shoes, and when I saw the collection, I was kind of like Gretchen again," said Chabert. Her favorite products from the line are the Blow Dry Accelerator Heat Protecting Spray, Dry Texture Finishing Spray, and the Up the Volume Shampoo and Conditioner.
When asked what hairstyles she looks forward to wearing as the weather is starting to warm up, she responds "Anything beyond a top knot, messy bun, and messy ponytail." She also has been excited about wearing accessories in her hair this summer, influenced by her 4-year-old daughter who is also obsessed with accessories. Chabert can't wait to incorporate headbands, bows and ribbons into her hairstyles this summer.