When it comes to the movies, we always tend to know and give credit to the main actors in the film, but what about those actors that play supportive roles in the background: stand-ins, stuntmen, extras, etc.  You may or may not notice these people, but they're there. And their roles are just as much an important part of a movie's framework as any because without them there would be these huge unintelligible gaps in a scene that just don't make any sense unless you have the proper people in place to bring it all together.  Take actor/stuntman James D. Weston II for instance, who's been acting for 14 years; unless you know James personally (or are just really super observant), you may not know that he had a role twice in the Blockbuster hits  Transformers I and Transformers III: Dark of the Moon.  You also might not know that James had a role in the recently released all-star cast film Contagion.  We recently caught up with James to find out his take on working as an actor in Hollywood, how he got started in his career, his military service and of course the scoop on the variety of roles he has played in. Here's what James had to say:
BM: Hello James it's great to chat with you.  Please tell us how you got into acting.
JDW: I got into acting by seeing a local news story that was searching for people interested in acting to be spectators at a basketball game in the movie "Flubber," starring Robin Williams.
BM: When did you get your first big break, and what was the project?
JDW: My first big break was as a precision driver in the historic car chase scene in "Matrix Reloaded."  Filming for the chase was a 9 week shoot, and is one of, if not the longest car chase scene in movie history (approx 15 minutes).
BM: You are usually cast in Military, Government Agent or Police roles.  What type of thought process do you go through in making the decision to accept/play a particular role and why?
JDW: I don't want to accept roles that are stereotypical in portraying African-Americans in a negative way.  I want to see more positive roles, and the young adults & children need to see more of that onscreen.  That type of influence is important for their self-esteem and mental influence.
BM: You served in the militarty (thank you for your service) and still continue to serve as a member of the reserve force.  What branch and position? Did you initially plan to serve? What type of impact has this experience had on your life?
JDW: I was in the Navy Reserve in an Aviation Support Unit.  I wanted to initially serve upon graduating my alma mater, Aviation High School in N.Y., but decided to go to college and then the workforce.  I enlisted at 35, when I transferred to California for my civilian job.  The military had a major impact on me.  I've always been a leader and it helped that much more.  It also opened up doors for me later on with movie and TV roles.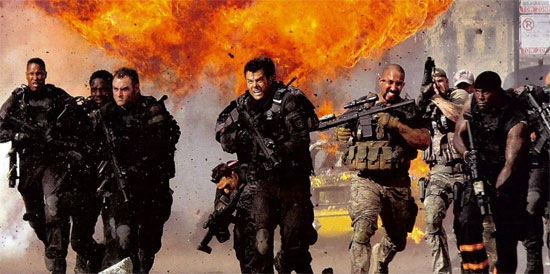 BM: Tell us about your role in Transformers.  How was it being involved with such an iconic and outstanding cast/director?
JDW: In the first Transformers, I was an officer in the Pentagon Operations portion, just before the cutover scene to Air Force One. In the third Transformers: Dark of the Moon (DOTM), I was a member of Josh Duhamel's character "Lennox" team. My character is "Tuens". We were a Special Ops team and since we were all current and former military it added to the realism, which is what Michael Bay (director) wanted. The weapons and explosions that we worked with were real. Everyone was great from Michael Bay to cast and crew. I try to learn from everyone and that means I learned a lot. I hope to work with Michael Bay again. He shoots fast, but knows what he's doing. Just look at the box office grosses. Transformers:DOTMÂ recently became the 4th largest grossing movie of all time ($1.119billion). Looking forward to the special edition DVD with behind the scenes and deleted scene material.

(James starts running w/teammate mid left of screen)
BM: What important advice can you give to other aspiring actors?
JDW: The Acting business is no all glitz & glamour. Treat it as a business. Have a back up plan in case you can't land work, and another back up plan for that. Be prepared to pay your dues. It may take years and you have to develop a thick skin. You'll hear the word no a lot. Don't take it personally. Be genuine and sincere, not phony. Treat EVERYONE nice and with respect, not just the stars, EVERYONE. Be respectful and professional.

(James next to Bumblebee Camaro firing with team)
BM: Tell us 3 fun Trivia facts about YOU.
JDW:
 I was a stand-in for Will Smith (Pursuit of Happyness), Dennis Haysbert (Allstate commercials), Richaard T. Jones (Twisted), & was to stand-in for Samuel L. Jackson on Twisted but had to fulfill my military reserve obligation.
I worked for 6 airlines and wired an aircraft cockpit with Christmas lights for an episode of "Trauma" while serving as the series' precision driver coordinator.
I was a Klingon in the 2009 J.J. Abraams movie "Star Trek," but all Klingons were edited out.
BM: Please tell us about your current film Contagion and any other upcoming projects.
JDW: In "Contagion", I play one of the FBI Agents that chases Jude Law down in a park. Coming up in January, I worked on the George Lucas/ Anthony Hemingway movie Red Tails. Its a movie based on the Tuskegee Airmen and I am honored to be part of it because of the sacrifices and historical significance they endured for African-Americans and this country. I was also a member of the Bay Area Tuskegee Airmen Chapter.
BM: James, we hope to continue to see you on the big screen, we wish you continued success!
JDW: I want to take this time to thank Bronze Magazine for taking this interest in my career, and taking the time to interview me. "Each One, Reach One, Teach One."  Stay Frosty & be good to each other.