by Tanya Manning-Yarde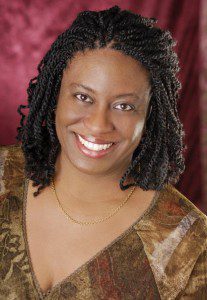 In this inaugural series of articles spotlighting women educators, Carla Cherry shares her personal and professional evolution, divulging how she helps students actualize their humanity and academic success.  It's an intimate look into the makings of an English/Language Arts teacher, and the difference she is trying to make in students' lives within the NYC educational system.
Fundamental to her familial fabric was first acquiring knowledge of self.  Her mother taught her to read at age 2 ½. Later obtaining his Bachelor's degree in Black Studies, Carla's father surrounded the family with resources centering on African and African American culture and history.  For Carla, school "didn't really emphasize African American heritage," becoming an impetus to read widely, serving as "a catalyst for me to get into education, to share what I learned."
Several experiences ministered to Carla choosing teaching as a profession.  Attending a lecture with her father, Carla met Dr. Adelaide Sanford, Vice Chancellor Emeritus of the New York State Board of Regents.  A phone conversation with Dr. Sanford informed Carla's ethos of giving back to the community.  "I always admired her activism in the field of education." "If she could give the best of herself to our youth, why couldn't I do the same?"  She tutored while a teenage member of Co-op City chapter's of the National Council of Negro Women.   She attended the prestigious and selective Bronx High School of Science, but recalls constantly defending people of color in class discussions; such insularity she did not want her future students enduring.  Attending Spelman College further inspired her career choice. She credits two professors, Dr. Donna Akiba Harper and Dr. Judy Gebre-Hiwet, with her literary acculturation and instigating within her the passion to hone her writing, namely to be exact with her words and employ the formal writing process in designing well supported effective arguments.
In 1993, Carla graduated Spelman College, returning to NYC as a single mom working part time.  Enrolling at New York University in 1995, she completed her Masters of Arts in Public Education, and began teaching in 1996.  Serving 17 years within the NYC Department of Education, she taught in middle and high schools, currently teaching at Innovations Diploma Plus High School.
Pedagogically, Carla fosters and facilitates students in (1) interpreting texts, (2) using writing as a tool, and (3) participating within various audiences and media. Students are (1) generating group reactions to quotes excerpted from a text, (2) selecting quotes and interpreting them individually in double entry journals, (3) responding on a discussion blog about themes within a class text, (4) creating monologues in the persona of a character, (5) crafting a poetic character sketch modeled on William Carlos William's "This is Just to Say," (6) arranging in small groups fragmented excerpts from a novel into dada poems,  (7) discussing characters' actions from different perspectives and (8) constructing and writing formal literary arguments.  Her methods prove successful; annually the majority of her students pass the NYS ELA Regents exam.
Students read books "they would not otherwise be exposed to." Included are African American titles A Piece of Cake, Sula, and My Daddy was a Numbers Runner, international works The Kite Runner and Persepolis, and books about tense family dynamics including When I Was Puerto Rican and Bastard out of Carolina.  Her classroom is a place to explore and contemplate the world from divergent points of view, some not always palatable or comfortable, sometimes winning students over, sometimes experiencing their opposition. "If I am preparing them for the real world, you can't always run away from something you might think is boring or uncomfortable.  Sometimes you have to face it and open yourself up to other ideas and other people."
Carla's classroom brokers connections across social and technological contexts.   Recently she participated in a study group offered by the New York City Writing Project using the online forum "Youth Voices."  Her students discussed class texts, recorded their writing processes and progress, and shared obstacles encountered in their research, culminating in posting their essays online "so that they can see the evidence of the work they have done in a public space."
Also a poet, writing poetry is "a way for me to understand my life, the world and my place in it."  Inspired by her cousin giving her a book of self-published poetry after her father's death, Carla self-published her first book, Gnat Feathers and Butterfly Wings, and a compilation CD with her cousin, jazz musician Eric McPherson. Proceeds from her book and promotional goods were donated to charity.
As a single mom Carla balanced work with remaining active in her son's school activities while cultivating his evolving writing interests.  He was a semi-finalist in the Knicks annual poetry slam, a student in a black male initiative supporting young men writing poetry resulting in a performance at the Nuyorican Café, and a participant in the Urban Word Summer Institute.  He is currently a sophomore at SUNY Purchase.
Carla learned from her family to use knowledge to emancipate self and others, which she is passing on onto her son and generations of students.  Hers is an unsung narrative.