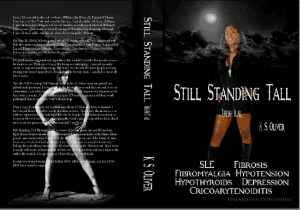 What would you do if one moment you were living a seemingly normal life and then one day find that you are diagnosed with a terminal disease, that if left untreated properly, it could kill you? Truth is, there is no easy answer to this question. Everyone copes with life changing situations in different ways. Â When Authoress Ks Oliver, entrepreneur and mother of two shared her testimony with me about her diagnosis with SLE (Systematic lupus erythematosus), I knew it was important for her to share her story in hopes that others would be more informed about this disease and even more importantly be inspired by her journey.
According to the Office of Minority Health, It is estimated that approximately 1,500,000 Americans and more than five million individuals worldwide have a form of lupus, often manifesting in women between the ages of 15-45. Lupus is two to three times more common among African Americans, Hispanics, Native Americans and Asians – a disparity that remains unexplained. Here's what KS Oliver had to say about the disease and how she is Still Standing Tall  in spite of the challenges that come with it:
What is Lupus and what type of impact has this disease had on your life?
Lupus, also known as SLE is an autoimmune disease that causes the body to attack itself. A properly working immune system makes antibodies to protect the body against antigens such as viruses and bacteria. This disease makes it hard for the body to decipher between what's harming the body and what's protecting it. SLE causes pain, swelling and a butterfly rash that comes and goes.
Being diagnosed with Lupus has had a major impact on my life. It has caused me to change my daily activities and my future goals. I've had to change my life to ensure a long one.
Prior to your multiple diagnoses, did you experience any symptoms?
Prior to my diagnosis of SLE I had given birth to my youngest child. I can remember the day the pain started like it was yesterday. I returned from Las Vegas with my sister in law. It started with a sore throat only when I swallowed and ended with full body pain as well as hair loss. It was hard for me to even get out of bed in the morning. I was in constant pain that was rapidly progressing. The pain started in February 2010 and I was diagnosed on May 20, 2010 while in England.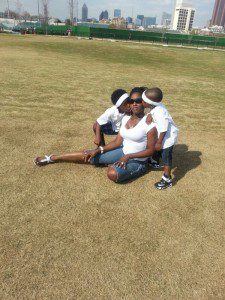 How did you deal with your diagnosis? Did it affect the parenting of your two children?
The day I was diagnosed I was relieved because after months of pain I now knew the source of it all. It took a few days and Google searches before I was smacked with reality. I had been diagnosed with a terminal disease that could possibly kill me if not handled properly.  I didn't take the news well. I was depressed for the first 2 years. I was angry at the world; I cried for days at a time; I wanted to know why? and I was not accepting this disease as my fate. I just couldn't believe that I was saved and something like this could happen to me.
This diagnosis made me an even better mother. Next to God my children are the most important to me. I have to be a mom no matter what my body is feeling. I never allow this sickness to get in the way of my boys. My children saved my life. If it weren't for them I would have never fought as hard as I have. At the ages of 8 and 3 they are the bravest children I know. KS are my drive to keep going every day.  I show them a strong woman and a great mother.
How did writing poetry keep you strong?
My reaction to the diagnosis made everyone nervous. It was suggested that I see a psychiatrist for the depression and talk to a therapist as well. The psychiatrist gave me anti depressants for the depression. After speaking to the therapist she asked me what I thought a good outlet was for the anger and pain. I told her I liked to read because I could forget my reality and imagine someone else's. She then asked if I enjoyed writing. My therapist suggested a diary. For me writing my every move on paper was more like her controlling me. I only needed an outlet when I was experiencing a lupus flare. I sat down one day and wrote through my tears. The first poem I ever wrote was titled questions. I cried as I wrote but getting that pain off my chest gave me so much relief.
Tell us about your book Still Standing Tall. How did it come about?
Still Standing Tall through It All is a book of poetry about everything I have experienced on this journey called life. Every poem in the book is about what I have been through since the day I was diagnosed. On one page I may seem strong. There are times when I am driven and determined to beat this disease. On another page I may be depressed, broken down and feeling defeated. I give you the chance to step into my stilettos and get a feel for my everyday life with no filter.
I was having a facebook conversation with Marissa Palmer also known as Author Janae M. Robinson who I now refer to as sissy. She read my first poem titled Questions. Marissa immediately wanted to know how many poems I had written. I let her read a few more of them. We talked more on facebook and I told her that I have written over 50 about Lupus and another 50 on love and heartbreak. She then told me that I was writing a book and she would help me to publish it. From that point on I started to focus on reading and editing my poems to prepare them for a book. Even though I wrote them all I hadn't re-read them again until now. I wrote to release the pain, so the poems had been buried. Once I finished reliving the past 3 years I sent a submission to a few publishers and decided that Dream Team Publishing was the best fit so I signed. My pen name is KS Oliver. KS are my children's initials. I owe everything to God and to them. Oliver is my maiden name. My strength was instilled at birth. I was raised to be a strong and independent woman. The release date May 20, 2013 marks 1096 days or 3 years since this diagnosis came into my life. In addition, May is Lupus Awareness Month.
What would you like others to learn from reading your book? Your testimony?
I wrote this book and decided to publish it to tell my story. I remember feeling like I was alone. I felt like I was the only person in the world ever diagnosed with Lupus . I am not perfect by any means. I am human; I laugh and cry at the same time. I get angry about this diagnosis and the things that accompany it. Its still very hard to deal with sometimes. Today I may be empowering and tomorrow I may need someone to inspire and empower me. I fight a daily battle but I always win. I walk in faith blindfolded; no GPS. God has the final say and he has a plan for me. He isn't done with me yet, that's why I'm still here.
Intro and Questions by Shawn Chavis
[Article Source for lupus statistics: U.S. Dept. of Health and Human Services http://minorityhealth.hhs.gov/templates/browse.aspx?lvl=3&lvlid=282]