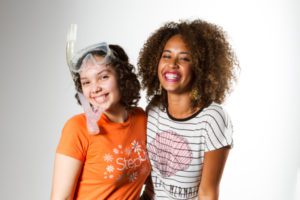 It's 2016 and in this world women are represented in just about every profession. But what has been the secret to maintaining female participation and success beyond the domestic role? Step Up has the answer, female support.
"At Step Up, it's less about creating a guided career path for young girls. You can be anything you want to be, and here it's all about exposure," explained Robin Beck, Manager of membership at Step Up.
Step Up is a nonprofit organization that propels girls from under-resourced communities to fulfill their potential. Through a platform of mentorship and after-school programs, Step Up inspires professional women to inspire teen girls.
The organization was founded by Kaye Popofsky-Kramer in 1998. Popofsky-Kramer was motivated by her mom's battle with breast cancer, and wanted to find a way to create a lasting difference within her community. She gathered 30 female colleagues in her living room, pushing forth a philanthropic network.
The first chapter of Step Up opened in Los Angeles, later branching out to offices and developing partnerships with high schools in New York, Dallas and Chicago.
Today, Step Up has drawn in 130,000 supporters and continues to be a favorite women's group among its members.
"What I love about Step Up is its group mentorship. A lot of other mentoring programs believe in individual mentoring. When girls come to Step Up mentoring programs they get paired with a mentor and learn about her profession, then when they come in another day they get paired with a different mentor and learn about another profession. They don't have to rely on one woman to shape their stepping up experience," said Alissa Zito, Vice President of Communications.
Step Up separates themselves from other mentoring organizations because of the strong network of women they are able to build and maintain.
"Stepping up to me means being the best in yourself and unlocking that potential you have," stated Paulina Curiel, an alumnae of the Step Up chapter in California.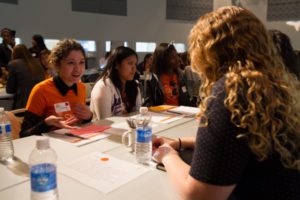 Curiel is currently a sophomore at Glendale Community College in Glendale, California where she majors in International Business. She still remains an active alum, participating in some functions and attending Alumni mixers.
She joined Step Up during her sophomore year in high school. She was encouraged to participate in the program by her sister, who was already a member. "My favorite part about Step Up is having mentors share themselves with us," stated Curiel.
She noted that some girls didn't have the confidence to go to college, but having these professional women share their stories and hardships "made it more comfortable for girls. We felt more secure having to take risks in our own community," stated Curiel.
Curiel also expressed that being involved with the organization helped her decide what she wanted to study in college. She recalls one field trip with the program, as an 11th grader, to Hudson Jeans. There she was able to interact with a Human Resource Manager. "I wouldn't have learned anything about this field if it wasn't for her (HR manager),"stated Curiel.
At Step Up there is a focus on making sure young women obtain both the resilience and confidence to become college bound and career driven. By providing young girls with the opportunity to visit industries where women are active members helps promote such attitudes.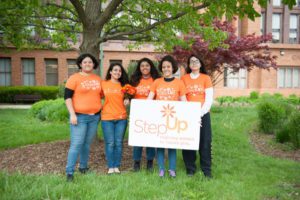 "It's important for women to fulfill their ultimate potential in whatever that might be," stated Judith Powell, new Managing Director.
Powell joined the New York chapter this year. From 2004-2014 she founded and led The First Tee of San Francisco, a youth development and mentoring program. Powell looks forward to continuing her work with youths alongside the Step Up community.
In addition to young girls benefiting from this organization, professional women also gain from this experience.
"For me, working with the girls, I find it inspirational. I feel guilty at times because I feel like I get more out of the experience than they do," said Sandy Gattozzi. Gattozzi is a current mentor. She has been a member since 2009 at the LA, California chapter, and in 2010 resumed her membership with Step Up in New York.
"I've been fortunate enough to have gone to college, to have a successful job. [Step Up] it's giving me a chance to share my experience with young women. It's me helping the next generation be successful as possible," stated Gattozzi.
Step Up mentors have the opportunity to volunteer once or become a member for a tax-deductible donation of $75 dollars. As a member, mentors can participate in as little or as much as they want, which accommodates a fluid schedule for busy women.
Visit http://www.suwn.org/how-you-can-join-us/mentor to view the available mentoring programs.
Step Up utilizes various social media outlets to get others engaged in their message. They can be accessed through YouTube, Twitter, Facebook, and Instagram.
"To be it, you have to see it," stated Beck. And Step Up offers this vision.
For more information about Step Up or to become a part of this network of women visit http://www.suwn.org Or contact Robin Beck robin@suwn.org
By Jamelia Thompson