Interview and Story By Whitney Sylvain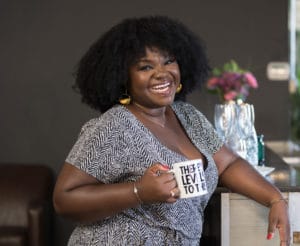 From my interview with Vivian Kaye, the founder and CEO of KinkyCurlyYaki (KCY), a Toronto based successful natural hair extension brand, it was apparent that back in 2010 she was a business woman who was determined to deliver what many black women with natural hair wanted- natural hair extensions. When KinkyCurlyYaki first emerged, many options for hair extensions had been made in other hair textures, but not for women with more kinky, textured hair, such as black women.
After seeing her success and her responses to my interview questions, it was clear that Vivian was the woman we should be looking to for any sort of inspiration and guidance on starting and maintaining a business. She has built a very effective company from the ground up with no experience in the hair industry or in entrepreneurship. In addition, she says that setting a positive example for her son everyday is what makes her the proudest.
Vivian attributes her success to her perseverance and always being an enduring student. "It's important to never stop learning and discovering ways to be better and to stay on top of what's going on in your industry so that you can build a business for the future and not just the present moment," she says. She also provided some excellent advice to new entrepreneurs in the early stages of the business industry. She advises novice business women & men to really think ahead as it regards to how they'll take care of themselves and invest in themselves throughout the stages of beginning their business. She's learned from experience that self-care and personal needs can often be put on a back burner when it comes to running a business. Burning out is a result of this, and that doesn't benefit anyone, especially the business. She also advises new business owners to understand that they're never too big or too small to do a task. She says, "If you're not willing to do the work of a janitor then you're not ready to be in business."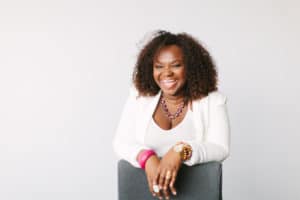 As it relates to the business industry in general, I was curious about some of the misconceptions entrepreneurship holds, especially for those on the outside looking in. Vivian says that while it can seem like "all glitz and glam," entrepreneurship takes real work, commitment, and sacrifice. It isn't an overnight thing nor does this success come without hard work.
Most of all, Vivian believes it's very important to love what you do and truly want to make a difference in your industry. She believes there is always a distinct difference between those who go into business for money and those who go into business for the need to satisfy an audience by sincerely producing products that are necessary. She says she created KinkyCurlyYaki as an accidental business initially based on her own needs. "Prior to starting KCY, I ran a wedding décor business and was constantly on the hunt for protective styling options that matched my natural hair texture; this was about 6-7 years ago, when there just weren't any options on the market for naturals. I did my research and started testing different looks on myself and when I kept getting stopped on the street by women who wanted to compliment me on my hair or ask me questions about it; I knew I was on to something."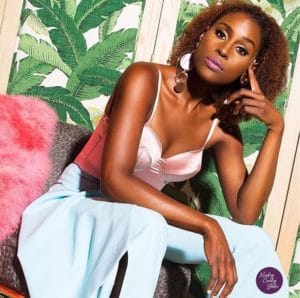 We went on to talk about how the beauty industry is portrayed in the media. Although we have made small departures from seeing European features as the ultimate beauty preference, we still have a long way to go to reach beauty parity. Vivian believes the beauty industry should be looking to create spaces where all hair textures and skin tones are celebrated equally. This has always been a huge part of the mission of KinkyCurlyYaki from day one. The company wants all women to be able to take pride in their tresses and they choose to do this by ensuring they provide products for those customers from the silkiest hair to the tightest coils. She also says that authenticity, interaction, and engagement with the community on social media are some tips her company applied to gain and maintain their over 70 thousand (and growing) Instagram followers.
When asked if she had to trust one person to take over her company for one week, what three qualities would that person need to have, Vivian responded, "First, they'd have to love Black women, because that is who we are and who we speak to every single day. Second, they'd have to love and understand our many hair textures and the ins/outs of protective styling. And lastly, they'd have to be someone who knows how to have fun. We work long hours and some days are pretty tough, so having someone who can find some joy in each day is key; personally, that's something that I definitely pride myself on."

With so much success, there's bound to be tribulations, and with tribulations comes triumph. So, I couldn't help but ask Vivian what was her daily mantra or words she chooses to live by. In all parts of her life, Vivian admits to living by "Big Little Steps." She believes that "A bunch of the little things that you do on your journey, life, entrepreneurship, love, all help to make the big things happen."