by Liz Everett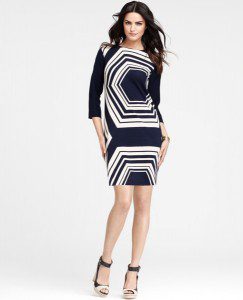 As we head into the beauty that Spring evokes we will also be transformed by the fashions of the mod 1960's. The drama of that era is truly exciting when it comes to makeup, patterns, bright colors and accessories but how will that translate in the work place? You have to remember that just because a garment is on trend it may not be appropriate for the image you want to project to your co-workers or your employer.
As a total image stylist it is my job to think about your personal brand from head to toe and how others will perceive the style statement you are making. All of us get dressed in the morning not giving another thought to how what we are wearing will visually impact our level of credibility. Visual credibility is a major factor in both your ability to be promoted as well as how willing your employer will be to have you dealing with outside promotions for your company.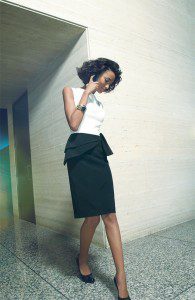 All of that being said I want to encourage you to be authentic in your approach to loving fashion but to also use a sense to stylish discernment when getting yourself prepared for Spring's dramatic styles. One of the biggest trends coming our way with fashion will be geometric patterns which will work great for the work environment if you throw the pattern in with an amazing bag or a knee length shift dress with a color pop blazer. Retailers like H&M as well as BCBG are doing a great job of incorporating clean silhouettes into their Spring collections.
Clearly the peplum will still be a fashion staple as will the gorgeous red and pink lip which are both appropriate within the realm of office fabulous. However you may want to watch your eyeliner. The Twiggy eye has already started trending but in the work place I encourage you to think of your daily presentation as a calling card for your level of promotion. Save the theatrical eyeliner for Girl's Night Out!
The overall mood of Spring will usher in some incredible ideas for your work wardrobe. It will be important for you to keep it simple by focusing on one or two trends at a time rather than having an outfit full of trends. So maybe you love a closed toe wedge with print, add a color pop bag and call it a day. Overwhelming your body with too many details will distracting so be sure to keep it simple yet colorful.