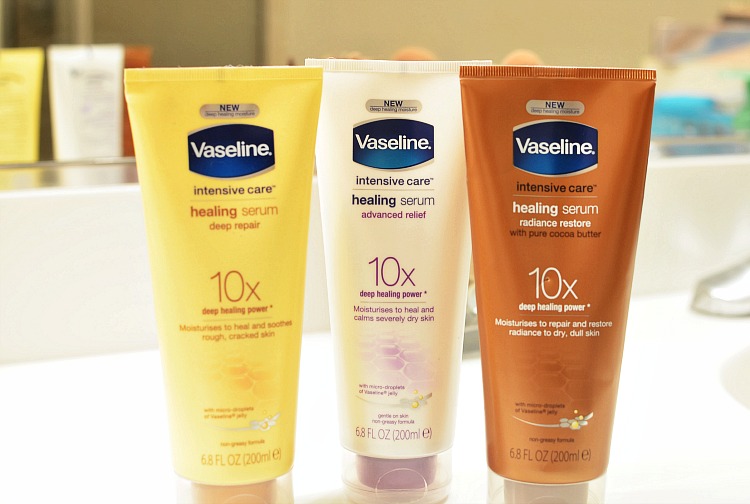 Photo Credit: www.mommymusings.com
Recently I was able to get my hands on the Vaseline Intensive Care Healing Serums, and they are heaven sent! the Radiance Restore Healing serum has worked wonders on my skin. It has the same scent as their cocoa radiant lotion, but is much creamier and richer in texture. I can put this on my body at night and still wake up in the morning with my skin feeling moisturized, smooth, and soft. I also noticed some sun spots that were on my shoulders and back have faded as a result of using it.
The other formula I tried was the Deep Repair Healing Serum. This is a great product if you have skin concerns such as eczema, dry patches, and sensitive skin. It's lightly scented and won't interfere with any other fragrance you might wear. It's also great for use at night on your elbows, knees, and hands. Along with these two formulas, VIC offers a third one called Advanced Relief Healing Serum. This is targeted for severely dry skin including that which is deeply crackled. With a light scent of rose and amber, this is also a great one to try.
The Vaseline brand doesn't stop there; they also offer two versions for your hands. The first is for advanced healing therapy and the other is targeted for healthy hands and nails. These serums are said to provide you with ten times the moisture and healing power that will give your body what it needs to stay moisturized and healthy with a radiant glow. All formulations are non greasy and soak into the skin. This comes at a perfect time as we begin to focus on getting out of winter and into spring. These products can be found at drugstores and retailers everywhere; each one is a must try.
by Rosalyn Robinson.