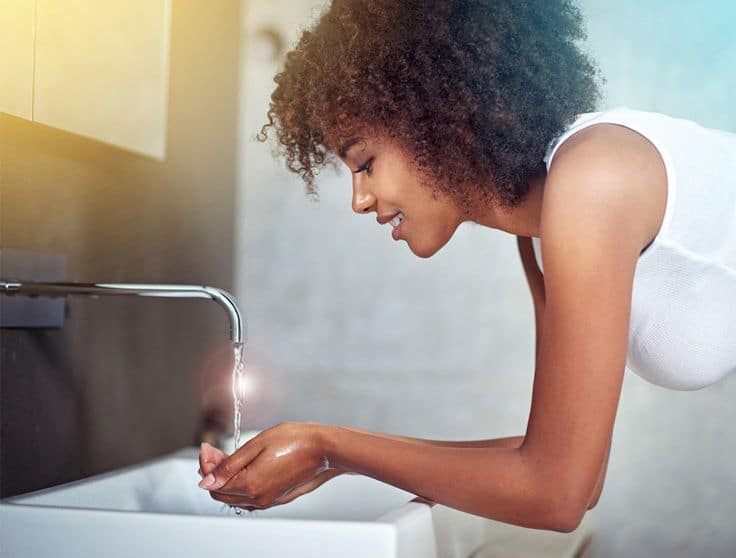 Ever thought of adding oil to your daily beauty routine? Most people try to keep oil away from their face, especially those with oily skin. But oil is very helpful to your skin. And for those with oily skin it is even more essential, because oil dissolves oil. Meaning, the best way to get rid of oily skin is by using oil.
Oil Cleansing Method
Oil Cleansing is the use of natural oils to cleanse your skin and balance the skin's natural oils. Having natural oils massaged into your skin will dissolve the oil that is stuck in your pores.
The difficult part of the oil cleansing method is using the right oil combination for your skin, because no one can really tell you the perfect combination. When cleansing your skin you need to combine two oils. The first oil will be castor oil. Castor oil has potent anti-inflammatory properties as well as healing and cleansing. No matter your skin type this should be your primary oil. Since castor oil is so thick, it needs to be diluted with another oil. This other oil can be either jojoba oil, sweet almond oil, grapeseed oil, avocado oil, sunflower seed oil, olive oil, apricot kernel oil, argan oil, or tamanu oil. Any of these oils would be great for your skin, although argan oil and tamanu are the more expensive ones.
When figuring out the ratio of your two oils you might want to measure it out or you could simply eyeball it. If you are going to measure it out here are the measurements:
Oily Skin: 2 teaspoons of castor oil and 1 teaspoon of the other oil
Combination / Normal Skin: 1 ½ teaspoons of castor oil and 1 ½ teaspoons of the other oil
Dry Skin: 1 teaspoon of castor oil and 2 teaspoons of the other oil
You don't have to stick to these measurements exactly. Just remember, for oily skin use more castor oil and for dry skin use less. You can even add more than one oil to the castor oil. It's really about what you like and what works for your skin.
Steps of Oil Cleansing:
Get your oils (you can pre-mix them in an applicator bottle) and a clean washcloth.

Start with a dirty face (even if you're wearing makeup). Rinse your face lightly with warm water. Pour the oil in the palm of your hand and gently apply it all over your face. Firmly, but gently, massage the oil into your skin, always moving upwards. Massage your face for 2 minutes and let the oil sit on your face for an additional minute or more.

Run the water and make sure it's slightly hotter than you usually rinse your face with. Wet your washcloth and apply it to your face. Hold it there for about 15 seconds. Then slowly begin to wipe off the oils. Repeat until you've wiped all the oil off.

Depending on your skin, you may not even need to moisturize after cleansing your face. If your face feels dry, of course you should moisturize it. But if it doesn't, don't bother.
It may take a week or two for your skin to adjust to this method of cleaning, and it is a bit more time consuming. But it isn't harsh to your skin, doesn't strip it of its natural oils, clears up acne, combats dryness, and makes your skin more radiant. It is up to you how often you use this method. It can be done as often or as scarcely as you see fit.
Oil is also great for removing makeup and as a makeup primer.
By: Kadisha Kentish