Interview by Marian Nimoh
Edited by Atreyi Jayadutt
Makisha Boothe, the Founder and Head Business Coach of Sistahbiz Global Network has created a platform for Black women entrepreneurs to grow and expand their businesses. Black women entrepreneurs face systematic barriers when they want to grow their businesses. Boothe, a NYC native, currently resides in Colorado and uses her company to help combat these barriers by providing free and low cost programs, coaching and loans to support black women in their quest towards entrepreneurship. In this Q&A, Boothe shares insights about her business and discusses the struggles that Black women entrepreneurs face in America when they want to begin or grow their business.
What is the meaning behind Sistahbiz Global Network and what caused you to create it?
Sistahbiz is about creating groups of Black women entrepreneurs that help each other win and play big in business. I created it so that Black women solopreneurs and microbusinesses could have a safe space to grow and manage the realities of entrepreneurship, while gaining free and affordable access to coaching, technical assistance and capital.
What are some of the systematic barriers that some Black women entrepreneurs face when they want to begin or grow their business?
The movies, The Banker and Self-Made both do an outstanding job of pointing out a few things that answer this question. The black woman has to manage the impact of racism, colorism, sexism, and lack of access to banks, investors and capital when building her business and her own capacity as an entrepreneur. It often means encountering all of the normal challenges of entrepreneurship while being grossly underfunded, constantly disrespected and often overlooked, overworked and underestimated. We have to deal with it in predominantly white environments, and then we come home to men who fail to support us. While not all black men fail to support black women, I'm unapologetic about keeping it real that we deal with sexism in and out of our own community. It's traumatic, but the women who overcome these obstacles find great victory and reward for themselves, their families, their legacy and our entire community.
Metro Denver is one of the top ten best metros to start a business for women. What are some of the ways that you are making sure this benefit extends to Black women business owners in Colorado as well?
We launched the Sistahbiz loan fund, which offers character-based loans of up to $50k. Character-based lending models prevent poor or nonexistent credit or lack of collateral from serving as a barrier to access loans. We also promote our "sistahpreneurs" with a crowdfunding campaign, where you can donate to individual businesses in our programs. Down the road, we'll launch a Giving Circle program and Pitch Competition.
What qualifications do women need in order to receive loans and other benefits to grow their business through Sistahbiz Global Network?
A lot of our programs are free and low cost. To apply for the Sistahbiz loan, you need to have participated in (or received a waiver out of ) our coaching or cohort programs where we ensure that you are loan-ready. The worst thing a small business owner can do is be in a tough financial situation in the first place, then get the loan, and not optimize spending. You must have a game-plan to ensure that the infusion of capital stimulates revenue growth that can sustain the business and pay back the loan. If you fail to do this, you are still in a tough place, plus you owe the loan back. We help women strategize revenue models and budget strategy to avoid this. In our programs, we help you with your business plan, credit restoration and loan application. We have a full suite of coaches, freelancers and firms on board to provide done-for-you services, like preparing your financials or designing your sales funnel.
In your opinion, why do banks deny loan applications from black business owners more often than any other racial group?
Black Americans remain victims of predatory and discriminatory lending practices that prevail to this day. Black borrowers in segregated cities, for instance, have been preyed upon with subprime mortgages, destroying families and entire communities. The U.S. housing crash and foreclosure crisis were racialized processes. We need to keep a close eye on post-COVID-19 relief planning for the same issues. According to a study from the University of Minnesota, very high-income blacks were 3.8 times more likely to receive subprime mortgages from Wells Fargo and other institutions than white Americans with very low income, and 1.9 times more likely to receive subprime refinancing.
Studies show that black entrepreneurs apply for bank loans less frequently than white entrepreneurs. Recent studies reveal that unpreparedness (e.g. low credit score, insufficient paperwork, etc.) and discriminatory practices continue to serve as barriers to access capital for black entrepreneurs. Similar barriers exist when entrepreneurs seek opportunities in government contracting. So, when you look at our numbers, there is a deep-seated history of racism that created and continues to perpetuate the racial disparities.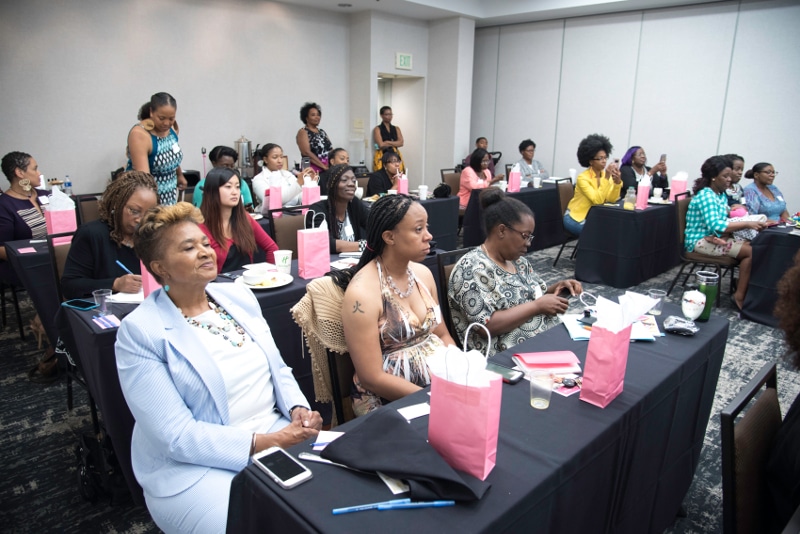 What are some obstacles that Black entrepreneurs face today?
Lack of access to social and financial capital, lack of access to bankers and investors, struggles to create high performing teams or mainstream crossover brands (when needed), lack of access to brick and mortar space or sophisticated technology, when needed. All of these things contribute to our inability to build a solid infrastructure for growth or scale. Finally, I believe as a community, we lack the design of a strategic ecosystem that will cultivate 7-figure (and beyond) black businesses.
When you are not working to help others build their businesses, what are you doing?
I am probably hiking, or at the gym. I am reading. I am a thirsty empty-nester, begging my 19 year old son for some mom/son time. I'm in prayer and meditation. I'm laughing and crying and getting my "waiting to exhale" on with my besties at some restaurant with a delicious glass of Malbec. I'm craving July, when I take the entire month off every year. I'm glad to be home with popcorn and Netflix.
Do you plan on having other locations for Sistahbiz Global Network and if so, where would they be?
First, you can be in any city or country and be a Sistahbiz member. Secondly, we currently have most of our members in Colorado, Texas, DC/Maryland/Virginia (DMV), New York, and California. Women kept asking for local activities, so we piloted the "chapter" model and hated it. So, we've shifted to an ambassador model and we're recruiting ambassadors in our target areas named above. Ambassadors will be our guest bloggers, and live stream experts, and lead our summer Boss Chic Book Club, and help plan our Annual Goal Digger Retreat. They lead local events with their local tribe and post in our Global Network Facebook Group weekly about local business-related events and opportunities for their region. The ambassadors are entrepreneurs and paid Sistahbiz members who gain business exposure through their work to help grow our global network.
What is one thing you would like to share about yourself that no one else knows?
I feel like no one else understands that the work that I'm doing is inspired by divine visions. God shows me exactly what this whole Sistahbiz machine should look like; he shows me the finished product of each program I build, and each client I coach. So, when I seem stubborn or adamant about doing things my way, it's because it's His way.
Do you believe you are walking in your purpose?
I absolutely believe my work is anointed and I am appointed. It's a blessing and I'm grateful, and it's why I show up every day on time and ready. (Well, usually on time).
To find out more about Makisha Boothe and Sistabiz visit
IG – @sistahbiz
FB – https://www.facebook.com/sistahbiz/