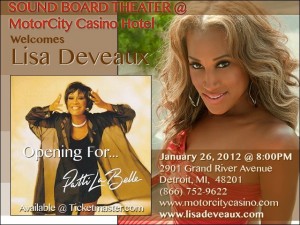 In possession of a soulful soprano kissed with jazzy overtones and a way with her pen that brings clarity to the workings of a woman's heart, Lisa Deveaux caresses listeners with beautiful songs of love and a singular sound that hypnotizes.
For her second album, "Language of Love", singer / songwriter Deveaux plumbs the depths of her heart to share personal statements about relationships – from the sweetest of intimacies to the most heartbreaking of separations.
Who have some of your musical influences been?
I grew up listening to the music of Sergio Mendes, Al Jarreau, Earth Wind and Fire, Minnie Ripperton and Phyllis Hyman. Kind of jazzy, brazilian, sultry soul is what I like to call it. I loved love songs with interesting melodies and heartfelt lyrics that would say the right thing when you couldn't find the words like in Minnie's "Loving You," and Earth Wind and Fire's "Can't Hide Love," to name a few. And who doesn't love "the voice" of Whitney. I remember loving her song "All at Once" from her first cd. She spoke to myu heart.
Tell us about your dads musical influence in your life.
My dad was an actor, poet and great story teller who happened to be one of my greatest influences. I was very shy growing up and my dad would entertain my brother, sister and I with little skits, songs, games and poetry. He was so engaging and had this magnetic personality and big imagination. As a kid, seeing him act on stage touching an audience was some powerful stuff. I thought everybody's dad was like that and knew somehow, that's what I wanted to do. I used to help him rehearse his lines for his upcoming plays and movie role,s so that's where I learned the discipline and hard work required to get it right and be prepared and how to engage and capture a crowd. As a poet, he would always put a clever twist on almost any topic you would bring up and I believe that's where I got my songwriting ability from. It's on his shoulders that I have been lifted up to where I stand today. It's a blessing and a gift to be part of a family that has great history in this business.
What was it like for you performing musically at 11 years old? How has that experience at such a young age shaped you as a performer?
As early as I can remember, my mom enrolled me in all sorts of dance, music and acting classes. We would have the normal recitals so I got bit by the performing bug early on. At 11 years old I joined a performing repertory group called "Theatre Exposure." We would perform all over Chicago doing these elaborate musical productions like "Oliver Twist," "Don't Bother me I Can't Cope," "Purlie" and the "Wiz." It helped me develop the stamina necessary to sing and dance at the same time, how to read and understand music and how to work with an ensemble where you realize how every person's role is equally important to the overall production. All of this has helped me with my own band today. Those were some of my fondest childhood memories because the thrill of putting on these shows were bigger than life; but most importantly, it was something I had in common with my dad.
What have you taken away from performances such as your opening for the great Patti LaBelle and singing background with both of the now departed legends Barry White and Phyllis Hyman?
Working with such great legends has been a blessing and I am eternally grateful for this unique experience. Phyllis Hyman took me under her wing when I was a teenager and she became my mentor who schooled me on so much about the business of music. She also took a chance on me because I was persistent when she would come to Chicago for 2 week runs and I would be there every night studying her until she finally gave me the time of day. Phyllis taught me how to show my vulnerability. Barry White taught me how to understand musicianship and professionalism while working with an ensemble. Patti took a chance on me and said yes as her opening act, giving me the thrilling opportunity to expose my brand of musicality to her seasoned  soul audience. Because of the paths that have been paved for me by these great artists, it's my responsibility as an African American woman to help pave the way for other upcoming artists.
What was the inspiration behind your sophmore album released last year titled, Language of Love ? What message do you want listeners to receive from this work?
The inspiration for Language of  Love which started off as a love letter to my significant other. It was about the passionate feelings I was experiencing, which the video mildly depicts. As I was thinking of other songs to compliment the title, I looked into my journal and took out entries and built some of the other songs around it. It explores the many nuances of love- from desire, to hope, to pain and even loss. I'd like my listeners to open their hearts and feel the words of a woman who's known love and for them to share a special moment in time from yours truly.
Any upcoming projects you'd like to share? Where can we purchase your music?
Looking forward to joining and performing with the ladies of Jazz in Pink in early April (spring) as well as more opening dates with Patti LaBelle  and am currently working on a Christmas cd. Later this summer I'm excited about performing on several jazz cruises and festivals. My music can be purchased on iTunes, Amazon, CDBaby and my website www.lisadeveaux.com