By Kadisha Kentish
If you love potato wedges as much as I do here's a simple recipe that is sure to satisfy your craving for wedges.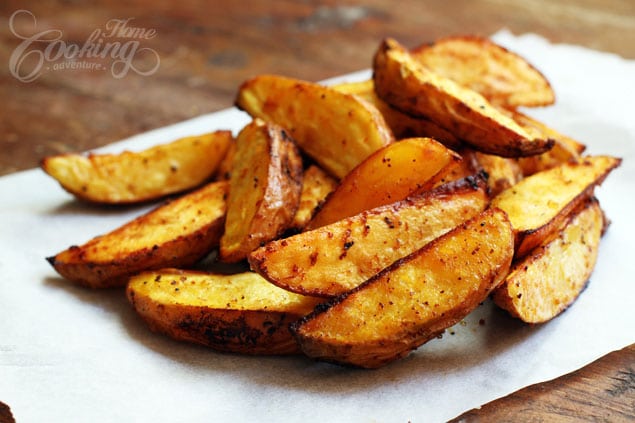 Ingredients:
Large Potatoes (the amount is up to you depending on how many you want to make)

4 tablespoons of vinegar

Paprika, Salt, Black Pepper (season to taste)

2-4 tablespoons of Olive Oil (depending on how many potatoes you're using)
Directions:
Place the potatoes in cold water and wash/scrub the potatoes so you don't have to peel them.

Then place them in a pot full of water and add in 2 tablespoons of vinegar.

Boil for about 3 minutes, until a knife or fork can slightly pierce the potato but not go all the way through.

Remove them from the warm water to avoid them cooking further. Place them in cold water and add in 2 more tablespoons of vinegar.

Preheat the oven to 325 degrees.

Then cut each potato into 8 pieces the long way.

Use a paper towel to wipe out the excess moisture that the inside of the potato has when it's cut because that moisture prevents it from getting crispy (unless you don't want them crispy).

Place the cut potatoes in either a mixing bowl or a large ziploc bag and add in the olive oil. After they are covered in olive oil add the paprika, salt, and black pepper

Now that they are seasoned to your liking, place them on a greased baking sheet (you can also check that they are evenly coated and add more seasoning if necessary) and put them in the oven.

Let them bake until they are browned. If you aren't sure if they're ready or not you can sample them to see if they are to your liking.
***If you are tired of plain old ketchup try mixing one of these dipping sauces:
Sriracha Ketchup
â…" cup of ketchup

â…" cup of mayonnaise

1 tablespoon of sriracha

¼  teaspoon of onion powder

â…› Â teaspoon of salt
Garlic Aioli
1 cup of mayonnaise

1 tablespoon of minced garlic or garlic powder

2 tablespoons of lemon juice

½ tablespoon of salt

a pinch of black pepper
Seasoned Sour Cream
1 cup of mayonnaise

1 cup of sour cream

1 tablespoon dried parsley

1 ½ tablespoons lemon juice

½ teaspoon of garlic powder

1 teaspoon of paprika

½ teaspoon of onion powder

2 teaspoons of Worcestershire sauce

½ teaspoon of black pepper

½ teaspoon of cayenne pepper