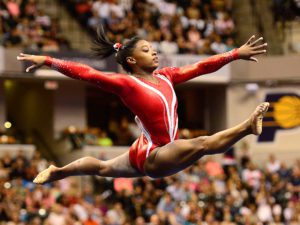 19-year-old Gymnast, Simone Biles, took home many accomplishments and accolades after the 2016 Rio Olympics. Many such as the NY Times and Time magazine are even titling her the best gymnast the world has seen thus far.
Biles is from Houston, Texas and has been practicing gymnastics since the age of 6, and has 3 World Championship titles. After winning the World Championship, Biles and her parents opened up a fifty-two-thousand-square foot gym of their own, naming it the World Champions Centre.
"One of my proudest moments was probably 2013 Worlds," Biles told an NBC reporter, "because I proved to myself that I could do things that I didn't think I could. I guess I didn't really believe everyone when they told me how good I was, and so for me to go out there and win I kind of started to believe it."
In the Rio Olympics, Biles won 4 Gold Medals- one for Woman's vault, Women's team all-around, Wo1men's floor exercise, and Women's individual all-around, and one Bronze medal for Women's beam.
Biles is the definition of #Blackgirlmagic!
By Tiara Bryant