Nude heels have been the rave since forever. The polished heels were created to elongate the leg,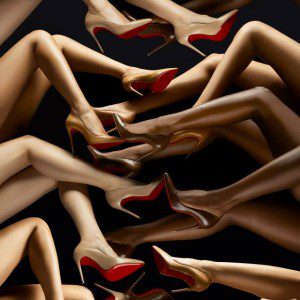 giving the wearer the appearance of being taller and slimmer. For fair skinned women these have become a closet staple, but for us darker skinned ladies – not so much. Despite the great advantage nude heels brought, these pumps were not compatible with women of darker skin tones. We were left wearing peachy nude and left feeling mismatched. We were forced to shop for brown shoes and call them "nude," but shoe god, Christian Louboutin has finally fixed our love-hate relationship with nude heels.
Louboutin has introduced his new line of nude pumps; high fashion, red backed heels called simply "The Nude Collection." These new additions come in a variety of colors that aim to complement every woman's skin tone. The shades of these shoes range from "mahogany to fair and from olive to caramel." The shoes themselves also come in different designs. From open toe stilettos with an innovative, quite literally wavy construction, to a modest heel with a pointed toe, the diversity keeps the buyer interested.
The variety of colors in shoes leaves a significant mark in the Louboutin line and in fashion as a whole. Too often we've seen fashion be directed away from women of color, and with these shoes we see the correction of that mentality. We see a high end, world renown brand finally marketing to women of color and acknowledging not only that we have the means to buy pricier shoes, but that we should buy them. In fact, the pumps have become so influential that the multicolored shoes were displayed at London's esteemed Victoria & Albert museum in 2014. The new collection of Louboutin's nudes are sure to be a hit because they remind us that nude comes in many different colors, not just blushing peach.
by Andrea Carrera