By Jade Solomon
Shavée Ho is a dubbed serial entrepreneur. From a certified life coach, published author, to established cosmetologist, Shavée's latest venture is her beauty brand, "S.H.E. Beauty Defined." A product line dedicated to simplifying complicated beauty routines for the woman on the go. S.H.E. offers "time saving makeup solutions" and "affordable beauty products without compromising quality and integrity."
What inspired you to create S.H.E and what is the meaning behind it?
For years I was a hairstylist and makeup artist, so I had the opportunity to listen to different clients and their struggles with makeup. I took all their struggles and looked at my own lifestyle. And after I had my son, I realized that what I wanted is an outlet for me, which is glam. Because I had responsibilities, I looked at getting ready as a chore. You should love what you do to get yourself glammed up and not feel stressed about it, it shouldn't take so much time. I wanted to create S.H.E. as time friendly beauty products for women on the go. The woman who has so many responsibilities she often forgets about herself.
What made you choose the foundation stick as your first product unveiling?
There're so many different foundations to choose from and so many different consistencies; for instance you have cream base and a liquid base and also liquid to dry. I wanted one to appeal to all skin tones no matter the age. As you get older, your skin needs more moisture so it's important to have a cream base that will moisturize your skin throughout the day. Which brought me to our stick foundation. Because it's a stick, it's less messy and you can apply it directly to your face, which allows for easy access. Whether you're in an Uber or on a plane, you can still apply your makeup without having to do so much.
The foundation stick lays the foundation of the make-up. We wanted to create a product that was diverse yet not overwhelming. We have fifteen different shades to choose from and formulated our foundation based on undertones; accessible and easy for the everyday woman to make it unique to her own.
Your brand also features a pressed powder foundation. For whom would you recommend the foundation stick to and for whom would you recommend the powder to? Or can they even be used together?
They definitely can be used together but I also love each separate. They each have their value. The foundation stick is fuller coverage and will cover perceived flaws and acne scars. You can also start with the stick for the base and then you can put the powder to lock and set it in and also get the matte look. Otherwise, you can use the powder on its own as a lightweight everyday look which still has light coverage but is buildable. If you want the light everyday look, I'd suggest the powder.
Let's talk about your lip kits. Why did you feel it necessary not only to include lipsticks but have them accompanied by liners?
So, the lipsticks are one product but a two in one product. The lipstick top is actually the liner. It creates a guideline for your lipstick and gives the option for people who love it and people who don't. With regular products I'd always be prone to losing my liner, and with this having one less product to think about grabbing makes it great.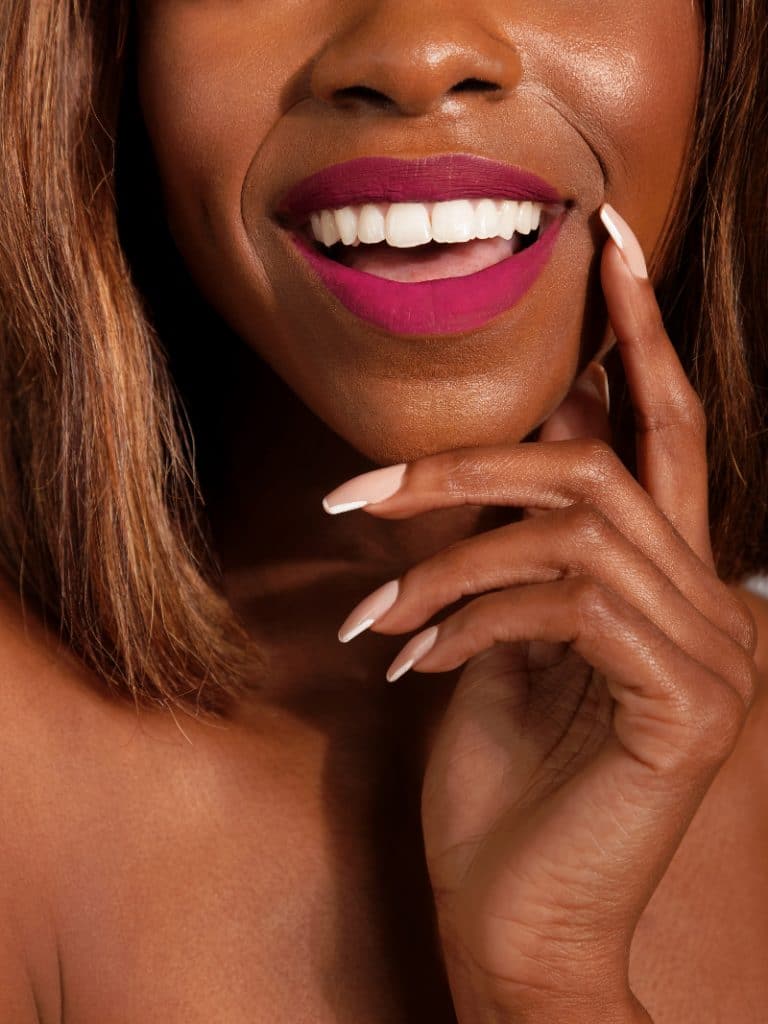 Your brand also features hair and make-up kits. Why was it important to you to include this option for women as well?
For women who have a lifestyle like me – I don't have time to shop for so many different products. I wanted to create an easy way to get the routine down from start to finish and be able to replenish my kit as I run out. With these kits, you get everything you need to start with and as you run out you can replenish. As you grow with your knowledge you can also add products to it. We wanted to create a baseline for women who don't have as much knowledge about beauty products, how to use them, or don't have the time. So, I took the hard part out of it and put them into kits.
Your brand includes a full array of products from makeup to hair. If you could choose only one product from your line, what would you say is S.H.E.'s ultimate, must-have product and why?
Definitely, the duo lipstick. If all I have on is the lip, it automatically boosts my confidence. If I'm out and I need to do anything for business or start my day, putting on color adds a mood. Having lipstick makes you feel like you got it together or are more put together. Having that lipstick is a statement piece, a staple to your look, mood booster, and confidence booster.
Why do you think it's so important to have black owned beauty brands?
I think it's well overdue. I also believe in normalizing and doing away with those titles. I feel like there's so many people that are so talented and looked over because of those titles due to race, culture, gender, etc. I'm into normalizing that 'this is just me as a business owner and I'm kicking ass regardless of who and what I am.' It's definitely time to shine a light on minorities to give them a fair chance to show the world what they have. In this day and time, I believe we are in the forefront, and a lot of companies are giving us that spotlight and we are taking advantage of that and showing out. And I'm speaking it into existence, we will be in Target. We are killing the game and we are being noticed.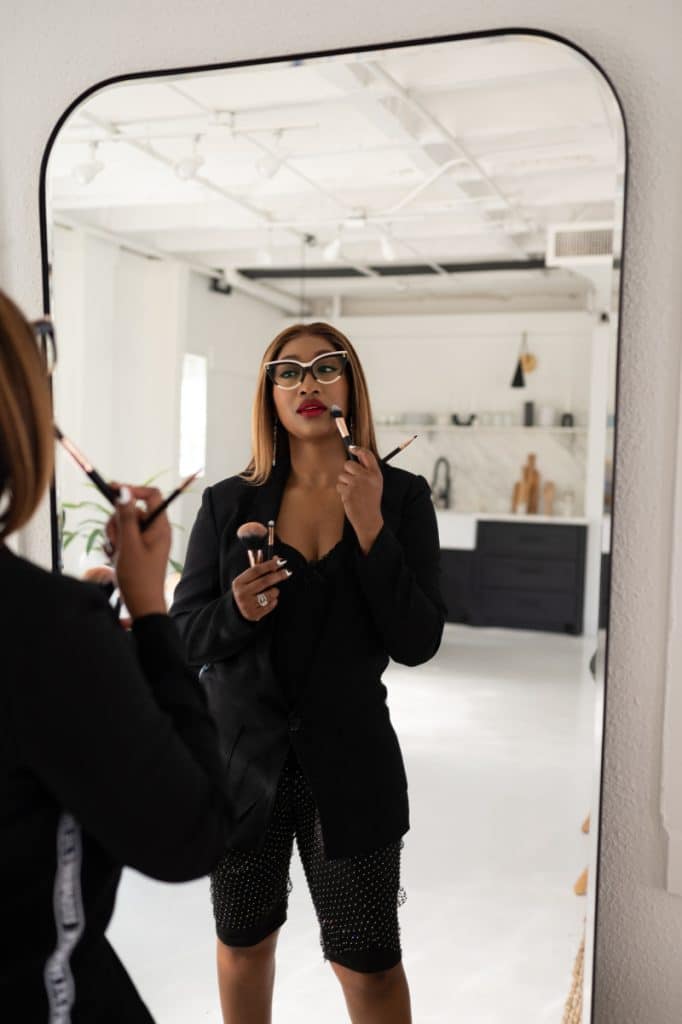 What would you say has been the biggest lesson you've learned on this journey of launching your own beauty brand and how did you overcome it?
Me fighting my own insecurities and realizing that failure is okay, and you won't know what failure is or not unless you go ahead and put it out there. I realized that there's many people I need to help and bless, and I need to stop fighting with insecurities and egos and put it out there for the world to see. I believe that I'm not alone and so many
people want things they put out to be perfect as well, but I realized I must trust in my gift and wanted it to be out and in the world. And I can't do my duty unless it's out there in the world. This is more than just a product company, it's a lifestyle. I'll be helping women change their lifestyle and their mindset.
And what would you say has been your biggest joy?
Learning about myself. I used myself as a guinea pig to create this brand. Just me glowing and growing through life, becoming a mother, and becoming a wife. I noticed that my lifestyle must change but my routine doesn't. Learning how to fit everything I want into my life without compromise has been such a job but it's a lot of joy because there's a lot of people who settle and take their circumstances as is and I believe I triumph over that. Just me becoming a chameleon to my own world has been a joy for me.
What's next for "S.H.E Beauty Defined"?
Adding on. It's definitely easy to see the feedback from clients and customers, and just being new allows for new formulas and new product drops. I'm big on community so getting more out into the community and education, just teaching people how to use makeup and fall in love with it all over again.
What do you think are going to be this year's fall beauty trends?
Warm, more warm colors. Spice, pumpkin, oranges, and reds. And that's going to be included with the S.H.E. lipsticks, incorporating the warm colors into the outfit. Makeup should be included in the outfit, and you can upscale the look just by adding color to your face. I would also say the ombre, wearing a darker color on the outside of the lip then the inner. Multiple of our duo lip combos can definitely add value to your makeup look and help you accomplish this.
To start preparing those fall looks and browsing S.H.E's full array of products, head over to shebeautydefined.com !