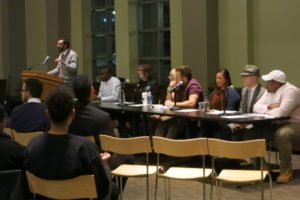 On November 9th, one day after the 2016 presidential election nomination, Marist College's Cabaret was filled with over 130 faculty, students, workers, and administrators, all of whom were standing/sitting and directing their attention to the 7 panelists who shared their personal stories about their identities. The ambiance in the room was empowering and inspirational as a panel consisting of alumni, faculty and current students revealed parts of themselves that were unknown to many familiar and unfamiliar faces.
Share Your Story is originally an event that was started by Soribel Nunez, the previous  president of ARCO (Appreciating Races and Creating Opportunities), a club on campus.  The event was designed with the effort to raise awareness on campus about the Hispanic culture. In the past, the event had not attracted as many people as the E-board anticipated, and this time around it called for a different plan that would involve more of the Marist community.
"You have to really think about the approach and how you're going to get people in the room, says Darriel McBride, a senior at Marist College and coordinator of the event. "If you are not inclusive in all of your methodology then you're not going to get a lot of people, so by using identity, I tried to find a universal way to connect people." McBride continued to explain that she had a firm strategy when promoting the event, including why she offered a very minimal amount of information on its promotional flyers. "I didn't want people to make any preconceived notions. Â If I put on the flyer that we're going to be talking about seven people's life stories, no one would want to sit there and listen to that. ARCO wasn't mentioned, and none of the clubs associated with the event was placed on the flyer because they all have stigmas attached to them. Putting less on the flyer, I think was a good way to get more people in the room," said McBride.
The event was divided into two sections: The first included panelists sharing their stories, and the other half engaged the audience to form small focus groups where each person had an opportunity to share their own stories.
"I was drawn to the storytelling aspect of the event. Conversations about diversity and inclusion can be uneasy, and at times they tested our capacity to have genuine conversations about social exclusion and isolation, explains Khuram Hussain, Associate Professor at Hobart and William Smith Colleges and moderator of the event. "Stories, especially the stories that have long been unheard, are one of the most sincere and compelling ways to cut through stereotypes and expose the nature of social inequality." Professor Hussain, who has done previous work with ARCO, was invited by the club to help organize and host the event.
The stories told by the panelists involved various experiences of oppression which included racism, sexism, heteronormativity, ableism, and class –to name a few; all of which drew an audience to actively listen to these people's stories. Panelists also shared their determination and drive to tackle their own personal incidences of oppression and become the best individuals they could be.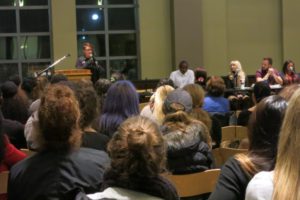 "For me personally, a lot of my experiences have pretty much cultivated the man I am today, says Dominique Alexandre, a 2015 alumni and one of the panelists. "Who I encountered, the women, men, students, and faculty, they all helped shape who I am. There was a point in time when I thought I was losing myself. I didn't have the same love or passion for my hobbies or things that I enjoyed doing on a regular basis, and I felt that adulthood was taking away the inner child in me. So being here tonight kind of brought that back. Being here, seeing the crowd and hearing wonderful stories kind of woke my spirit up. I felt rejuvenated and refreshed… I felt comfortable again."
One key point that Alexandre hoped everyone took away from the event was that they, "Learn and practice becoming comfortable with being uncomfortable. That's pretty much what this event was about…It was a vulnerable state for all of us, as a speaker and as a listener. It could be tense at times, it could be nerve-racking, but that's how people grow, individually, as a group, and as a community."
Many of the audience members appreciated that these speakers were willing to let them into their lives and to be placed in such vulnerable states.
"I thought that each of the stories were very different but quite amazing, says Christine Mulvey, who is the Director of Special Projects Networking and Telecommunications in Information Technology, and also a coach of the diversity council at Marist College. "It took a lot of courage for each one of them. I don't think any one of those stories were easy to tell. Each had its own challenges, and I think the one thing you take away from that is you don't really know a person unless you listen to them…unless you pay attention to what they are saying with an open mind. You really need to take the time to get to know a person before you make any kind of judgement."
The last session of the event opened the floor for audience members to engage in their own conversations about identity. This portion of the event was split up into 9 different focus groups. The significance of this part of the event was to engage students to be more active agents and to be comfortable sharing parts of themselves with their school community.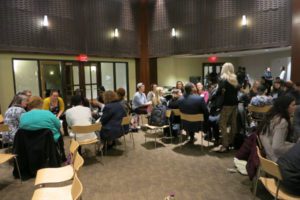 "The significance of focus groups was to have a more intimate and honest conversation with people you don't know and build that sense of community and understanding with those who can and can't relate to you, says Ashly Kim, Social Media person for Asian Alliance. "I learned that a lot of what I've experienced with my own cultural identity has been experienced by others. But I also learned that some of the things others have experienced, I have never experienced in my life. Some of the focus discussions also revealed that sometimes people who feel wronged have also wronged other cultures, which emphasizes the idea that everyone is ignorant in one shape or form, but again, you can't expect to understand every culture if you haven't been exposed to it and that's why events like these are meant to open up that discussion and allow people to correct misconceptions.
Many students saw this event as an opportunity for change and grow within the campus community.
"As someone who tries to take a very holistic view on things and really tries to take into account others and their identities, I think that it is important that we have a student led event where people can kind of make each other cognizant of those identities, says Courtenay Spalding, a senior at Marist and public relations officer for the Black Student Union (BSU).  "So we can start approaching diversity, not just from the lens of race, which is of course extremely important, but also look at it with regards to other communities and other facets as well. We can really start practicing inclusion the way we preach it constantly, and really just make this a better environment that's inclusive for everyone here, not just a select few people."
On this night, Marist College made one step towards creating an inclusive and receptive atmosphere. Despite Donald Trump's nomination, students attended the event as a stance to reconstruct an educational space that is accepting and sensitive to all cultures.
"One of the core challenges of our American 21st century is the issue of difference and diversity, says Professor Hussain. "How we deal with difference and diversity will set the destiny of this generation of Marist students. Marist College, and America itself, is as diverse as it has ever been and will remain so. Wednesday's event provided an empowering example of how we can engage with difference and diversity, and strengthen community, trust and well-being."
By Jamelia Thompson