By Whitney Sylvain
One look at Tracee Ellis Ross's Instagram page and you quickly learn three things about this flawless being. She's comical, she's woke, and contrary to her own belief, the woman is a style icon. After spending a few hours insta-stalking Tracee, I realized I had over 30 screenshots of her posts in my camera roll, and clearly too much time on my hands. I navigated to her Instagram page only to look for the season 4 air date of her sitcom Blackish and was lured into a wonderful world of witty captions, inspirational posts, and some damn good fashion moments from the queen herself. So good, she left me asking, "How does she even do it?" Well, after a few hours enrolled in Traceeology (the study of Tracee Ellis Ross) I've compiled some of my favorite looks she's worn and the style tips that make them amazing and easy for anyone to imitate. Here are all the reasons why Tracee Ellis Ross's Instagram should be at the top of your list for outfit inspiration.
Don't Play It Safe
As the daughter of Diana Ross, I've never expected Tracee to be anything short of fabulous, so it was no surprise that these two red carpet looks took my breath away. Tracee is here showing us that Haute Couture and cornrows are a do. Always. She teaches us here to deter from going the expected route when it comes to styling our looks, whether we're styling hair or accessories. This combo was just as striking and makes us fall further in love with Tracee. She rarely takes herself too seriously, which is the first step to executing the effortless glamour she exudes.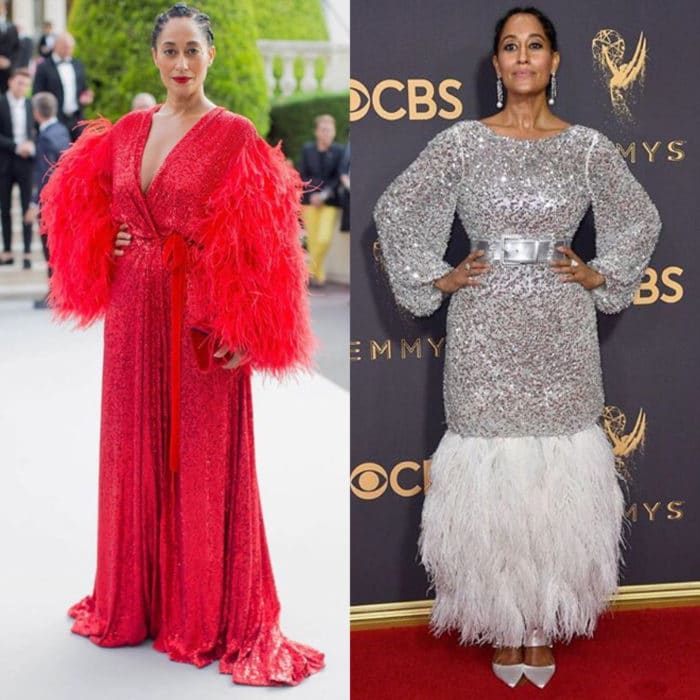 All White & Off-White Combo
Wheter it's a red-carpet moment or streetstyle slay, Tracee exudes that effortless glamour every woman should strive for.  Off white? And pure white? Together? Genius. Tracee showed us this color combo as a subtle way to be daring, and so chic. It's not a common color duo but the contrast really does elevate this look. I'll definitely be trying this color recipe in the winter.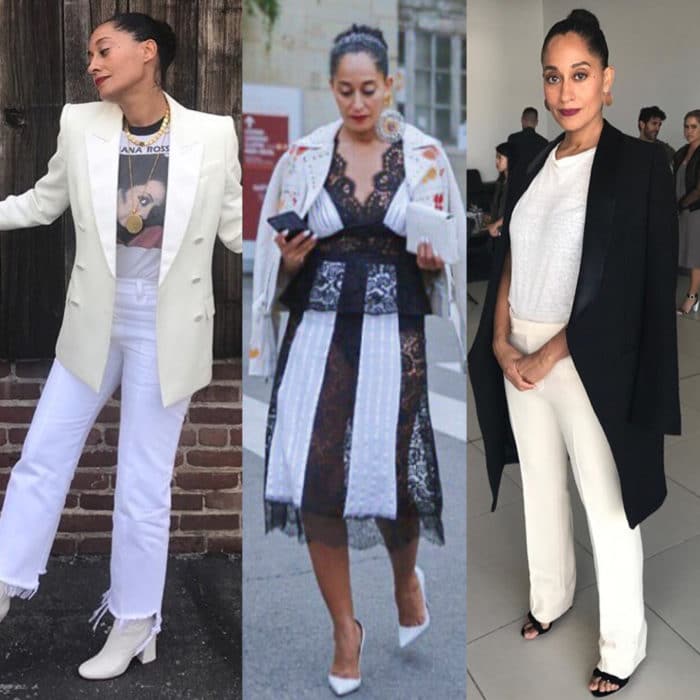 Monochromatic Styling
Another styling lesson Tracee constantly reminds us of is monochromatic styling. Wearing different shades of the same color palette. Next time you don't know what to wear, just scan your closet for all the items that are the same color and put that on. This style tip can never do you wrong. Tracee does it here sporting golden yellow, tomato orange and pink tones.
Amp up Outfit Drama with Accessories.
Layering on the jewelry with an already over the top dress? Tracee says yes, and so do we. Never underestimate the power a little arm candy and other accessories can do for your look.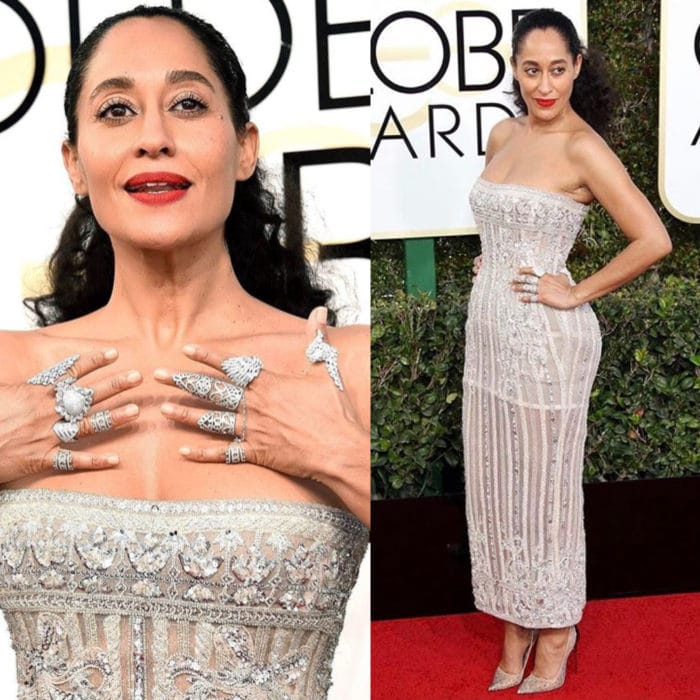 Wear Your Heart on Your T!
In addition to being one of the most entertaining and comical people on Instagram, Tracee is known to be valiant when it comes to the discussions of political, social, and racial issues. But sometimes she lets her T-Shirts do the talking. Wearing graphic T's which often spotlight feminism and her humor paired exceptionally well with her iconic style. Take it from Tracee, a statement tee is better than saying nothing at all.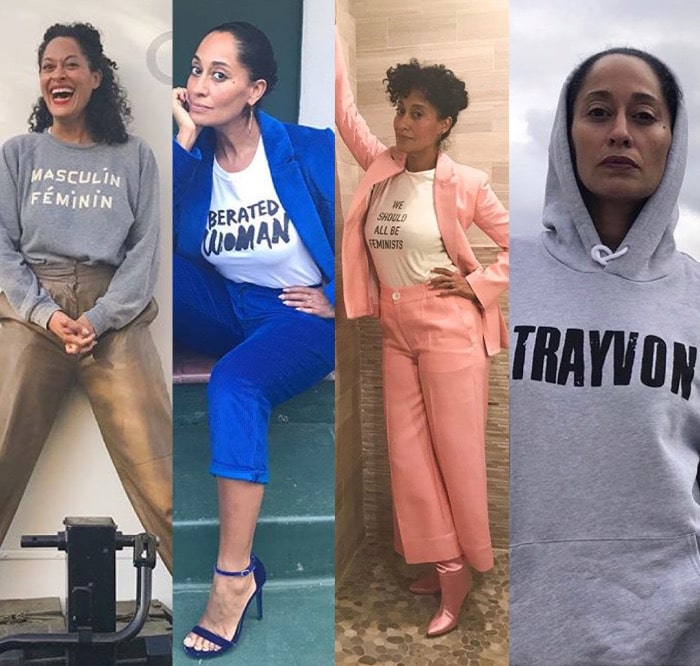 Denim on Denim
For those days when you're just feeling more casual than others, take this style tip from Tracee and wear denim on denim. It's also a quick way to coordinate an easy going, fashionable look.
Print on Print
And for those days when you aren't feeling so casual, experiment with print blocking. Proceed with caution because this styling tip can go so right, or so wrong. Just make sure the base colors of your prints are similar in hue.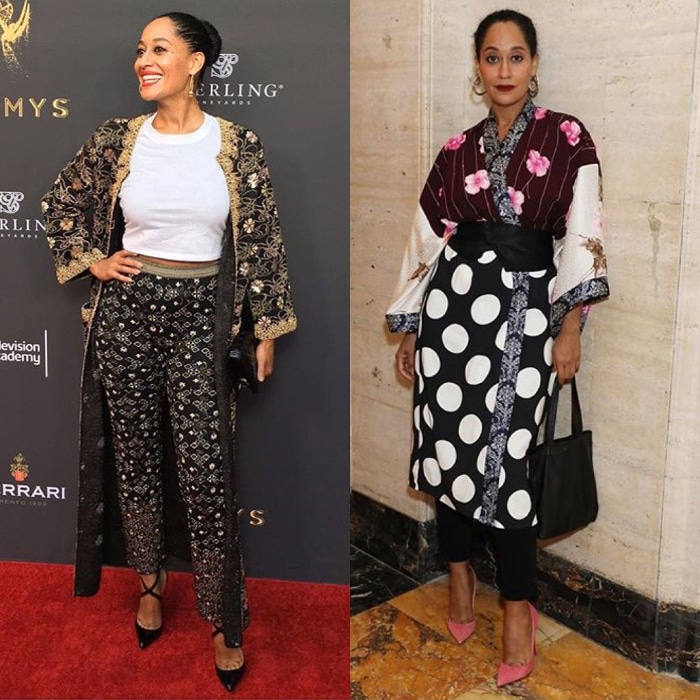 The final styling trick Tracee incorporates into all her looks and never leaves home without is confidence. Tracee exudes total confidence and joy whether she's posing for the gram or acting alongside her costars on an episode of Blackish. Moral of the story, whatever you wear, make sure you wear it with confidence; it's the perfect accessory.