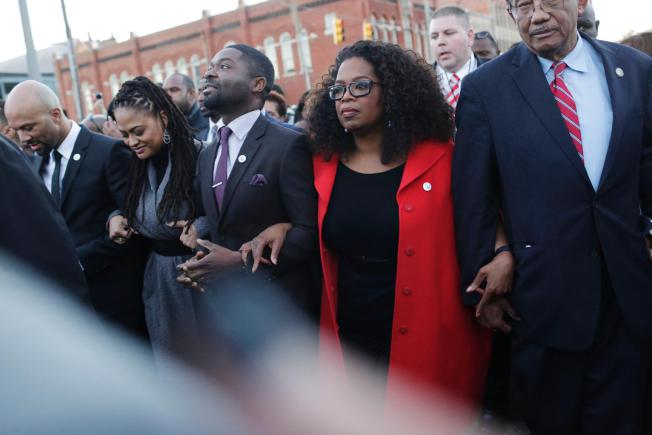 Oprah Winfrey and the team behind the film "Selma" took their star power to Alabama Sunday to honor Martin Luther King Jr. Winfrey, the film's director Ava DuVernay, its castmembers David Oyelowo and Common, and the producers behind the movie joined local residents in the city of Selma for a massive march. Common and John Legend performed their Oscar-nominated song "Glory" from the film. Common had a part in the movie and said that song sought to show the link between the struggle of the past and today's injustices.
The hours-long event started around 4:30 p.m. CST with a Question and Answer session with the cast and filmmakers at Selma High School. The King holiday meanwhile, was being met with various activities nationwide, including plans for a wreath-laying in Maryland, a tribute breakfast in Boston and volunteer service activities by churches and community groups in Illinois. In South Carolina, civil rights leaders readied for their biggest rally of the year. "Selma" chronicled turbulent events leading up to the historic march from Selma to Montgomery, Alabama, and the subsequent passage of the 1965 Voting Rights Act. A producer on the film, Winfrey (she also portrayed activist Annie Lee Cooper in the movie, which was nominated for two Oscars, in categories of best picture and best original song) praised the original 1965 marchers for their courage in meeting fierce opposition on the Edmund Pettus Bridge in Selma. On Monday, Oyelowo delivered a touching tribute to King at Ebenezer Baptist Church in Atlanta, where church members over the weekend sang the civil rights anthem, "We Shall Overcome."
The streets of historic downtown Selma were filled with people hoping to catch a glimpse of Oprah Winfrey as well as the cast and crew. While most of "Selma" was filmed in Atlanta, Georgia, several scenes were shot in Alabama, such as the Selma-to-Montgomery march across the Edmund Pettus Bridge in Selma. In addition, filmmakers shot a scene where King leads civil rights demonstrators down Dexter Avenue toward the Alabama State Capitol in Montgomery. Many members of the crowd said they were excited to see the Hollywood stars, but were also eager to pay tribute to the history of Selma and the Civil Rights movement. President Obama screened the film at the White House Friday and was joined by the cast and crew. Free screenings of "Selma" are also being offered to more than 275,000 middle school and high school students across the country in select cities including Selma, Boston, Chicago, Dallas, Nashville, New Jersey, New Orleans, New York, Sarasota, FL, Washington D.C. and more.
by Farren Washington