By Cathy Baydianz

Don't go into this newest off-Broadway gem by Ghanian-American screenwriter Jocelyn Bioh expecting a rehash of Lindsay Lohan's Mean Girls. Â On the surface, it may seem like another teen drama about high school girls battling for the title of queen bee, but in actuality it's a probe into the ideologies of Western standards of beauty.
With a recent run at New York City's MCC Theater that ended on December 31st, School Girls; or the African Mean Girls Play takes place in a Ghana boarding school in 1986, where the girls are under the reign of the ever-manipulative Paulina.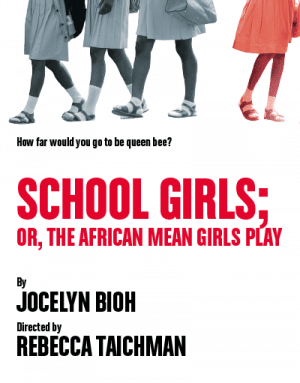 That is, until the arrival of the bi-racial beauty, Erika, returning from the exotic land of Ohio, USA, to Ghana to finish out her last school year.
We are greeted with a typical Hollywood stand-off between the two beauties butting heads for control of the school, but with new undertones that we don't typically see. These two girls are battling not only for supremacy over the other school girls, but battling their own inner demons as well. It's only when we hear of their insecurities do we finally understand Bioh's true intention with the play.
Erika, coming from a place where she was ostracized for being black, is now in an environment where everyone sees her as perfection. She is a beautiful girl, from a country thought to be exceedingly better than the other school girls' home of Ghana. She had access to what the other girls saw as American riches, such as clothes from department stores, make-up and hair products, and school girl dream items like Bobby Brown records. She is now in a place where she is finally idolized.
Paulina, on the other hand, has been striving to look exactly like Erika, who accomplishes it with zero effort thanks to her mixed background. From her light skin, to her long, thick hair, it's everything Paulina envisioned as the ideal African beauty. While Erika has been blessed with this gift, Paulina has been struggling to improve her image, and has been even reduced to using skin-bleaching products to lighten her skin tone. In a shocking moment, we even learn that her own mother would buy them for her.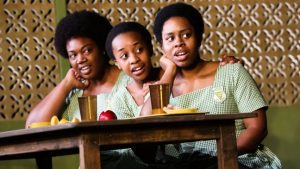 The conflict only escalates when Eloise, a recruiter for the Miss Ghana pageant, arrives to seek a new contestant that has a more commercial and acceptable look. Someone who would make her presence known in the world and put Ghana on the map. And in her mind, there is no other person better than the mixed, American beauty, Erika. In her own words, Erika is someone who fits on the "other end of the African skin spectrum."
As we think Erika would move on to the pageant problem-free, Paulina reveals (thanks to her manipulative skills in forcing a fellow mean girl to acquire Erika's school transfer records) that Erika was never even born in Ghana in the first place, making her ineligible for the competition. Even at the behest of the Headmistress Francis, who has a similar "mean girl" relationship with the pageant recruiter from childhood, the recruiter demands everyone to stay quiet. In her eyes, this is the one chance they have to make Ghana stand out.
While we sit on our hands waiting for someone to speak up, no one does. For Paulina, she can say nothing that would change their minds. For Erika, it is a chance to be crowned something she never would have dreamed of in the states. For the headmistress, it's an opportunity to earn potential much needed money for her school. And for the pageant recruiter, it's a chance to stand out to those who thought she was nothing more than a former Miss Ghana.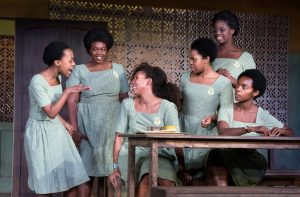 Despite their reluctant agreement to continue with the pageant, we are left with nothing positive in return. Instead we are left with the realities of the world stage and are assaulted with images of western beauty. The ending scene leaves us silent as we catch glimpses of the harsh realities. Paulina, sulking in the corner, holding a teen vogue magazine with a white girl on the cover. The girls surrounding a TV set, watching as Erika (who had been crowned Miss Ghana), doesn't even make it to the final selection for the World title. We watch their eyes as confusion sets in when a contestant from South Africa moves into the final round, only to discover that she was in fact white.
There's no happy ending in this play. In fact, you're left begrudgingly accepting that not much has even changed since the year in which this play took place. There are still unfair standards of beauty, and even today western culture and ideologies play a huge role in the global stage. The distorted messages to African girls are still there today.
Bioh has done an amazing job of allowing the audience to partake in an emotional experience of inner conflict and global stereotypes through the eyes of these African school girls. One can only be thankful that Bioh's powerful message reached as many people as it has already during this incredible run off-Broadway.