By Esha Bargate
Talented actress Sandy Sidhu plays a leading role as Nazneen Khan in "Nurses," an NBC medical drama which recently premiered December 2020 in the United States. Khan is a rising star in her native Vancouver, British Columbia, Canada where the series first aired on Global TV. Her attraction towards the arts began with drawing at the age of 3 and acting at age 14. After landing several leading roles in live theater, Sidhu's big break was the role of Priya in the award-winning drama "Grey's Anatomy," the love interest of Jackson Avery, portrayed by Jesse Williams.
Bronze Magazine caught up with the talented actress, who discusses her leading role in the medical drama "Nurses," its challenges and opportunities, experiences on the show, and much more.
In "Nurses," you play a character named Nazneen Khan, the whip-smart daughter from a wealthy family in India who moved to Canada to reinvent herself and is now starting her first job ever. How does this character differ from other characters you have played?
Nazneen Khan is a very different character from what I played before. I never played a character who has come from India. I feel privileged to play this character because my parents came from India to Canada as immigrants, and this is a similar story of who had to possess an extreme amount of courage and strength to make a life change in hope of something better. I feel this is a huge difference from the previous characters.
One more difference about this character is that Nazneen is a daughter from a very wealthy family. She's undergoing a lot of personal self-change, growth and development. The contrast of playing someone who comes from a wealthy family who then goes into nursing, a profession that is selfless. Playing those differences for the first time, I felt rewarded.
Your mother, Jasvir, is an experienced nurse. How did this help you in preparing you to portray Nazneen Khan?
I share my life with my mother, Jasvir, who was an experienced nurse and has helped me to understand the character. I asked her a lot of questions about this character.
One interesting question I asked my mother was, "Can I paint my nails as a nurse?" The character "Nazneen" is quite feminine in her self-expression. Knowing this, I wanted to paint her nails but my mother said nurses have clean nails.
I owe my mother for the understanding of this role because I grew up with her. I didn't realize how much of her warmth and love for the community I had absorbed. My mother is a loving individual. It is natural for her to want the best for others and for the world. I have never spoken to her personally about her job. Nazneen and my mother come from very different origins in India so I wanted the heart of what my mom possessed to be in the heart of Naz. That was really what motivated me to be really excited about the role.
On "Grey's Anatomy," you played a character named Priya, a human rights lawyer who dated Jackson Avery. How is your "Nurses" experience different from "Grey's Anatomy?"
"Grey's Anatomy" was really a door opening opportunity into the film industry. Everything changed after that guest appearance. Suddenly, people were a lot more open to seeing me in the casting offices. The industry is quite competitive in the sense that there are a lot of people that might be auditioning for a part, so when I did "Grey's Anatomy," that essentially changed my life.
The difference is you know they are both medical dramas, but those characters are just completely different from each other. Priya in Grey's Anatomy is from North America, and she is a very high-powered attorney. I would imagine she is a first or even second-generation American. Nazneen is from India, and she is an immigrant in Canada. In terms of the medical drama format, Priya has nothing to do with medical plot lines. She is dating Jackson Avery, played by Jesse Williams. She doesn't have anything to do with medicine directly, though she may have some general understanding of medical issues. Her main priority and focus in her life is the law. Naz, on the other hand, realizes that her passion and dream have turned out to be in nursing, so they're very different in their career paths.
On "Nurses" there are five nurses… three females and two males. How does Naz depend on some of the other characters, and what are the differences between her and her co-workers?
The special thing about our show is the chemistry between the main cast. They depend on each other differently. The audiences will discover that they really have this banter and how they share each other's playful side.
"Grace Knight," played by Tiera Skovbye will kind of open up to Naz's playful side. "Keyon Colby," played by Jordan Johnson-Hinds, is Naz's best friend on the show. She instantly has this connection to him by just being completely herself. Another character is "Ashley Collins," played by Natasha Calis. I think Naz feels strength from Ashley. She can rely on her if things get tough and if she needs someone to have her back in a medical scenario. One of the male nurses is "Wolf Burke" played by Donald MacLean Jr. I think he kind of brings out Naz's strait-laced side. He's a bit of a rebel and can be a little bit of a rule-breaker in her eyes; he's someone that she just doesn't really understand. So, it's really funny that way.
Your "Nurses" part requires you not only to use your acting skills to show a range of emotions, but you also must portray competence as a nurse. How did you learn to portray nursing skills?
Josh, who was a real medical adviser and nurse on the set, was on our show every single day. That really helped us all tremendously. Honestly, we had no idea until we showed up on set and Josh would be like, "Okay, this is what you're doing in the scene." We always knew the emotion of the scene. I always knew this was a story with the patient, but in terms of how to draw blood, I had no idea until Josh would show me the actual procedure. That's the way it works on our show. There is something called "blocking," which you do before you shoot, where you break down the scene with the director and the crew. After blocking, Josh will come and help you kind of break down what you're doing in that scene. That is when we get to practice before we go on to the camera. That's kind of how it is done.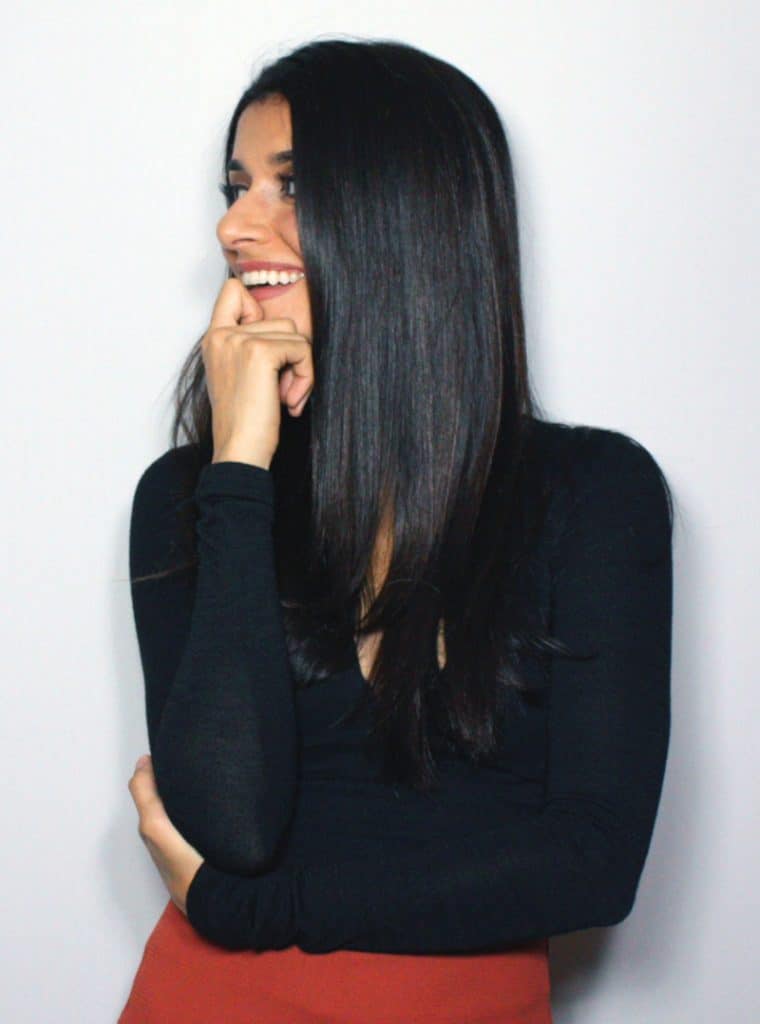 You have a degree in cell biology and genetics. What was the reaction from your parents about your pursuing a career in acting?
My parents are Indian. There were kind of expectations. It was a shock to them, I'm sure. I remember when I wanted to tell them that I wanted to go into acting full time. I was so nervous and scared that it was gonna damage the relationship between me and my parents.
I'm really lucky. Honestly, I grew up with parents that just wanted us to be happy. When I finally told them I was stunned because they were like, "Okay, go for it, but work hard." That was their reaction. Looking back, I realized I have been drawing since I was 3 years old, and acting since I was 14, so it wasn't a surprise to my mom and dad that I wanted to be an artist.
I'm the first in my family to have pursued acting as a career, so naturally as parents they are gonna have a lot of anxiety around it. I think that they had all this fear because they didn't have any connection to the film industry. We don't know the success rate, and they know that acting is a really difficult path. I think my parents had realized though that I knew how to take care of myself and at the end of the day,
was always going to be able to put a roof over my head.
Did your degree help you in preparing to portray a nurse?
My science degree helped me a lot. Any audition I go for that has a medical background gives me a lot of confidence. I would say my degree taught me how to learn. When you have a competitive degree like that, it forces you to learn how to problem-solve and critically think for yourself. When there is a medical scenario in a scene, I definitely have an advantage because there is a lot of background knowledge. That helps me support the story and narrative that makes it a lot easier for me.
The roles of immigrants in the United States have been much in the news in recent years, and immigrant characters have become more prevalent in U.S. television. How do you feel about portraying an immigrant character? What are the challenges? What are the opportunities?
I think it is a good thing if you have more immigrant narratives on television and film. In the past, I think a lot of stories of immigrants were slanted towards quite a stereotypical and often mis-portrayed story, which would kind of perpetuate to an audience an inaccurate portrayal of someone who is an immigrant. There are stories where that's not the case, and they do succeed. These stories help to change the audience's understanding of the life of an immigrant. These stories are always important to me. I was excited to share the story because my mom and dad are immigrants. They are my heroes. You know, growing up being a first-generation Canadian, I watched how hard they worked to build a life for us so I was very protective of my role with Nazneen. I knew the pitfalls with this character were that she could fall into a stereotype and I was very scared. I had the intention of wanting Nazneen to be a real breathing human that people could relate to.
Hopefully, audiences will watch the show and feel connected as if they were in the hospital being treated by a nurse who's an immigrant. And they could have a greater understanding of a nurse who isn't necessarily first-generation or naturally born in North America. They would see it as more of a "cherry on top." Ultimately, I think "Nurses" is a story about community and about love, heart, and connection.
I'm a first-generation Canadian. My aunts, uncles, and all my relatives are all immigrants. I want to know that I can portray that story with the best of my ability.
The world and the United States is in the middle of the COVID-19 pandemic. You now are portraying a frontline health worker. Has the pandemic affected your portrayal?
Honestly, I'm really glad that we filmed the first season before the pandemic, because I know if there was ever any question about our motivations in making the show, it was that we genuinely wanted to create a spotlight for sharing stories about our nurses. When the show first aired in Canada, we were saying this is a chance to share the story of unsung heroes, because it was before the pandemic. I live in Vancouver, so when the pandemic first hit, for the first three months, every single day at 7 o'clock the whole city would erupt in applause, thanking our frontline heroes.
It is interesting now to have a show where we talk about nurses. I don't get to say anymore that they are unsung. I think it is wonderful. My mom is a nurse. It is a very personal connection, so I did pour my heart into it.
In this post-pandemic world, it still resonates with an audience. Our intention is to celebrate nurses. When we were going into filming Season Two, which we have completed, it did add a greater level of responsibility. I am really privileged.
Medical based shows have long been popular on television like "Grey's Anatomy," "The Good Doctor," "The Resident," and now "The Nurses." With all this competition, what do you think will attract U.S. viewers to "The Nurses?"
All the shows that you listed focus on the doctors. In those medical dramas, it was pretty evident that nurses were kind of an afterthought. So, what makes "Nurses" different is that we actually shift their narrative to being a really important part of the hospital. Those medical dramas are amazing, and I love watching them but nurses don't play an important part because that's not the story. Our show 'Nurses' allows for an examination of the people who are truly at the bedside of the patient; that's not to be underestimated or undervalued. The impact that they make is huge. Nurses have more opportunities and more time to connect emotionally to a patient, to help inspire them. We changed the spotlight to that story, which is really exciting. I think that's what is really special about the show.