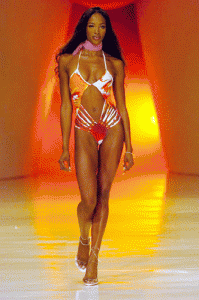 Hands down, Naomi Campbellhas the best legs on and off the runway. Unforntunately, long, lean, lovely latte-brown legs do not come naturally to many of us.
While Naomi was "Born That Way", the rest of us who are genetically challenged in the calf and thigh department can take a clue or two from the runway to make the most of our lower limbs.
Mercedes Benz Fashion Week in New York just ended, and you may be wishing you had flawless legs like the models strutting down the runway, specifically Naomi Campbell.
While we are not always in awe of Naomi's "model behavior", we certainly believe taking a walk in her stilettos for runway-ready legs.
We all know that a workout on the eliptical or stair climber is the key to curvy calves and great glutes, but what about issues that exercise can't fix? Fake it 'til you make it!
 Banish cellulite, improve texture, fake a tan, tone skin, and relieve swelling with these best in beauty products for legs that get noticed.
Top 5 beauty products to help keep your gams glam.
1. Firming 
Biologique Recherche Creme Anti-C $103 for 6.8 Oz
An anti-cellulite treatment that results in increased firmness to provide a slimming effect, so you can look like you walked right off the runway.
2.  Improve Texture
Biologique Recherche Serum Matriciel $120 for 3.4 oz
A daily treatment designed to firm skin and improve elasticity, while hydrating and helping to refine skin texture to help you look and feel your best.
3.  Reduce Swelling
Nuxe Spa Tonific Revitalizing Leg And Foot Gel $29
This super-fresh revitalizing gel works to decongest, relieve and stimulate surface micro-circulation, so not only do your legs look their best, but feel their best too.
4. Â Tone
Mary Kay TimeWise BodyToning Lotion 8 fl. oz. $28
Skin that's firmed. Toned. Defined. Hydrated for 24 hours.
5. Â Arcona Bronzer Self-Tanner 120 ml. $32
Light, oil-free bronzer/self-tanner creates radiant, natural looking color without the sun.
By Tracey Brown