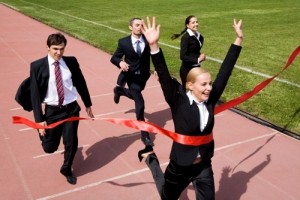 I was truly inspired by the story of a 100 year old man, Fauja Singh, who after 8 hours of running, made it to the finish line at the Toronto Marathon. Though he finished last, he was determined, thus, earning a spot in the Guinness World Records. After finishing the article, I thought about the similarities of preparing for a marathon to that of running a business.
As a woman in business with many responsibilities, here are 3 tips to help you to the finish line:
Stay Dedicated… it's Key
As a marathon runner, a daily workout routine is imperative to condition your body. This includes training early or late; maintaining a well-balanced and strict diet; and making adjustments in your routine to ensure your success.
In business, your focus is your company's overall success. This includes staying focused on your mission and vision, and exploring ways to improve the operations and efficiency of your business. What works best for you will be related to your objectives; what your product or service is as well as your personal operational style.
Set the Goal… and be ready to make changes
As a marathon runner, you've set your goals to win! You are consistent and stick to your well thought out training routine. It is important to be prepared for unforeseen obstacles along the way. Embracing change will help you to cope with an unexpected injury, poor weather conditions preventing your workout or worse, losing a race.
In business, you must dedicate time each day to manage and grow your business. It is important to monitor your progress in case you need to make minor or major changes.
Here are three tips to help you embrace change:
1. When you are considering change in your overall operations, develop a clear focused vision of the outcome(s) you are striving to reach, and then proceed cautiously to reach your vision and goals.
2. Embrace positive change and free yourself from processes that don't work. You are only hurting yourself and your business.
3. Avoid Stagnation! Change does not mean that the world is going to collapse around you. Just go with the flow and see where change will take you. Remember that you control your life so do not let change control you.
Don't do it alone… assemble your team
As a marathon runner, you'll need to hire a coach. A coach will keep you motivated; assist you in creating a customized training program; and cheer you to the finish line!
In business, having a staff in place is paramount. As your business grows, so should your 'tight grip' on controlling every aspect of your business. This attitude can cripple you! It is important that you delegate non-core business tasks to your staff or consider outsourcing.
In conclusion, whether running a marathon or a business, you must have passion, preparation and confidence in your abilities. Yes, the race is long and hard, but sweet success comes at the finish line.
Sylvia Browder is CEO of Browder Consulting Group, a virtual small business consulting firm. In her role, she helps Women in Business grow and succeed. She is also founder of National Association Women on the Rise, a virtual community for aspiring and established women entrepreneurs. She is employed as Project Director for The Women's Business Center, Inc. She has served as an online volunteer SCORE counselor since 2004
• Become a fan of 'National Association Women on the Rise:' http://bit.ly/9qqvWW
• Follow me on twitter: http://twitter.com/sylviabrowder
• Are you LinkedIn? http://www.linkedin.com/in/sylviabrowder
• Join 'National Association Women on the Rise' on LinkedIn: http://bit.ly/dsd5E0
• Join our community on NING, www.nawomenrise.com