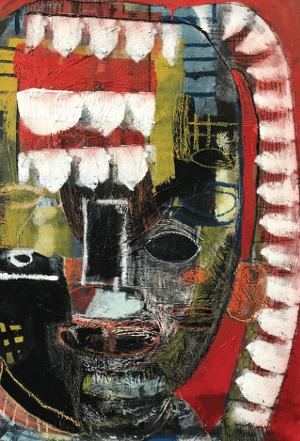 In appreciation of Pride Month, The Richard Beavers Gallery is pleased to announce GOD IS TRANS, an exhibition by contemporary urban expressionist, Genesis Tramaine. The exhibition will run from June 16 through August 11, 2018 with an opening reception on Saturday, June 16, 2018 from 6pm to 9 pm along with an art conversation which will be held on Sunday, June 17, 2018 from 3pm to 5pm.
GOD IS TRANS challenges the traditionally belief that God is male and ask the viewer to canvass God outside of traditional gender binaries but as "trans" – a spirit that occupies the spectrum between both genders. The series combines Genesis's skills in printmaking, typography, and portrait painting and will include over 20 two-dimensional, and color filled genderless portraits and three-dimensional installations of visual narratives which exemplify taboo lifestyles and social barriers still present in traditional, religious practices, and institutions.
Richard Beavers Gallery is a staple in the urban art community, and I am excited about the work as well as the opportunity to engage the community that largely grew and cultivated my style, craft, and process," says Genesis Tramaine.
 
Location:
 Richard Beavers Gallery, 408 Marcus Garvey Blvd, Brooklyn, NY
Show Title:
 GOD IS TRANS
Exhibition Dates:
 June 16 – August 11, 2018
Opening Reception:
 Saturday, June 16, 2018 | 6pm – 9pm
Art Talk:
 Sunday, June 17, 2018 | 3pm – 5pm (Please register at 
Eventbrite
)
Gallery Hours:
 Tues. – Fri. by appointment only, Sat. & Sun. 12pm – 7 pm