As our economy continues to struggle, people across the nation are out of work and wondering how they are going to support themselves and/or their families. News reports of job purges and layoffs dominate the media: "Best Buy to cut 2,400 jobs in turnaround effort"; "Hewlett-Packet job cuts: 27,000 by 2014 in major reconstructing". So what does one do during these troubled times? Is all hope lost? Should we give up?
"Giving up IS an option, just not one that I would choose," says Rhoda Williams owner of RhoLee Concepts & Designs. "Bad things happen to good people all the time. We have to decide whether we're going to allow it to be the next challenge we overcome, or the next problem that overtakes us. I choose to overcome!"
Ms. Williams, a native of the San Francisco Bay Area, turned her hobby (designs) into a business after a job lay off. "When I lost my job, I moved back home with my parents. My mother told me the best way to fend off depression was to keep myself busy with some kind of hobby."
"Working on my computer making flyers had become my hobby. I used the trial and error method to teach myself how to use design software like Photoshop. I never took a computer class. I just continued to work at it until I got it right. While working for the Government, I had the opportunity to attend school. I earned an Associate Degree in Business, but I wasn't quite sure what I was going to do with it. But God knew. After a couple of months of designing flyers for my local church, my mother suggested that I turn my hobby into a business."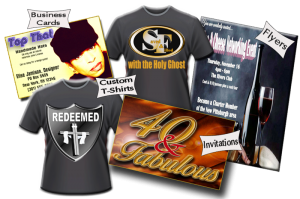 With her mother's suggestion Rhoda Williams took the 'Rho' in her first name and Lee from her mother's first name (Leona) and began RhoLee Concepts & Designs. Her graphic design company specializes in all types of visual art (custom designs for apparel, postcards, business cards, flyers, newsletters, etc.). Imagine turning your hobby into a flourishing business that actually supports you! Her story is truly an example of success during an unstable economy!Since the start of her business, she has lost the two most important people in her life (her parents). Though this is the case she continues to "honor their memories and move forward no matter how hard it gets." It's rather interesting that Ms. Williams' mother gave her the answer (hobby to business) that continues to withstand to date.
"I'm using that business degree I didn't know what to do with, I'm earning a great living doing what I love, and I'm helping others in my community which is exactly what I set out to do. I couldn't be happier!"
References:
http://www.lasvegassun.com/news/2012/jul/06/us-best-buy-job-cuts/
http://www.usatoday.com/tech/news/story/2012-05-23/HP-layoffs/55172146/1