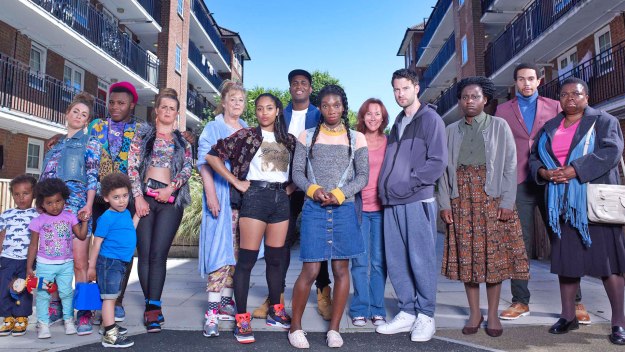 Mix together one part Awkward Black Girl's awkwardness, three parts Bridesmaid's gross-out humor, around 57 parts secondhand embarrassment, the sex ed knowledge of a high school freshman, and what you'd get comes close to describing the experience that is Netflix's Chewing Gum. The show premiered early November after its original run on the British network, E4. It was created by, written by, and stars Michaela Coel who, based off of this work alone, will soon become a household name in the entertainment industry. Seriously, a quick Twitter search will tell you that most people consider this six episode sitcom to be the best comedy of the year. Chewing Gum's more famous fans include creators like BlackGirlNerds and Kidfury, actors like Unbreakable Kimmy Schmidt star, Tituss Burgess and, if Coel's 2016 award for best female performance at the BAFTAs is to be believed, a whole boatload of industry insiders.
Chewing Gum is the story of 20-something Tracey Gordon. Tracey lives with her mom and younger sister, she works at a convenience store, she hangs out with her best friend, and she is desperately trying to lose her virginity. However, that's easier said than done. Her family is super pious and dedicates time to spreading the word on the streets. Her younger sister, Cynthia, has taken up personal responsibility for saving Tracey from the devil. And while she does have a boyfriend, he's saving himself for marriage. But Tracey can't escape her impulses, so when she meets her neighbor, poet and generally unemployed, Connor, she finds herself attracted enough to make her move.
What makes Chewing Gum a must-watch series, is its humor. In one scene, Tracey lets her best friend, Candice, give her a Beyoncé-makeover so that she can seduce her boyfriend. In another, Tracey accidentally drinks a drug cocktail right before meeting the boss of a job she wants. Every situation Tracey gets into ends up going to extremes. What makes it better is that Tracey is so socially awkward and sexually repressed, you'll find yourself either laughing out loud or watching the whole thing through the cracks between your fingers. It was Coel who won a BAFTA for her performance, but, really, the entire cast knocks it out of the park. Susan Wokoma, who plays Tracey's sister Cynthia, is especially hilarious as a sheltered girl who wants to protect Tracey but is also tired of living in her older sister's shadow. The show is full of colorful and entertaining characters who each help Tracey fulfill her dream of getting a life and getting laid.
Chewing Gum is not a comedy for the faint of heart. Just when you think it's too much, it'll take another leap into "what the heck am I watching" territory. That, however, is precisely what makes it so fun. This show is continuing a trend that allows black women to be wild and free as well as imperfect while "figuring things out." Underneath all the layers of dirty humor, awkward encounters, and downright cringe, there's Tracey Gordon, a relatable woman unapologetically chasing what makes her happy.
Chewing Gum is now available on Netflix.
By Lilian Uzokwe