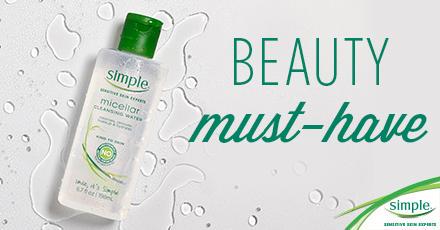 Recently I've had my hands on some skincare items that are refreshing, hydrating, and provided my skin the shock it needed. I love any product that can help reduce redness, keep my sensitive dry skin clear and smooth, and can be used for multiple purposes. One of such products is Simple's Miscellar Cleansing Water.
When I first saw SMCW I was intrigued (especially since I occasionally use Sephora's Triple Action Cleansing Water). This product is a great way to refresh your skin and get rid of minimal makeup. I say minimal because for anything long-wearing or involving heavy makeup, a different makeup remover has to be used. SMCW can also be used as a toner. I'm not one that's big on using toners except after a great workout,midday refresher in the summer, or when traveling. With a couple of drops on a cotton pad swipe, you can use this as you would any toner and your skin will instantly feel hydrated,soft,and clean.You can let it dry and moisturize as normal.
I love using SMCW in the morning with my Clarisonic before I wash. I use it as a pre-wash to remove my night cream, serum, and eye cream. I am one that likes to double cleanse in the morning and triple cleanse when I remove my makeup. Because you're swiping it on your face with a cotton pad, this motion gives you a gentle exfoliation so that when you cleanse your skin it's prepped for a smooth makeup application. Another way I've used this is on the weekends when I bare it all; and in the late afternoons when I feel like my skin is getting "icky," I apply it lightly to give me a pick me up.
SMCW is a great product to use if you like to keep your morning routine quick, you're always on the go, or need something to refresh your spring beauty routine. Because Simple is a brand that is for those with sensitive skin, anyone can use this. It can be found in drugstores everywhere for less than $10.
by Rosalyn Robinson