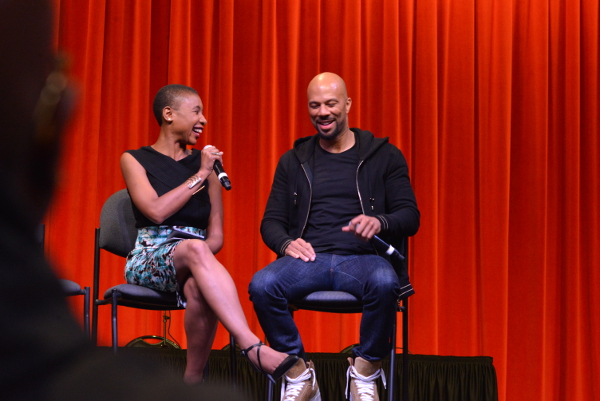 Hey Bronze Beauties! it's  Tanthony Raeshawn, Bronze Magazine's beauty and fashion editor providing you with all the deets of my recent 2 day exclusive journey at Circle of Sisters 2016. As I made my way from one end of the Jacob Javitz Center in NYC, I ran into Bronze Beauties, Celebrities, Activists and Vendors alike. My first destination was to check out the conversation about The State of Black America featuring rapper/actor/activist Common, and the beautiful Raqiyah Mays (WBLS). Common spoke about the importance of voting and being continuously active and involved in the Black Lives Matter Movement, but without all the accolades. The Chicago native has a real passion for changing the way Black America is currently viewed, and he expresses it in all of his creative sectors including his Album titled The State of Black America. Al Sharpton, who later joined the conversation, laid out some powerful advice to women about holding their men accountable and staying in relationships because of guilt.
Shortly after, our journey led us to a panel discussion moderated by  Dr. Jeff Gardere (Psychologist/Professor) on Women's Health, along with several amazing, influential women including Vanessa Bell Calloway (Actor/Producer), Maria Davis (HIV Activist/Music Promoter),  Deshauna Barber (Military Captain/Miss USA), Terri Williams (Activist for Ebony Magazine Power 150/PR&Communication), and Tracey Jones (Midwest Regional Director for the AIDS foundation). These powerful women shed light on mental health, knowing your status, preventative care, and taking care of self as a whole. The panel ended with great questions from the audience, with each panelist offering up answers with their own experience in mind to help enlighten everyone on becoming a better you, with health being the first priority. For example, Vanessa Bell Calloway shared how she survived breast cancer. She also stressed that as a woman in the entertainment industry it's okay to be firm and ask for what you deserve, even if it seems like your coming off as the angry black woman. At the end of the day, you have to take care of you. Maria Davis spoke on how and when she finally came to terms with her HIV status, which catapulted into full-blown AIDS; enough so to take her proper medication. But now, 20 years later, she is healthy, beautiful and full of life and purpose, encouraging everyone to know their status whether they are negative or positive.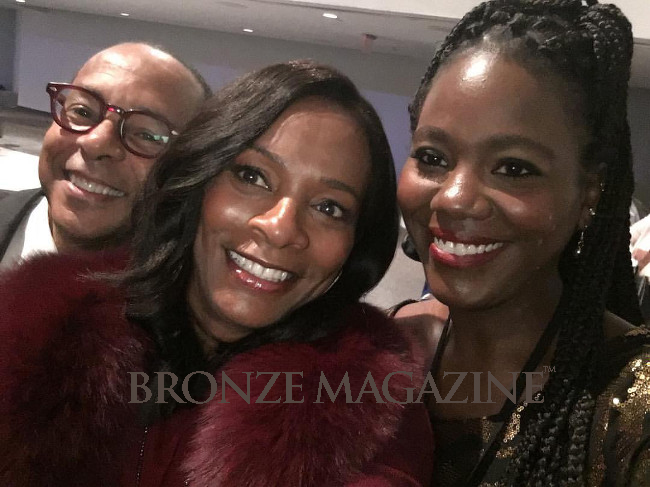 After the informational Q&A with these impactful women, I had the pleasure of watching a one-on-one interview featuring Robin Roberts with Shaila (WBLS). Robin discussed her sexuality, health challenges, the loss of her mother, and her new book titled Everybody's Got Something. She shared how she was proud to step outside of her comfort zone to co-write a song with Indie Arie called A Beautiful Day. Robin is such a genuine human being in every essence of the word. She is concerned for others as much as she is for herself. After the Q&A with the audience, I witnessed her engage in an encouraging conversation with an attendee in a wheelchair who was very concerned about her health challenges. Robin spoke patiently and inspiringly to the woman until she lit up with a beautiful smile, showing that she had a renewed confidence that she could get through her challenges. To top it all off, Robin knelt down to give her an endearing hug.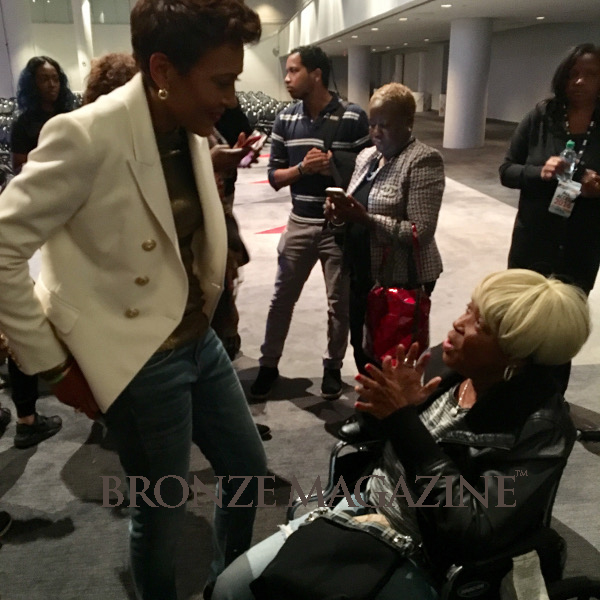 Next we strolled into the Green Room where we had the pleasure of meeting Shirley Strawberry and Carla from Steve Harvey's syndicated radio morning show, and just as we were leaving, Mathew Knowles walked in to take photos and introduce his new trio singing group Blushhh. Boy oh boy were we happy to be there for this introduction! these beautiful young ladies are talented, sweet, beautiful and confident. We look forward to staying tuned as their careers blossom. After the introduction I witnessed their families coming into the green room to support them with kisses, hugs and laughter as they prepped for their performance.
Next on the agenda was to head over to the performance stage to see singer-songwriter, actor and model Rotimi's (Power) performance. I actually ran into him behind the scenes (and we took a quick selfie) as he was headed over for his performance. It was good to see him so full of energy, as he got ready to give the attendees a performance they would not forget. Shortly after Rotimi's performance, R&B singer/songwriter Mario (another selfie!) took the stage. I knew we we're truly in for a bonus performance! and sure enough, he hit every note as he danced and sang while the audience was in tune with all the energy he was giving us.
Then we strolled over to Mona Scott-Young's (Producer of Love &Hip hop) mix and mingle lounge, which was set up with sophistication, showcasing all of her brands including Monami Entertainment, Myx Spirits, and her franchise reality shows Love & Hip Hop and Money, Power, Respect. The attendees were lined up to experience a piece of Love & Hip Hop reality lounge because it was set up like the actual set, and to make it more realistic, Tara Wallace and Young B both dropped by the lounge to show their support. Mario stopped by to talk with Mona Scott-Young after his performance.
Later, we went back to the performance stage to see none other than R&B singer-songwriter Joe perform. From the time he stepped onto the stage, till the time he got off, Joe had every woman (and probably even a few men 🙂 swooning at his lyrics. I too was so in tune with his voice that to my surprise he came over to me, gently grabbed my hand, and started serenading me with his song, I Wanna Know. This was such a surreal experience, that it was the highlight of my coverage at Circle of Sisters 2016. But unfortunately ladies, I was so caught up in the moment,  I wasn't able to get the footage, but believe me, it has been etched in my brain forever. Later, actress and singer Jennifer Holiday graced the performance stage with her beautiful voice, and as she was exiting the stage she joined us on Facebook Live! so if you were live with us, you would have seen me chat with her briefly. Finally, we got to experience Motown Gospel artist Royce Lovett's performance as he took to the stage and gave a thought provoking performance. We look forward to hearing more from him as his career unfolds.
I had the pleasure of meeting the beautiful Ms. Vivica A. Fox, dressed in all platinum & gold, looking fabulous as always. Nearing the end of day 2, I had the pleasure of meeting actress Kym Whitley, comedian George Wallace, gospel singer/songwriters Vashawn Mitchell, Ty Tribett, and Bishop Hezekiah Walker during the Gospel Explosion. What a great performance! Last but not least, throughout my two day experience as I strolled from booth to booth, I was out to meet as many vendors as I could, getting information on their product or service. A few that I met included Enspire Magazine, Vegan Smart, Ashley Stewart, Shea Moisture, AARP, Disney, and a black owned travel company named TripVax.
I hope you enjoyed my exclusive walk representing Bronze Magazine this year at the Circle of Sisters NYC 2016. I hope to see you again next year!
By Tanthony Raeshawn, Beauty/Fashion Editor
Circle of Sisters Expo NYC 2016 was sponsored by SheaMoisture, InVite Health, Harlem Community Development Corporation, MTA, MajorWorld, McDonald's All Day Breakfast, American Heart Association, AIDS Health Foundation, EXPG, Nyack College, Center for NYC Neighborhoods, The Color Purple on Broadway, Harlem Hospital, Nubian Heritage.
Event Partners included:
Title Sponsor: AARP New York
Presenting Sponsor: EmblemHealth
Associated Flash Pass Sponsor: AT&T
Culinary Corner Sponsor: Healthfirst
Vendor Hall Sponsor: Consumer Reports
Fashion Show Sponsor: Ashley Stewart
Performance Stage Sponsor: MetroPlus Health Plan
Live Broadcast Sponsor: Fidelis Care
Gospel Explosion: MetroPCS
Vendor Panels: StateFarm, SONYMA
Beauty Bar Sponsor: Maybelline