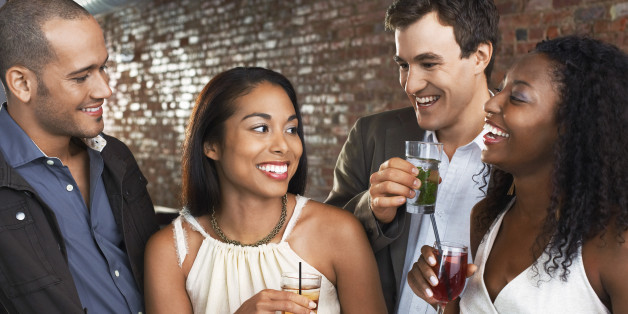 Whether it is Tinder, Soulswipe, or OkCupid.com, online dating is a 21st century phenomena that has gained popularity in the last decade. While online dating has maintained a slight stigma, it has become normalized in the last few years. People from all ages use dating sites and applications not only to find potential significant others, but also to simply meet new people. For workaholics, or people who find themselves spread thin with obligations, dating sites can be an easy way to keep their love lives alive and well. On the topic of online dating, race will always come up. Numerous studies have shown that when it comes to online dating and even offline dating, race matters. Upon a host of other trends, research shows that folks on online dating sites tend to favor people of their own race. This tendency is not exclusive to white people. Considering that interracial couples were historically taboos both in the United States and other parts of the world including Europe and South Africa, this trend is no surprise.
While people gravitate towards selecting members of their own race, studies also show that whole racial groups tend to exist in a ranked hierarchy within the dating game. In 2009, Okcupid conducted a study of the dating trends on their website. The study revealed that non-black men found black women the least desirable amongst all of the racial groups while black men "showed little racial preference either way." Research showed that all women tended to prefer men of their own race, yet still managed to "penalize" Asian and black men, making them the least desired racial group of men.  Unfortunately for black women, all of the racial groups rated them below average on a preference vs. the average table.  As you can see in the chart below, Asian men rated black women 16% below the average, Latino men rated them 22% below the average, white men rated them 18% below the average and even black men rated them 3% below the average. Decades after the end of racial segregation, we wonder the reasons that these trends still exist in the dating world today, particularly the undesirability of black women.
Although the initial study took place in 2009, OkCupid continued to collect data up until 2014. In a five year difference, black women remained below the average for all groups except with black men. Instead, black men rated black women 1% above average. This four percentage change from -3 to 1 revealed some sort of movement within that black community that has encouraged black brothers and sisters to uplift one another and appreciate their common experiences. This movement may be a result of the Black Lives Matter movement or even the return of the Black Power movement, which has harped on black excellence and solidarity.
While trends for other racial groups have remained largely the same, surveys that ask individuals about their dating preferences reveal that with time people believe that they do not necessarily have a preference for dating within their own race. The inconsistencies between both sets of data reveal that while mindset may have changed, habitual behavior has not. This raises the debate of whether racial preferences in the dating world reflect the larger issue of racism in the United States. Some argue that we do not control to whom we are attracted; however, the huge role that race plays in our dating preferences suggest that we have been conditioned by the media, environment, and upbringing to find some groups more or less attractive. While it might be more understandable if across the board individuals were simply only attracted to members of their own race, the fact that black women are universally the least desired racial group suggests that there is a larger issue of racism that may stem from the underrepresentation of black women in the media combined with the historic stigmas associated with them since slavery.
On OkCupid, individuals are allowed to identify with more than one race. Not surprisingly, when individuals added white to their racial identity, their ratings increased. The ratings of a black person who added white to their racial identity increased an entire 14%. This alone reveals the tendency for our culture to ascribe beauty to whiteness, which is extremely problematic for a nation that is striving towards a post-racial community.
Some dating sites and applications have even been created to specifically cater to individuals who wish to meet members of a particular race, ethnicity, or religion that is often their own- Jswipe, an app for Jewish people, Soulswipe, an app for black people, blackpeoplemeet.com, and other sites make intraracial dating easier for those seeking to date within their comfort zone. While this debatably exacerbates racial divisions within the dating world, it is an appropriate response to the trends that already exist in the dating arena. Particularly for underrated groups like black women and men, these race-specific dating sites and applications are extremely useful in meeting prospective partners.
In sum, the trends on dating sites reveal that even in the 21st century, race matters not only in everyday life, but also on the quest for finding love. While the fact that black women tend to be the least desired group is very concerning, it makes sense given the historic degradation and stigmatization of these women both in the media and in real life. Nonetheless, the fact that black men are showing more love towards their black sisters gives us hope for a future of solidarity and empowerment. As we strive towards a more post-racial nation, only dating sites may become useful in promoting interracial dating as they provide the opportunity for individuals to step out of their comfort zones when it comes to dating outside of their race.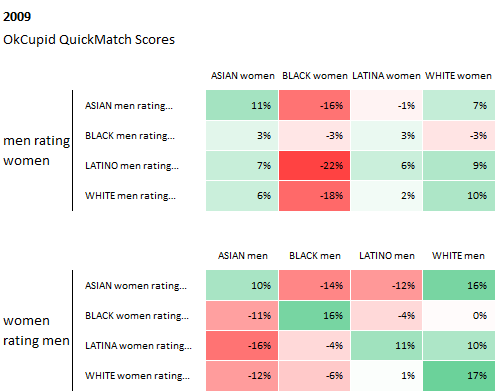 By Krystal Egbuchulum
Sources
http://www.cnn.com/2016/01/13/living/where-white-people-meet-feat/
http://longislandreport.org/news/racial-preferences-emerge-in-online-dating/22327