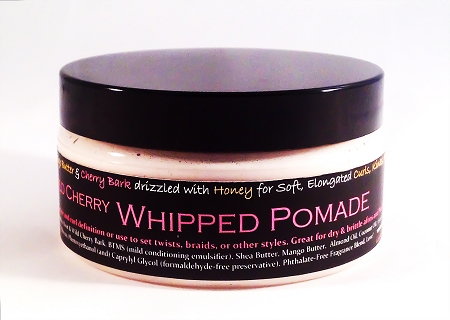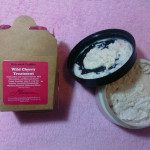 Recently I was afforded the pleasure of testing and reviewing the Wild Cherry Whipped Pomade and the Wild Cherry Treatment (Hair Mask Truffles) from Purgasm Shop. This couldn't have come at a better time since with the changing of the seasons  I always look for new products to shock my hair with.Preview
Wild Cherry Whipped Pomade
For starters,  when opening the package, the scent that greets you makes you feel like you're in a bakery; yet it's not overbearing. As the day progresses the scent of the cherries is still there just long enough to give you a small whiff. The pomade is smooth, creamy, and thick in consistency. It's thick in the sense that a little goes a long way. It glides through curls with ease.
I love products that multi-task. I applied the pomade to my soaking wet hair in the shower because I wanted to see if it would double as a moisturizer and styling balm. Immediately I could tell my curls were hydrated, bouncy, and frizz free. I let my hair air dry as usual, and found I didn't have as much shrinkage as I normally would. After my hair dried I was able to whip my curls back and forth; they were soft, moisturized, and had definition without crunch. When using the pomade on my hair while dry, it redefined the curls that had lost their bounce.
The consistency of the pomade is meant for kinky and curly textured hair. The delicious list of ingredients not only sound good, they are also great for your hair and scalp. This product does what it says as far as moisturizing, hydrating, and elongating your curls. I used it for a wash-n-go, but it can also be used for twist outs, braids, and other styles. It will definitely give you the hold you're looking for. For any curly girl looking for a new styling product then I definitely recommend Wild Cherry Pomade. It will last a long time and will improve the over health of your hair.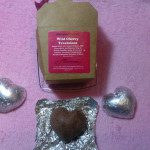 Wild Cherry Treatment-Hair Mask Truffles
This treatment took my DIY status to the next level. The truffles look like little heart-shaped candies that you get for Valentine's Day. The truffles may be mixed with a liquid of your choice. I chose to mix them with aloe vera juice. For this treatment I opted to put the truffles and the aloe vera juice into the microwave and melt them together. There is also the option of using boiling water if you're against using the microwave. After mixing my aloe vera juice and truffles together I had a nice creamy mixture that I applied to my freshly washed hair. I decided to leave it in for 45 minutes with a plastic cap. After rinsing, I was shocked at how soft my hair was. It left my hair feeling like butter. One of my fears was of the mixture hardening in my hair, but that didn't happen at all. Even days later I still had soft, moisturized, and light curls.
This treatment is geared for the afro, curly, and kinky girl who needs repair and deep hydration. This treatment did just that. It softens, increases moisture retention, and provides excellent slip. I had no problem detangling my hair and was able to style it with ease. For days I didn't have to apply moisturizer because this treatment provided just that. Once again, the list of ingredients are good for you and your hair.
If you're looking for a treatment that puts moisture back into your hair then this is the one for you. Also, if you need a mental pick me up, indulging in the hair mask treatment restores your hair while giving you the feeling of creating an at home spa experience. What I loved about this overall treatment is that you feel like you're really putting in the effort and time to ensure your tresses are healthy.
by Rosalyn Robinson