Hey Bronze Beauties! I've always wanted to try the InStyler hot iron ever since I saw it demonstrated years ago in those famous infomercials. So I'm sure you can understand that I was super excited when the brand requested a review of their new and improved InStyler Max. This newer version has improved features like a 2-way rotating barrel, a fourth, higher heat setting, an upgraded Ceramic Tourmaline and Titanium rotating barrel, new iconic brush bristles, and 20% increased barrel RPM speed. The Thermal Guard Training Aid and Cool Tip are upgraded features for additional comfort and safety.
The InStyler Max hot iron comes in two sizes, the original 1 ¼" barrel, and a smaller, ¾" barrel. I decided to try the original size (in a pretty purple) since I tend to wear longer hairstyles. I'm a big fan of lace front wigs, so I was excited about trying out the hot iron to see if it could refurbish the curls on one of my favorite units. In the product tips it suggests to NEVER use this tool on synthetic hair, and the iron does get very hot (up to 425°F), however, my synthetic lace wig can withstand up to 400°F in heat, so I would suggest to just use the lowest or next to lowest setting and you should be fine. Normally, I use my old school electric hot curlers to revive the curls on all of my wigs, which has worked very well for me, but one downfall to the hot curlers is that their covers tend to pop off causing the curlers to fall out easily during the curling process.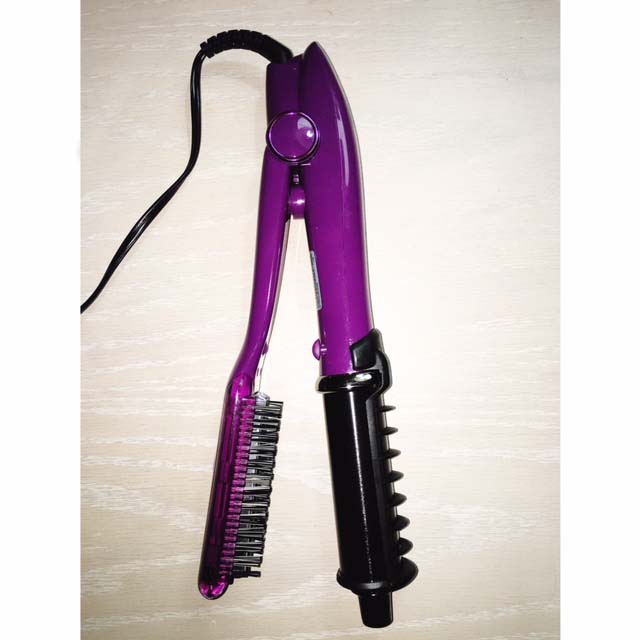 At first, I was a little nervous about using the InStyler, because you have to wrap a small section of your hair (from the root to the ends) at a time around the barrel while it's hot. After you get over that part, the InStyler Max truly does the rest. One good thing is, you can snap the safety guard piece onto the barrel to help protect you from getting burned. It's such a cool looking tool because once your hair is wrapped around that barrel, you squeeze it closed and you can hear that barrel spinning around. While that's going on, the smooth ceramic plate in between the brush bristles is polishing your hair and smoothing it out. During my initial strand test, I was able to create a very light and loose curl, and I also was able to straighten the hair. Besides soft curls and straightening, you can also create a volume boost and flip curls with InStyler Max. I have yet to try these two styles.
My final thoughts:
Overall, I think the InStyler Max is a pretty cool styling tool! It comes in various colors and retails around $99, but depending on where you purchase it you may be able to find it at a slightly lower price point. I am going to have to practice with it more, but I see it as a great alternative to my electric roller routine. On a scale of 1-5 with 5 being the highest, I give the InStyler Max 5 bronze stars!
Shawn Stuldivant- Editor-In-Chief