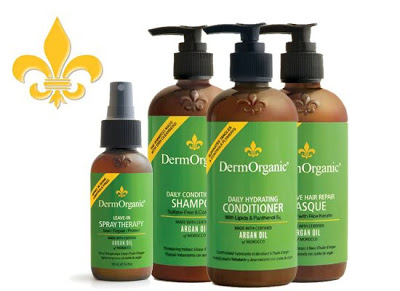 Have you ever had your eye on a product, did the research on it, but never had the nerve to purchase and try it? Well, for over a year now I have been eying the product line of DermOrganic. Although I am "natural," I always try new products and change up my hair. For the winter months I have been wearing my hair straight, while switching up my deep treatments weekly. After picking up DO's Daily Hydrating Conditioner and their Masque Intensive Hair Repair Deep Conditioner, the only disappointment I had was not picking this up sooner. My hair was so soft and easily detangled; and within one treatment I had no shedded hair. My blow dry time was decreased, manageability was 100%, and my hair held moisture, volume, and shine for days afterwards.
Product Claims from their Website:
"DermOrganic® formulations are based around naturally-derived ingredients that replicate the elements
hair and skin use inside to replenish, refresh and maintain their youthful vigor from the outside.
The addition of Argan Oil in the Hair Care regimen (and Argan Extract in the Skin Care)
provides additional benefits of Vitamin E and Linoleic acid to protect and moisturize.
Our regimen is based on the simple idea that less is more.
Only the finest, most essential and fully researched ingredients go into our formulas.
The results are youthful-looking hair & skin every day."
My experience has been greater than superior, and this will definitely be a staple in my hair regimen. This product line is for everyone, whether you're hair is relaxed, natural, or texlaxed. It's good for all hair types and textures. DermOrganic is a little on the higher end of the pricing spectrum, but due to the bottle sizes of 33.8 oz (1 Liter), it is well worth it to put it in rotation. DermOrganic can be found at Ulta stores for $35-$40. They also offer 8oz or 12oz sizes for a fraction of the price. However, I found my duo at TJ Maxx for $16.99 each. Most often they can be found in discount retailers where you can get a duo for the price of one.
DermOrganic also offers other products that supplement such as a hot oil treatment, leave in treatment, and a therapy hair spray.
With spring rolling in, there is no other way to get your hair prepared to blow in the wind than with a great line with good-for-you ingredients than DermOrganic.
by Rosalyn Robinson