By Trish Sanyal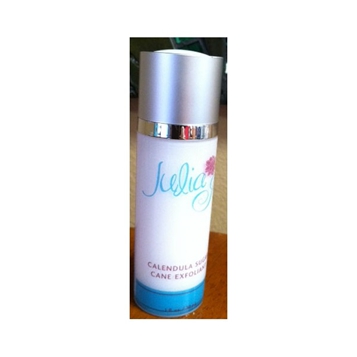 Julia's Artistic Threading & Day Spa offers unique, all-natural beauty services for all.  The line is created from organic products and is suitable for all skin types.  It includes special formulations for hyper pigmentation, acne prone, oily, very sensitive, and normal skin.  To name a few Julia J. products: Calendula Sugar Cane Exfoliate, which is a cleansing and toning moisturizer,  Ferulic Antioxidant Serum, which is a facial cleanser for acne prone skin.
Julia J. also has wonderfully scented soy candles- organic candles that have no artificial color or paraffin, only pure soy, cotton wicks and body safe essential oils. The candles can also be used as a moisturizer or massage oil when melted on hands or feet for a luxurious feel! Each candle weighs about 6 ounces and burns up to 50 hours.
The Sugar Cane Exfoliate is a delightful product that made my skin feel enriched and nourished in literally two applications- once in the early morning and evening before bed. I could feel my pores open and a glowing aura emanating from my face.  This product gave rejuvenate a whole new meaning!  The one thing I thought could be changed was the packaging however.  Looking at the packet of exfoliate for what it was, I wasn't too sure what to do with it or what it was for.  There are clear instructions listed in tiny font on the front of the sample, but what does it do? What am I supposed to expect after application?
Aside from this small setback, on a scale of 1-5 with 5 being the highest, I rate the Calendula Sugar Cane Exfoliate with 3 Bronze Stars.  I definitely recommend it along with any other Julia J. Skincare product.  Pamper Yourself!