I was recently given the opportunity to try out and review a few natural hair care products by
My Honey Child
. Not only was I excited to try out a new brand, but I was eager to show my natural hair some love since I don't do it as often as I should (shhhhh…our little secret!)
A little background information about My Honey Child: The company was founded my
Krika Bradsher
who has an incredible history in the hair care industry. Along with My Honey Child hair care, Bradsher also owns a salon called Sophia Sunflower Inc., in which she caters to women in the natural hair care community. My Honey Child hair care came about after Bradsher noticed how the hair of African-Americans needed moisture and how other products were lacking. My Honey Child hair care comes with an variety of products, including styling creams and deep conditioners.
Now let's review!
The first product I tried was the So Deep Conditioner. This product claimed to provide softness, replenishment, and strength and I can honestly say it did all three. What I liked most about the So Deep Conditioner is that it gave my hair life. I do not have the best hair care routine, which was causing my hair to look dull and lifeless. After leaving the conditioner on overnight, I found that my hair looked resilient and full; the soft factor was also there. My hair felt nice and plush after using this product. The smell is fairly basic; however, it does have a minty smell to it. It is not over powering at all. I suggest using this product overnight to get the results I described above.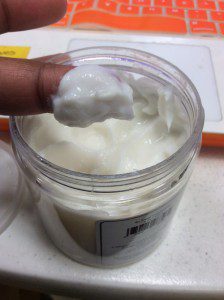 Next up was the product I was most excited about, which was the Organic Styling Creme. I have very kinky 4b/4c type hair. Defining my curls can be quite difficult, so I was hoping this stood up to the kinks. Much to my surprise it did. I found that a little bit of the product went a long way, so I didn't have to use a lot to get my desired look. I used the Organic Styling Creme to do a twist out at night,  taking the twists out in the morning once it was dry. When the product dried it left my twists nicely defined even after I pulled the twists apart. My hair felt moisturized and not dry at all.
Last but not least was the Cognac & Vanilla Bean Hair Texturizer. I figured this product would work well with a wash and go since it's supposed to add shine and definition to your hair. When I used it the first time I didn't get much result except for moisture. However, I think this product will work well when the weather is warmer. With warmer weather there is less of a chance that the product will be dried out by harsh winds or cold. The smell of this product is amazing!!!!! I had no problem using more and more of it. The texture was nice and smooth as well and didn't feel too greasy.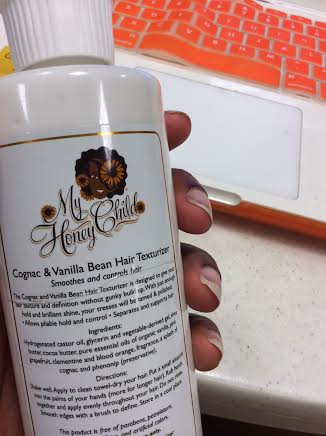 Overall, I was very pleased with the My Honey Child hair care line. I honestly believe that with constant use of any of the products my hair will improve over time. Other things I noticed about the line is its nice sleek packaging and the amount of product that comes in each container. I received sample sizes and I have more than enough to last me at least two months. I would definitely recommend trying out some products from My Honey Child. On a scale of 1-5 with 5 being the highest, I give My Honey Child 4 Bronze Stars!

review & images by Kimberly Wyms
Now it's giveaway time!