by Lakesha Stuldivant- Beauty Editor
Bronze Magazine had the opportunity to catch up with male model Neef Stanfield. He gives us an insight to the life as a male model and what goes on behind the curtains.
BronzeMagonline: When did you have the "aha" moment and realized you were on to something in modeling?
Neef: I was inspired to start modeling from looking through magazines. I would pick up a XXL or Vibe and see these "male models" and think to myself, I can do that. The "aha" moment came after my first runway show. As I was walking down the runway, I could hear peoples' reactions. I could see every person in the room and the rush ran straight through me. At that point, I knew I was going to love doing this.
BronzeMagonline: What has been your biggest modeling accomplishment to date?
Neef: Al Hassan Toure contacted me and asked if I would be a part of his show. This guy has dressed some of the best artists today, like Trey Songz, Wiz Kalifa, Russell Simmons and Swizz Beatz. So for New York Fashion Week I was a part of his show at The Limelight NYC. This was a great honor.
BronzeMagonline: When you are preparing yourself for a show or a shoot, do you have any regimens or an inspiration go-to?
Neef: For a photshoot, I like to look through magazines, or a photograher's photos for inspiration. A role model of mine is Tyson Beckford. That guy has really paved the way, so going to some of his work is helpful too.
BronzeMagonline: Do you believe that in 2013 there are still model stereotypes and/or molds you are expected to fit into as a male model?
Neef: Even as a male model there are stereotypes and molds. At 6'5" and 230lbs. when I walk into a room and get the wow face,  sometimes it's good and sometimes it's bad. The expectation of  casting a 5'9" 160 lb, grown man is unrealistic since most men are at least 6 feet tall. Honestly speaking, it is worse for women. Women have to deal with this more than men and the expectations of them are even further from reality. So size is one, and the other is sexuality. With no disrespect in any form, shape or fashion, I believe it is safe to say that most believe male models are homosexuals. For a man to be fashionable, or enjoy the runway he must be gay. This is so untrue.  I'm a very straight man. This industry is full of great models, no matter their size or sexual preference.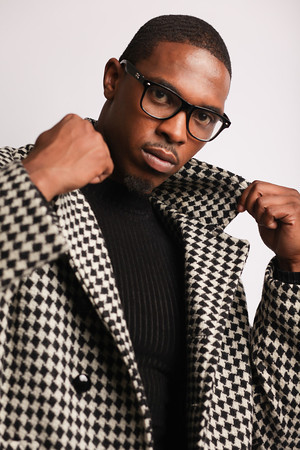 BronzeMagonline: Have you ever been asked to do something you were uncomfortable with? How did you handle it?
Neef: For me, exotic poses and/or nude poses are two things I'm not comfortable with. On more than one occasion I have been asking to do either one or the other. Â The photographer may give you a "This is going to take you to the next level" or "This is the trend of the year", but you have to stand firm what your morals and values. I can simply let them know that I'm not comfortable with it, and I'm not doing that. I haven't had any situation get ugly for refusing to pose nude or exotic. And again, this is harder for women. Trying to make it to the top, some women feel like exposing their body will get them there faster. It's sad, but true.
BronzeMagonline: As a male model you interact with very beautiful women as a part of work, are you dating? Â Do you find it hard to maintain your relationship in this industry?
Neef: Yes I am in a relationship, but the good thing is she is also a model. She understands what this industry calls for. But maintaining any relationship is hard work. So we have our ups and downs; not as models, but as humans.
BronzeMagonline: What are your careers goals?
Neef: When you are at a fashion show and/or photo shoot you never know who you may run into. I'm always networking so from that I have gotten into acting from someone I met at an event. So taking my acting to the next level is one goal. From a career stand point, being able to look back ten years from now and I'm still here doing what I love. This industry can drain you, but if you give 100% it can pay off for you in the long run.
BronzeMagonline: So what is next for you? Tell us about your upcoming work.
Neef: Well I am working on a movie called Living with No Regrets, starring Clifton Powell, Treach from Naughty by Nature, and Rapper Manio to name a few.  I play a dirty cop that will remind you of Denzel Washington's character in Training Day. The movie will be in theaters this May. I'm also a part of a web series called Four Brothers. The show is about four men and how they deal with relationships and issues in life. They are all good men trying to do the right thing. I'm always modeling so you never know what runway you may catch me on.
BronzeMagonline: If a young man looking to get into modeling reads this article, what would you want him to take from this?
Neef: I would want him to remember these three things:
It's all or nothing. You have to take this seriously if you want to make it.
Prepare for rejection. Many will say no, but you only need one yes.
It will not come to you. If you want something you have to go get it.