By Diana McCray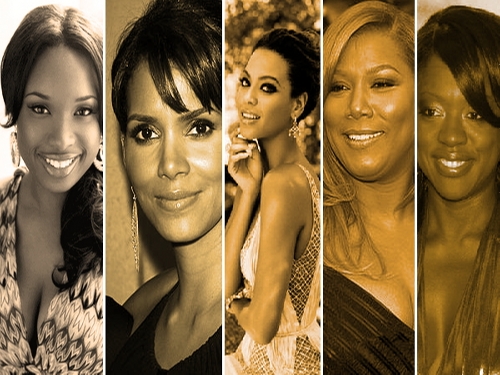 There are so many talented Black leading ladies in Hollywood and in this country but where are all the leading roles? We are 11 years into the 21st century with a Black President and his leading ladies and still it seems like there are less opportunities for Black actresses than in the 20th century. This is by no means a feel sorry for us, we're the victim, blame others cry for help . I'm writing this article to launch a serious movement for Black leading ladies.  We have to transform  the media's understanding of who we really are. We cannot look for anyone else to take on that responsibility. Leading Ladies we have to do it.
Where do we start?  I have a few ideas but first I 'd like to talk about the current state of black leading ladies. I'm thankful for the few leading roles we do have: Wendy Williams, Monique, Zoe Saldana, Queen Latifah and a few others. We finally have a Black Charlie's Angel-Annie Ilonzeh- kudos to her. Truth be told — ladies this is not enough.
Black people go to the movies 195 million times a year. We are an important audience but out of all the top films this year how many black women were leading ladies? Not Many. 81% of movies seen by Blacks did not feature a black lead or have a black story line. Turn on your TV this fall and you will  find many new shows with women in the lead and see how many are black leading ladies. Very few if any.
Darrell Garrett's article Why are Beautiful Black Women Disappearing from TV and the Movies really says it all. "Turn on the TV and watch your favorite prime time shows. You won't see too many young black women there. Look at the top 50 movies in the US. Not a single black leading lady. Not even a black woman in a meaningful support role (except Zoe Saldana). Black women have so much to offer on screen and I for one want to see more of them. Directors wake up and cast the women that we want to see. "Â  Thank You Darrell! Our challenge is to help these directors cast more Black leading ladies. Frankly speaking I want to see more of me on TV and in the movies.
There are 22 million black women in this country with a consumer buying power of $564 billion dollars annually.  TV advertisers have a reason to target Black women.  The real issue is whether they understand us. In an Article in the  Atlanta Post – The Black Female: Misunderstood Super Consumer by Steven Barboza "Most advertisers just don't get us," said Sarah Lattimer, president and CEO of Lattimer Communications, an advertising agency specializing in the African American female market. ". "They don't understand us. They don't know how to sell to us, how to talk to us." And yet, many companies, unsure of how to target the market, are stumbling in their efforts to reach black women. In effect, a large number of the nation's 22 million black females are ineffectively served – and corporations are leaving untold billions of dollars in potential profits on the table. Black Women are leading ladies on and off the screen.
In order to reach black women, companies must be able to look beyond negative stereotypes of black women. Lattimer said she undertook her black female consumer study "because I wanted to show there are lots of Michelle Obamas in the African-American community."
We were lead detectives kicking butt in the 70's when there were no female lead detectives. While there is an abundance of female lead detectives on TV today none of them are Black. Today we are heroines like all the other women in the universe.  We are mothers, wives, lawyers, millionaires, directors, TV hosts, nurses, detectives, personal trainers, coaches, media moguls, CEO's gurus, doctors and much more. Black women are doing it all.  I think for a long time we have been waiting as if powerless, for television and movie directors to do something about this situation. Bottom line here is that black women are a dynamic, powerful force able to withstand anything. It's up to us to do something. We have to change perceptions of what the media feels about us. We have to clear up any mysteries with advertisers.  We have to write great books and scripts not  just as victims but as heroines.  Each one of us has a great story to tell … a story about winning and being victorious everyday.
According to an article written by Torri R. Oats from the Atlanta Post entitled From Playing Maids to Calling Shots: Black Women's Hollywood Evolution, we are in much better positions to call the shots than before. "Black leading ladies and execs behind the scenes in the feature film industry still lag far behind their Caucasian counterparts. Yet, there is hope. Black actresses of yesteryear have already done the heavy lifting, struggling through a Hollywood system that fought against their grace and dignity — sometimes playing "mammy"to make a way. The next generation built on their power, and never looked back. Because of them, more African-American women than ever are able to realize their dreams in front of and behind the cameras."
I want to see black leading ladies in leading roles on TV and in film.  Here a few ideas of how we can accomplish this task:
Lets write  inspiring material
Write a book and tell your story
Now its easy to write your story by blogging… share the stories
Create you own You Tube channel
Create your own video blog
Write letters to TV networks and let them know
Let us know your thoughts, ideas and suggestions. My business partner Patricia Rivera and I are going to start writing scripts for TV and Film. I think its  important for the networks to know what kind of shows we want to watch.  What roles would you like to see black women play? Lets become the change we want to see.  Leading Ladies its time for us to become pro-active with  how we want to be seen on TV and film. We owe it to all the women who paved the road for us  and we owe it to the young women who look for us to be role models.
Diana McCray is the co-founder of Black Talent TV and Parent Company  DAPMedia Group  along with her business partner/co-founder Patricia Rivera.