By Nicollette Samuels
Eczema and psoriasis are two of the most common skin conditions, affecting millions of people in the United States. According to the National Eczema Association, eczema is an inflammatory skin condition that causes rashes, itchy skin, blisters, dry skin, and skin infections. There are 7 types of eczema, however, Atopic dermatitis is the most common form. It is something that can develop in all stages of life, from early infancy, childhood, adolescence, or adulthood. A common experience of having eczema is going through "flare-ups," which are more severe versions of the symptoms of eczema that happen from time to time.
Psoriasis is an immune-mediated disease, meaning a disease that has an unclear cause characterized by inflammation due to dysfunction of the immune system. This can cause visible symptoms such as raised plaques and scales on the skin. This occurs because the immune system speeds up the cellular growth of skin resulting in a buildup of skin cells that sit on the surface, as stated by the National Psoriasis Foundation.
Chronic skin conditions like eczema and psoriasis present enormous tensions for people who deal with them every day. The tension comes from the effects it has on people's daily lives, like choosing what clothes to wear, making the choice to avoid triggers like hot showers and exercise, and opting out of social engagements. Eczema and psoriasis affect about 40 million people (about twice the population of New York) in the United States. Eczema plagues more than 31 million Americans, and psoriasis among 8 million adults.
Bodewell is a line of uniquely designed skincare products for people with eczema and psoriasis. It is one of the brands created by P&G Ventures, an entrepreneurial arm of Proctor and Gamble. "P&G Ventures is a startup studio that partners with entrepreneurs to create smaller brands and businesses that compete in categories that Procter and Gamble does not already have footing in," explained John Scarchilli, Director of Communications for Bodewell and P&G Ventures.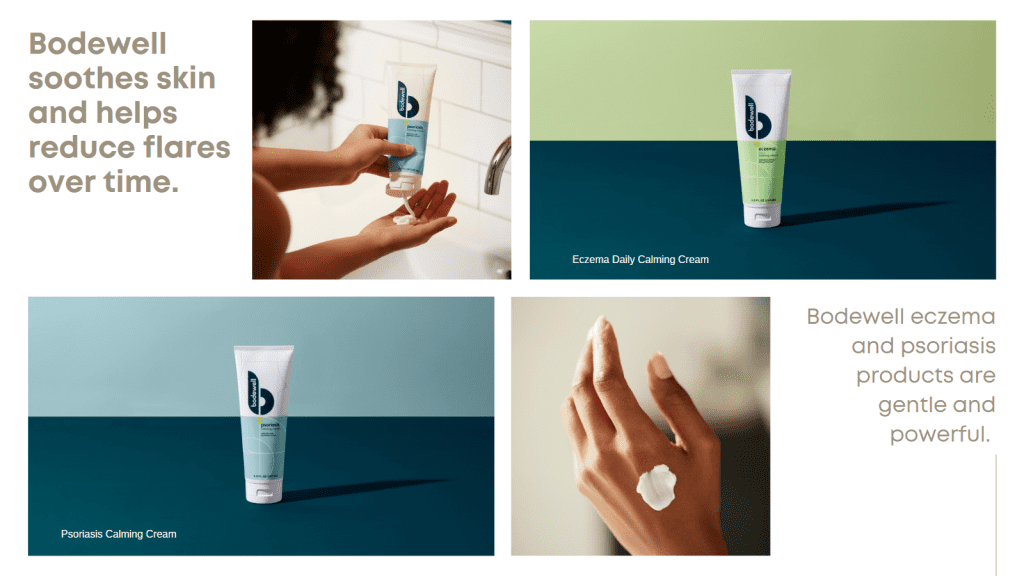 Being gentle and effective is what Bodewell prides itself on. Most over-the-counter products on the market for psoriasis can help relieve symptoms with little to no side effects, however, they tend to lack the strength and efficacy for ongoing treatment and prevention. There are also prescription-strength steroid creams, oral treatments, and injections, but they tend to have a long laundry list of side effects as they are very potent. Products that tend to be gentle are not very effective, and products that are effective tend to not be gentle.
Bodewell created products that can manage and treat the symptoms of both eczema and psoriasis, like itching, burning, dryness, flaking, and skin irritation, without any tradeoffs. The brand uses clinically proven ingredients like salicylic acid for psoriasis to help exfoliate the skin and lift, soften, and clear psoriasis plaques. Colloidal oatmeal is used for eczema to help soothe and reduce itching. Most of the products in the Bodewell lineup contain a unique compound called BW22, which is a mix of 22 carefully curated botanical ingredients, which all have known benefits for the skin, such as reducing inflammation, repairing the skin barrier, and soothing the skin. This includes oat seed extract, witch hazel, and chamomile. This compound can only be found in Bodewell products.
There are 6 products in the Bodewell lineup. They include:
Eczema Daily Calming Cream
Psoriasis Calming Cream
Psoriasis Soothing Spray
Psoriasis Scalp Relief Treatment
Dry Scalp Daily Shampoo
Sensitive Skin Moisturizing Body Wash
All the products are free of parabens, steroids, fragrances, and do not require a prescription. One of the reasons why Bodewell does not include steroids in their products is because they want to encourage the daily use of them. Steroid products are only meant for temporary use and can only be used for 1-3 weeks before side effects like skin thinning occur.
The Bodewell line is being received well by critics and consumers. The Psoriasis Calming Cream was independently reviewed by the National Psoriasis Foundation and received their seal of recognition. During the brand's consumer testing of the Eczema Daily Calming Cream, they found that after 4 weeks of use, 9 out of 10 people reported that their skin felt healthy and 8 out of 10 people agreed that the cream reduced their number of bad skin days.
Bodewell products can be bought online only though their website bodewellskin.com