By Aisha Powell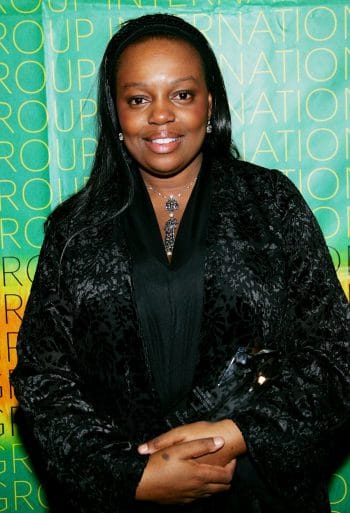 Anna Wintour once called her "the most influential makeup artist in the world," and now she just might be a black Bill Gates in the making.  Just five days after Forbes Magazine released their American Richest Self-Made Women list, Pat McGrath's makeup company joined the lucrative list of black-owned billion dollar businesses.
The British entrepreneur launched Pat McGrath Labs back in 2016 and in two years it has become the "iconic" billion dollar brand she envisioned from the beginning. The self-made beauty mogul, who won the 2017 CFDA Founders Award, has been called "the most influential makeup artist in the world," by Vogue.
In a press release by investment company Eurazeo Brands (worth ~ 16 billion), who pushed Pat McGrath Labs to billionaire status with a $66 million dollar investment, the company "quickly revolutionized modern beauty through its must-have, straight-from-the-runway makeup experience." The release also stated that PML has reached the following:
Top selling SKU status at Sephora with various hit products.
Voted the number one most engaged beauty brand in a Facebook survey of 500 top beauty brands.
Garnered over 30 billion media impressions since launch.
Born in 1970 in Northhampton, United Kingdom, McGrath was raised by a single mother of Jamaican decent. Her creativity stemmed from her mother, she stated in interviews with Time and Vogue. "She trained me, basically, to do the shows, right there… look at the pattern, check the fabrics, look for the make-up – and begin," she said. "She was always mixing up colours because there wasn't anything out there for black skin."
In September 2017, singer Rihanna's launch of Fenty Beauty ushered the need for inclusiveness in beauty products into the limelight. Her 40 shades – ranging from an alabaster to a deep ebony -Â  made Time's 25 Best Inventions in 2017 and reportedly racked $100 million in 40 days. McGrath has been bringing the same inclusive nature to runway for decades.
"There was no makeup for women of colour," she said. "NOTHING. That's what my mother's search was all about. When we were out shopping we were always looking for a product that, probably by accident rather than design, worked for us."
Still today, McGrath mixes five foundations to get her go-to natural everyday look.
Originally, McGrath planned to go to school for fashion but her creativity was shifted towards makeup after touring with Caron Wheeler, from the British musical group Soul II Soul, in Japan for three months. A decision she was initially nervous about, that would change her life forever.
What happened after was nothing less than "black girl magic" – her resume is quite impressive. Her accomplishments include:
Worked with i-D magazine's fashion director Edward Enninful, as a beauty director.
Developed a line of cosmetics with Giorgio Armani.
Created looks for Miu Miu and Prada for 10 seasons.
Became the global cosmetic creative design director for Proctor and Gamble.
Did the makeup for Rihanna, Kim Kardashian, Madonna, Sarah Jessica Parker, Cate Blanchett, Oprah Winfrey, Naomi Campbell, Amber Valletta, Cara Delevingne, and Gigi Hadid.
Has done 60+ ready-to-wear and couture shows for Prada, Miu Miu, Dolce & Gabbana, Givenchy, Gucci, Lanvin, Louis Vuitton, Versace, Maison Margiela, Yohji Yamamoto, Valentino, Bottega Veneta, Balenciaga, Nina Ricci, Calvin Klein, Loewe, Alexander McQueen, Anna Sui, Diane von Furstenberg, DKNY, Tommy Hilfiger, etc.
Did set makeup for Rooney Mara in movie, The Girl with the Dragon Tattoo.
Developed products for CoverGirl, Dolce & Gabbana, Dior and Gucci.
After selling out all her limited edition products (within minutes of releasing), McGrath decided to launch a permanent line in September 2016 on her website. The only other authorized seller is Sephora. Her products aren't cheap; eye-shadow palettes can go for as much as $125, while lipsticks are $38. No product has below a 4.0 star rating on the Sephora website, and on other review sites, like MakeupAlley, Influencer and Temptalia, Pat McGrath averages a 4.3 rating. The power of Pat McGrath has been made eminent by her success as an artist; and solidified by her rapidly growing brand. Complimented by her blackness, not only is she a role model for young black women everywhere that they can be successful, she also role models how when you work hard, you will achieve success.