The final part of my 2018 clear skincare guide includes oils, moisturizers and sun screens. Moisturizing helps skin look younger and nourished; moisturized skin can repair itself and help maintain the shield against environmental pollutants. Moisturizing also helps balance excessive dryness or oiliness, which can lead to acne. However, moisturizing is not the same as hydrating. Hydrating is the process of increasing water content in the skin with humectants like hyaluronic acid or glycerin. Moisturizing reduces water loss by forming a barrier on the skin, it usually comes in the form of a cream, lotion or oil. Sunscreens should be worn every day on top of your moisturizer to prevent hyperpigmentation (the formation of age spots) and to protect from harmful UV rays. Out of all the steps of skincare, moisturizing is one of the basic essential steps to getting clear skin. A moisturizer is needed whether or not you do the other steps, to help retain elasticity, protect your skin and help it stay clear. Here are some black-owned moisturizers and sunscreens to perfect your skin!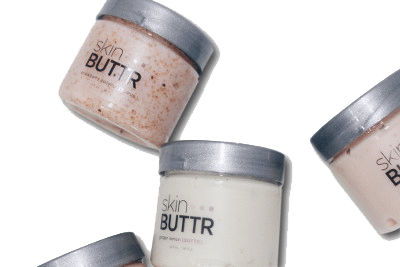 Skin Buttr – Step 3 Moisturizer
This moisturizer is one for the books. It is infused with olive squalene, which improves skin elasticity, protects against moisture loss and absorbs quickly. This moisturizer is a cream formula, so it's thicker in consistency. The base of the moisturizer is aloe vera juice, which effectively heals skin problems and has anti-inflammatory properties. This moisturizer also has avocado, grapeseed and jojoba oil, which naturally softens skin and helps promote skin cell turnover. Skin Buttr is a black-owned brand that makes natural products to promote healthy skin.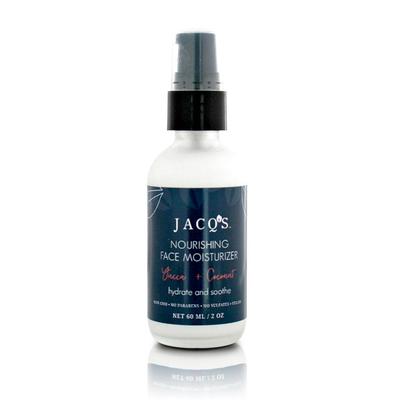 Jacq's Organics  – Nourishing Face Moisturizer
Lightweight meets nourishment with this moisturizer. It has a combination of antioxidants, oils and extracts to help all skin types. The special ingredient in this moisturizer is ginger oil, which has 40 antioxidants that protect against aging. It also has rosehip oil, known for its high concentration of vitamin A and fatty acids. It also contains papaya extract, which has exfoliating properties due to the AHA contained in it. Another ingredient it has is coconut oil, which is naturally antibacterial and anti-fungal. This moisturizer is the perfect blend for people with oilier skin, and it is made by a black-owned business!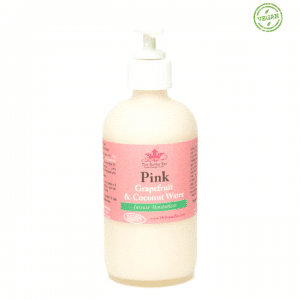 TheButterBar – Pink Grapefruit & Coconut Water Intense Moisturizer
Dry skin will meet its match with this intensely moisturizing moisturizer. This vegan cream is 100% plant-derived, and it has no synthetics, sulfates, petrochemicals or parabens. Another important piece of information to add is that this moisturizer is made by a black-owned company! This cream performs better than it sounds. With organic coconut oil, coconut water and shea butter, it hydrates and smooths the skin while penetrating your skin's layers. With it's grapefruit essential oil and watermelon seed oil, it provides vitamin-C, omega and linoleic acids to promote healthy skin and moisturize skin further. It is recommended for all skin types but especially for those who have extremely dry skin. Finally, this moisturizer is not tested on animals.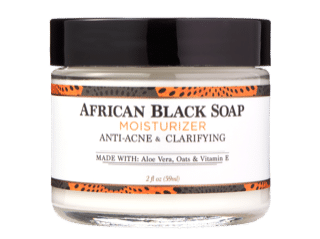 Nubian Heritage – African Black Soap Moisturizer Anti-Acne & Clarifying
This moisturizer doesn't make you choose between clarifying and moisturizing. This moisturizer is made with black soap, aloe vera and vitamin E. It works similarly to black soap by stripping the skin of toxins and helping create an even skin tone. Infused with mango and shea butter, it also conditions skin making it smoother and reducing texture. The glycerin works as a hydrator, and it increases water content and helps dehydrated skin. Nubian Heritage is a black-owned brand that started in Harlem, and it uses culturally authentic traditions to help heal skin!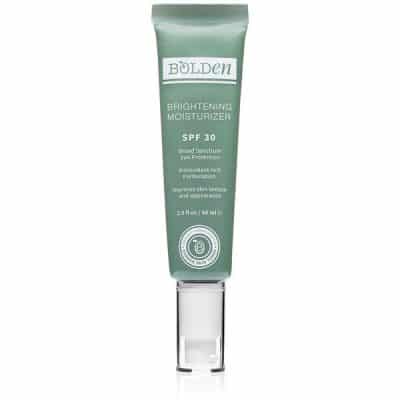 Bolden – SPF 30 Brightening Moisturizer
This sunscreen is one the few sunscreens made for black people by black people. Unlike other sunscreens, which often leave a grey cast over darker skin tones, this sunscreen melts into the skin. It is designed to improve the look and feel of skin while protecting skin from UV damage. What makes this sunscreen different is that it also helps correct the skin. It is made with squalene oil and safflower oil which repairs skin, hydrates the skin's layers and improves texture. Along with Shea butter and glycerin, this sunscreen needs to be on your shelf!
As we wrap up this skin care guide, remember clear skin takes patience, consistency and can be done using black-owned brands!