By Kaylyn Greene
Pardon My Fro is a bold and tasteful line of black-centered home decor, accessories, and everyday products all created and designed by Dana Bly, a self-taught Designer & Illustrator who quickly realized her true passion lay within her hobby of drawing.
Leaving her 9-5 job back in 2009, Bly has amassed a growing company and business centered around black representation. Over the years she has grown her business even more and created a line of products that feature different variations of black women and children as the fore-fronted design. Now moving into her newest venture, Bly has partnered with Walmart through their inaugural beauty accelerator program, Walmart Start on a line of natural hair care products set to hit their shelves in the coming months.
Bronze Magazine sat down to talk with Bly about the inspiration behind her brand and what it takes to design and put together a hair care line.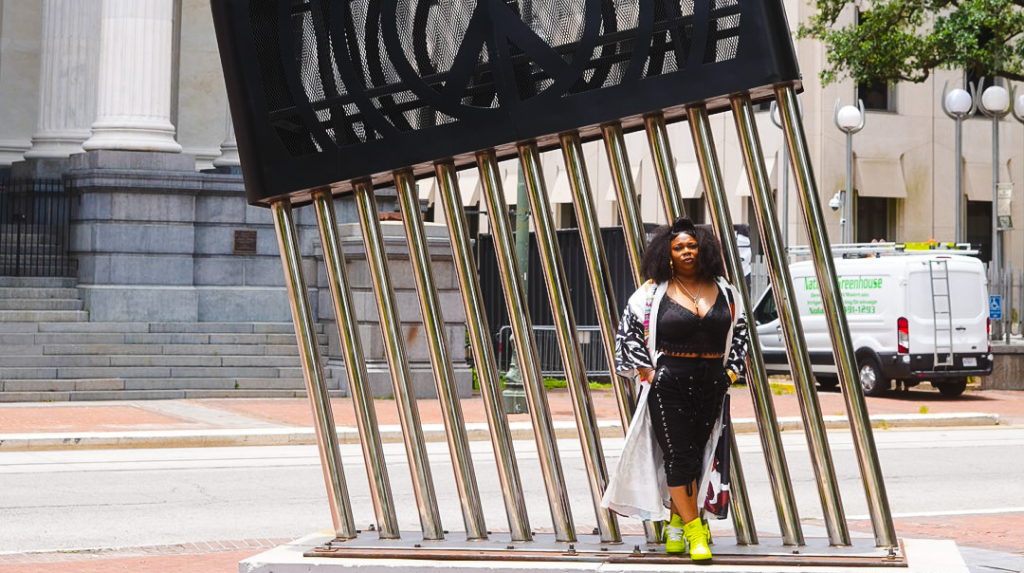 Tell us a little bit about Parden My Fro, the inspiration behind it and how it all got started.
I was working in corporate and not really liking my job at all, but I was always the type that was creative on the side. I was always helping my friends with their wedding or baby shower invitations, so I always knew that there was something else for me.
I also 'big chopped' that same year, so a lot of different changes were going on with me. I was following this one fashion blogger, Christina of Love Brown Sugar out of NY and I just loved her outfits. One day I just reached out to her, and said, 'Listen, I just big chopped and started my natural hair journey, Do you mind if I illustrate your outfits of the day?' She said, 'No one ever asked me that before.' I started getting traction because I had a Tumblr account at the time and she said 'My followers are loving it, you've got something here, you should keep on going,' and then the natural hair movement was really starting to get some traction as well. So, I decided to start illustrating only natural hair girls like TWA's, braids, and all of that.
How'd you come up with the name Pardon My Fro?
I probably went through thousands of names. I really wanted a name that would stop people in their tracks, kind of in your face, and Pardon My Fro was something that I just kind of thought of one day. It's unapologetically black, loving my natural hair, loving the skin I'm in and hopefully people are inspired by my illustrations when they look at them.
So, what was that journey like leaving your corporate job and then venturing into something completely unknown?
It was pretty scary, but at the same time I think it was exciting to me because it was something new. I had been doing my corporate job for about 10 years and it wasn't something I wanted to do for the rest of my life. My friends and family were side eyeing me like, okay?
But I started getting accolades over the years. My first official aha moment was when I was able to design the horoscopes for Essence Magazine for a full year.
Do you feel like you've made an impact with your artwork over the years?
Yeah, I do but you know, I don't really want to preach to the choir and say you should quit your job, but I will say it in a different way. If you have a dream, if you have this hobby and you know that this is what you want to do, then go for it. I stayed in my 9-5 and still kind of did my stuff on the side so you can do two things at once, but you must have a lot of motivation to do that.
You're involved with Walmart's accelerator program, Walmart Start. How did that come about and how has the partnership changed things for you?
They reached out to me and have opened the doors for many other brands besides myself to also be more seen. Being in a partnership with them is a blessing and it's helped a lot because I'm kind of validated again, first with Essence and now Walmart. With all the other accolades I've had throughout the years, it lets me know that people really get it, and they like it too. So, it's been a really exciting partnership and I'm also excited to launch the hair care line next year.
You mentioned your hair care line, can you share more information about that?
Yes! We will be launching the line in January of next year in Walmart. It will include six products, a detangling leave-in conditioner, hair mousse, hair oil, an edge control called "Edge Boss," and a curling cream. Green is my favorite color obviously, so I wanted to make sure that when we were designing the packaging it was something that would be an extension of my art. And of course, my designs would need to go on the bottles because that's really what Pardon my Fro is all about, the girls. We went back and forth a couple of times because I just wanted to make sure that it was right. The right name and message. The feedback has been great.
My team and Walmart loved the packaging and I'm hoping for a successful launch in the coming months. I hope the quality is up to par with the natural hair community. I can't wait for the next stages, and I hope to even add more products down the line.
Dana continues to grow her business all while staying passionate about her de signs and promoting the emphasis on black representation throughout her work.
Keep up with Dana and Pardon My Fro on social media to stay updated on releases and anything else coming your way.