By Aisha Powell
Pamela Burnett is a 57-year-old Opa-Locka, Florida resident who is a breast cancer survivor. She was born in Syracuse, NY but was raised in Miami-Dade. In 2006, she created the Beautiful Gate, a non-profit organization that provides resources, education and support to vulnerable communities of color by the disease of cancer. Burnett, who was diagnosed at age 40, has used her testimony with the disease that affects 1-in-8 women in the U.S., to inspire and educate women all around Florida. On October 21, 2018 she hosted a breast cancer event at her church, Holy Temple – Missionary Baptist Church in Opa-Locka, where all the photos were taken. Her pastor is Joseph Kelley, who's also the Vice Mayor of the city of Opa-Locka. Here is Pamela's story in her own words:
When I was diagnosed with breast cancer, my mother asked me where I got it from. She is much more aware now, it wasn't until I talked to my father's sisters when I found out where. You know, it's the time that we are from. Back then, people were scared and frightened of cancer just like when AIDS came out. You know? That was during those times. My father is now a prostate cancer survivor and when he was diagnosed he called me. He was like, "You would know about this stuff." I had to mentor him in his spirit and his soul and tell him what I had thought about several treatment options. I told him the choice was his.
I was diagnosed at my very first mammogram. I was 40. I had nothing to compare it with because it was my very first one. The imaging place that I was assigned to apparently saw something. But since it was my first one they said we will monitor you. Six months later I went back and did another screening. They said, "Oh we want you to come back again." I did not know anything about breast cancer. I thought it was a white woman's disease, I kid you not. Then they said to come back in three months and then another time they said come back again. I still was not understanding what it was all about. I kept going to the doctor. But that last time they had me come back, they said, "you have breast cancer." I told them no I don't. They looked at me. I repeated, no I don't, you've been monitoring me. But you know, I'm going to tell you, those words, it was like silence; like darkness just entered that room when they told me that. I was still in denial, I could not believe what they were telling me. I said again, breast cancer, that is a white woman's disease.

When I had to see an Oncologist, he confirmed that all those films that had been taken at the imaging place for months, all of those films showed that I had breast cancer. All of them.
When I was told I was diagnosed with breast cancer, I was scheduled for surgery the day after for a hysterectomy due to issues with fibroids. This was in the month of November. So I took my film to my gynecologist. I didn't' even know what an oncologist was. I told him what was told to me the day before. He recommended the oncologist for me but I couldn't see an oncologist until January. The University of Miami told me that that appointment date wasn't too bad. If my gynecologist hadn't made the appointment for me it would've been another three, four or even five months before I saw somebody. I went to the appointment by myself because like I said, I was in denial. I didn't know what the oncologist was going to tell me. My thinking was, those folks made a mistake, they had to have made a mistake. When he said that I had breast cancer, I was screaming and crying. The nurses were hovering around the door. They didn't know what had happened to me. You see, their patients already know they have breast cancer but I didn't. I still was not believing that, you know? He performed my surgery a couple of days later, for a biopsy. He wanted to make sure to confirm it because I went crazy.
He confirmed that all those films that had been taken at the imaging place, all of those months – all showed that I had breast cancer. All of them. Between me going to the very first one up to the time they told me, it was a year and a half. So we did a biopsy, then we went back in and had a lumpectomy. Even thought it was caught early and I did go get my mammogram at the recommended age, I lost my breast anyway.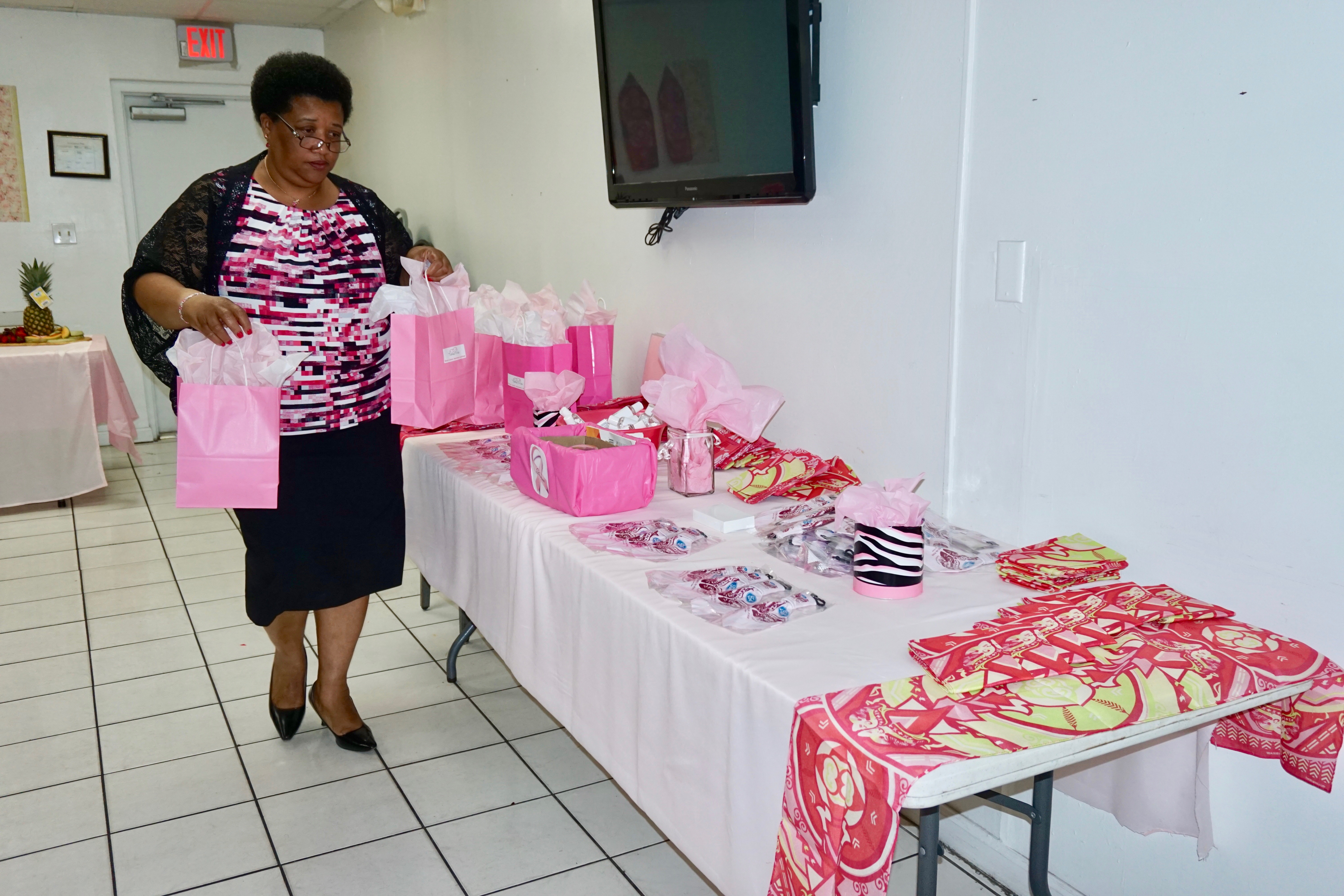 After the surgery I was having all these complications. They said they didn't take enough out so they had to go back in. I just allowed them to do whatever they wanted with me because I didn't know any better. I trusted them because they were the professionals and with me not knowing anything about breast cancer. That quickly changed.
I went through radiation, 45 treatments, 45 days straight. I had third degree burns, my skin was so raw. My skin didn't heal properly from the lumpectomy and guess what? I had a staph infection that put me in the hospital for six days. I was so glad that I was not knowledgeable in those things because that would've overtaken me. I had no idea that I could die from a staph infection. The infection killed the breast, it was dead. A team of doctors came by everyday and they thought the infection had spread throughout my body. About eight months later we tried reconstruction, but apparently the infection was still there.
I had the implant done and a month later, on the Monday after the fourth of July weekend, I called the doctor and told him that there was something wrong with the reconstructed breast. They had to remove it. We didn't even have time to go to the emergency room. The doctor had to remove it in his office and it wasn't pretty, it was not pretty. It looked like a balloon that burst. Every time I took an antibiotic, I could only take it one time and then it wouldn't work anymore. I had to be treated for the infection for two years.
My family was with me, but I only let them see what I wanted them to see. I didn't let them see all of that. Let me tell you something, and I always say this when I go out and speak. We know how to pretend that we are all right. But then I was so angry. My plastic surgeon said, "Pam you are not your happy self," and I turned to him and said, what I got to be happy for? I had never been like that with him and he said, "Pam you need to see somebody." They were giving me round the clock care and I was so gone. I was not mentally there. After all this had happened to me I had to see a therapist. My plastic surgeon recommended a therapist but I did not see one until months later. I had to be treated for depression. Oh my God, it was almost like I was on a course of destroying myself by my own hands.
All kinds of things came up when I was told I had breast cancer including some things in my past that I had not dealt with and I thought I was going crazy. I didn't want to see nobody because you know, in our culture if you see a therapist you are deemed crazy. I was about to lose my freaking mind. I started drinking and like I said, it was almost as if I was destroying myself at my own hands. I didn't know what to do or where to turn. I finally saw a therapist but I wasn't talking. On the third visit, she said, "Pam I don't want you to lose all of your time, insurance-wise, with appointments if you're not going to talk." She said, "How about when you're ready, you come back to me?" I went back to her once and she was right. After one of those drinking binges, I was thinking things and I knew something was wrong with me and I knew I needed help. It was a Saturday afternoon and I called her and I told her something is wrong. I don't feel good. I don't feel like myself. She said, "I need to see you, get into my office on Monday." You know, that therapist called me all day and night that whole weekend. She called me that Saturday and Sunday until I walked into her door on Monday. I am so forever grateful for her doing that. She really saved my life because I was really gone.
I moved to an efficiency and what that ordeal did was lock me inside of a room and I did not want to come out. I felt that everybody knew I had breast cancer. I felt like everybody knew that there was something wrong with me. I would not come out of that room. I was a basket case and I felt like something was missing into my life. But God knows, he knew best. Little did I know he was sending me on a mission.
My therapist told me to do something for myself. I was on my way to see her and I had not done what she asked me. So I said before I get to her office I am going to go out and have lunch, just so I can tell her that I did something. I met this pastor and his wife. They gave me their card and I went to their ministry and I started asking questions about certain things and about my life and why. I started getting into the word of God. I'm going to tell you something. I had this hunger. The pastor answered every question that I asked; every question. I started healing. I started helping others. I started helping women that were dealing with cancer.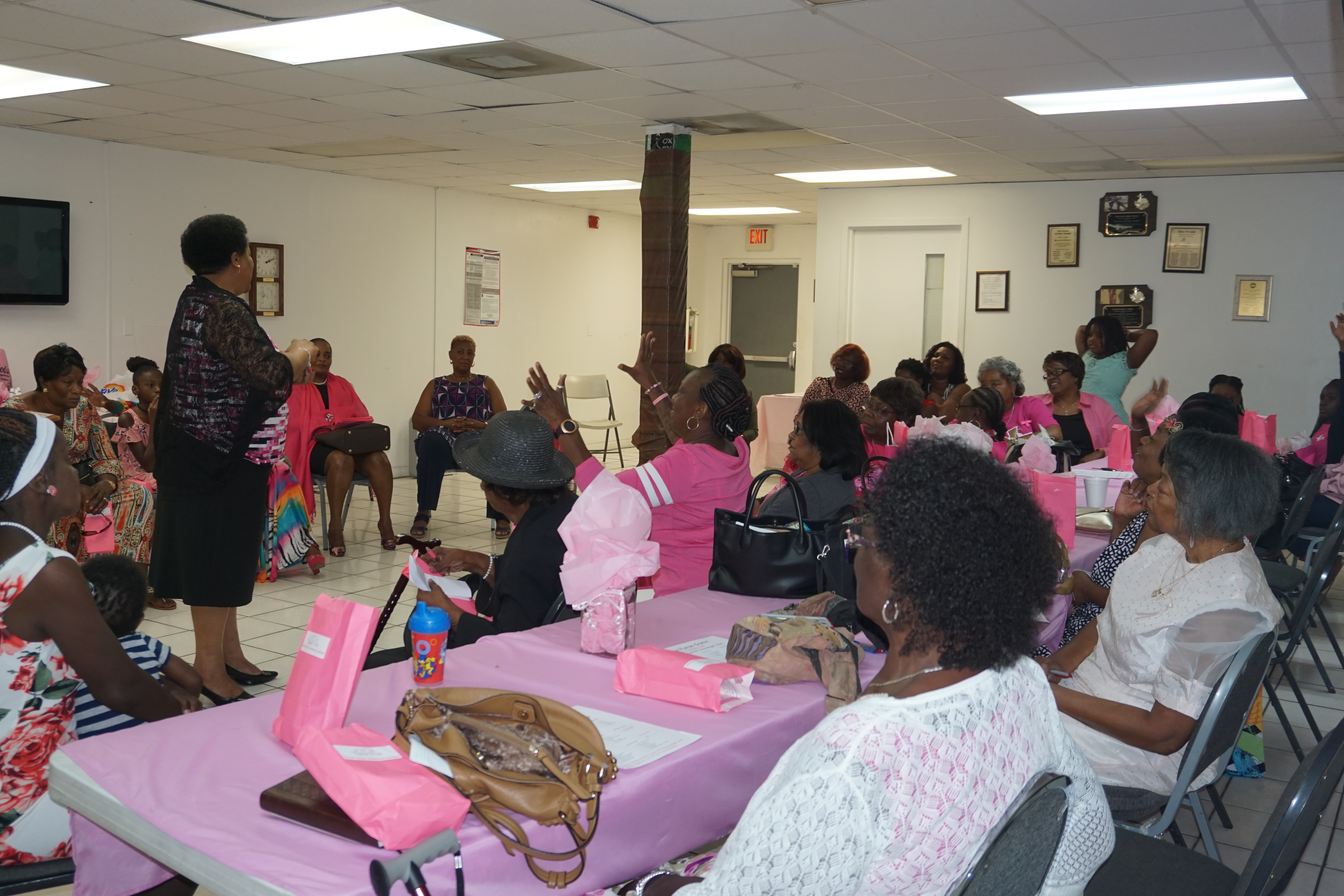 When I started The Beautiful Gate, I was thinking that I was helping others, but little did I know, the Beautiful Gate healed me.
The wife of the pastor I met incorporated the Beautiful Gate for my birthday present. She called me down to the church and sat me down at the kitchen table and gave me the incorporation papers. The Beautiful Gate was founded and we started with a health fair fundraiser and the will to help someone. That was in 2006.
I shared a lot with the pastor's wife and we did some things there with breast cancer. I wanted to have a support group in the community. That was one of the most important things that we needed, the ability to go somewhere and talk about our feelings. For us to talk about breast cancer and not be afraid and the ability to be ourselves. But I always had The Beautiful Gate, God gave me this. I love the books of Acts, which is where The Beautiful Gate got its name from.
I am currently working on the MASS project, which stands for mammogram after Sunday or spiritual service, funded by the Florida Breast Cancer Foundation. We provide breast health care educational seminars, workshops and sometimes we bring the mobile mammogram unit with us; it depends on if the women are available prior to us coming and if they meet the eligible criteria. We present in ministries that are located in high-risk communities for late stage diagnosis of African-American women. We provide education flyers for the ministries to distribute to compel the people to come in. The churches aren't doing that anymore. I don't understand why they are not doing outreach; not saying all of them but they aren't consistent. If there were women in the audience who needed a mammogram, I was trying to make sure we get them then. What makes this project so unique is that we partner with other community organizations that provide free mammograms, such as federally qualified health centers and the state of Florida. Also, I partner with Susan G. Komen, utilizing organizations that they provide funding to. When we go out and educate we let people know the organizations that we partner with who will provide services to them. We have made a difference. We have taken our project all around the state of Florida thanks to the Florida Breast Cancer Foundation. They have been wonderful to me. They've funded five projects in two years, they understand the vision.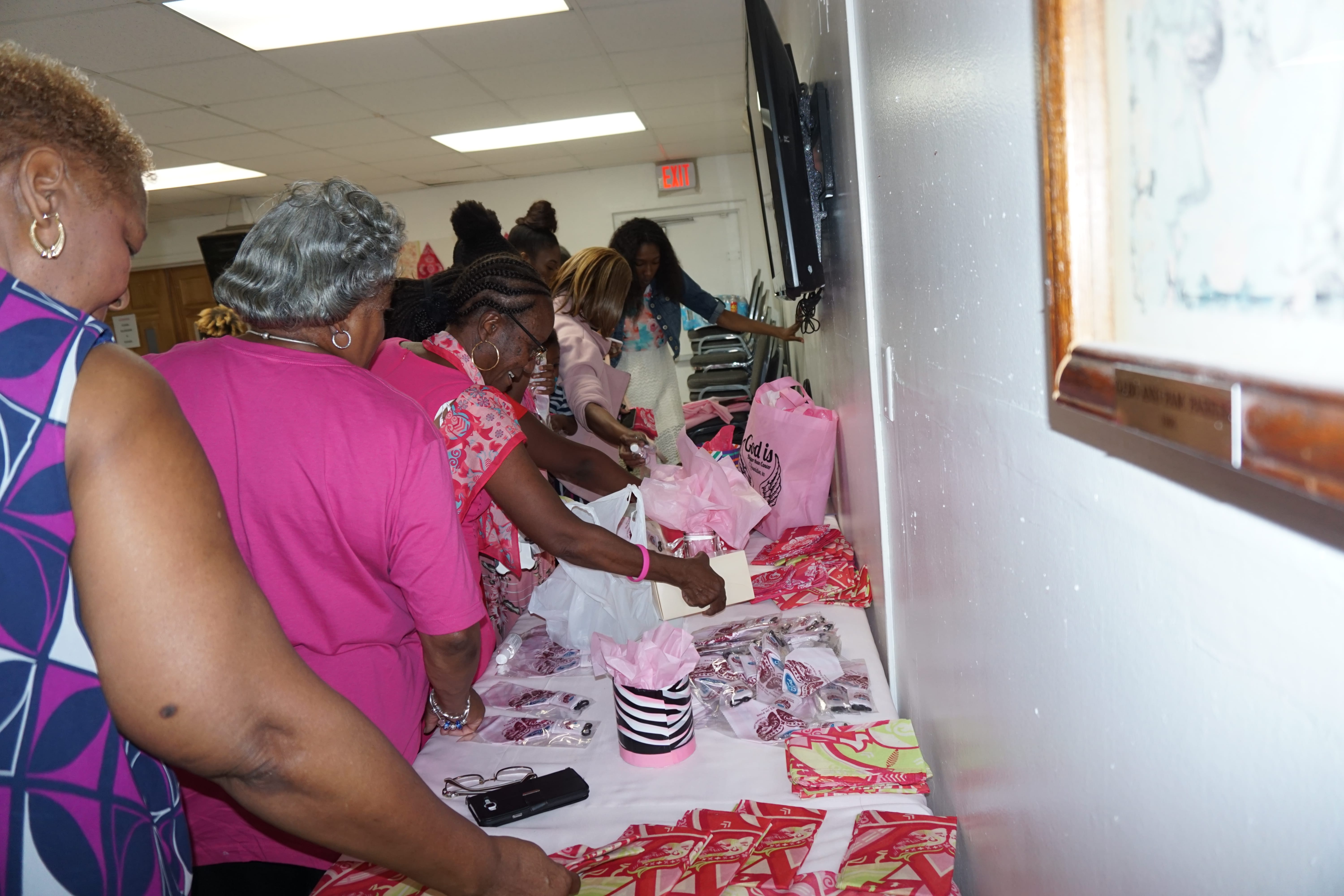 I don't just do this in October, I do this year round. I've been to Stark, Gainesville, Micanopy, Everglades, Homestead and I will be in Belle Glade. I had my very first Spanish MASS two weeks ago. All of the education, literature and film, we had it voiced over in Spanish. It's all about teamwork, all of us coming together.
I never say that I am in remission. When you say remission, you are looking for something to come back. No, I never use those words when I am talking about me. I always say I'm healed. God healed my body. So why would I give it anymore of my time? I need to live. Cancer stopped me from living because all I did was think about cancer all the time. I was not living. I had to change my mindset to live because I wasn't living. If it comes back, God will heal that too. See, my mind is totally different and that is called growth.
I'm living. Today is here and this is all that is promised to me, tomorrow is not and I am just so happy that I am not fearful of what tomorrow might bring. I am going to live for today and I am going to try to be the best person that I can, today. I am going to treat people the best I can, today. All the things I have been through, with the illnesses in my life, God has been so wonderful to me. I am going to let tomorrow take care of itself but today I am going to be the best that I can and that's called growth.