by Tanya Manning-Yarde, Ph.D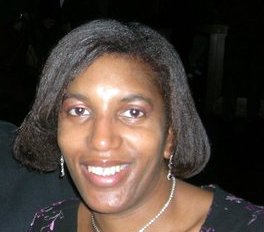 After leaving the workforce in 1997 to raise children, Tonya Johnson is resuscitating her dream deferred.  Her endeavor is challenging.  She aspires to be a writer/editor in a highly competitive industry, seeks full-time employment when jobs are scarce, with minimal disruption to her family.  In this second article about stay-at home and work-at-home moms (SAHM/WAHMs), Tonya shares how she stokes her dream's embers and creates employment opportunities, while giving back to her community and maintaining family life.
Tonya's publishing experience began in the early 1990s in sales and advertising for Fairchild Publications, then Brand Marketing, Salon News, and Creative Designer magazines.  These experiences provided "an overall picture of the magazine business and how it is run," but few opportunities for editorial writing.  Ironically, being a SAHM now serves "as an opportunity to launch my writing career and do the writing I wanted to do."  She can initiate her own writing projects and "start to get my work out there, to pitch ideas and break into the editorial industry."
In her early years as a SAHM, Tonya vigilantly kept abreast of the writing industry.  With young kids in tow, she frequented Barnes and Nobles, following market trends, scouring new publications for potential leads, and researching industry publications.  She sent query letters and pitches to editors hoping to land writing jobs.  In 2004, national and international magazines Iona and Aspire began hiring her as a freelancer. She interviewed celebrities Victoria Rowell and Hill Harper and wrote book reviews.  Later she was hired to write an article for the New Jersey Star Ledger and articles for Black Enterprise's online edition.
Albeit nonpaying, Tonya advocates volunteerism as a means to build one's career.  In 2003, Jean Nash Wells, editor-in-chief and co-founder of Positive Community, asked Tonya to write feature articles and columns.  Tonya credits Ms. Wells with her "big break"; from it she began building her portfolio of writing clips and reputation.  In 2008, while her children attended Watchung Elementary School, Tonya became a school level advocate for the Montclair Public Schools Health and Wellness Partnership. Hearing of Tonya's writing skills, she was asked to become a writing consultant for its communications. For two years she wrote promotions and articles covering different school level and annual events.
Although seeking full-time employment for several years, Tonya uses her current part-time job as an editorial assistant and columnist to foster future prospects. In 2010 she began working for The Item of Millburn and Short Hills, a news publication of the North Jersey Media Group, writing articles about community and religious events as well as obituaries.  Through this practical experience she "knows what it is to get a newspaper out, to work on the page layouts" and is "learning even more about editing and proofreading."  This allows Tonya to promote herself as a consistently employed newsroom writer.  "With it being so hard to break in all the time, at least now this is the one thing I have to say that I actually have worked in an editorial office."
Tonya is equally devoted to inspiring children to read. In 2006, she coordinated and co-hosted an author reading series at her kids' elementary school for its annual Black History Month celebration. Recently she created a themed party for her daughter's birthday, featuring adolescent literature author Crystal Velasquez.  Ms. Velasquez read from and shared copies of her recent book Your Life but Sweeter, discussed her writing process, and created with the girls a variety of homemade pastries.
Tonya believes children need role models, and literature can provide them.  "There needs to be more books about people our kids have never heard of, buried in history or not even out there."  In 2005 she began drafting a children's biography of late playwright August Wilson.  "Children might learn something from his life, such as never giving up, always following your passion in life, which is what he always did." She is conducting and transcribing interviews of family members and people involved in Wilson's life, completing a draft by year's end.
With teenage children, carving out time to write has become easier because they are more independent, but remains challenging because of their school programs and extra-curricular activities.  She is not able to keep to a writing routine or schedule.  Consequently, she writes very early in the morning or late at night, and keeps a notebook to archive, retrieve and revisit ideas.
Tonya and husband Gerald of nearly 17 years work as partners to maintain their family.  Weekly they study the Bible, extrapolating life lessons.  They eat dinner together.  As a couple, they carve out time for nighttime walks to talk about their days and make plans for their family. Favorite family pastimes include movies and baseball games. They attend church and frequent local, cultural and educational events.  Tonya makes "dates" with each of her children to spend one-on-one time supporting each kid's artistic interests.
The decision to become a SAHM has its rewards and sacrifices. However, through volunteerism, freelancing, part-time employment, personal writing projects and public service, Tonya has been able to successfully invest in career, community, and family.
Tonya Johnson can be reached at tonyam69@gmail.com.