By Serghie Faustin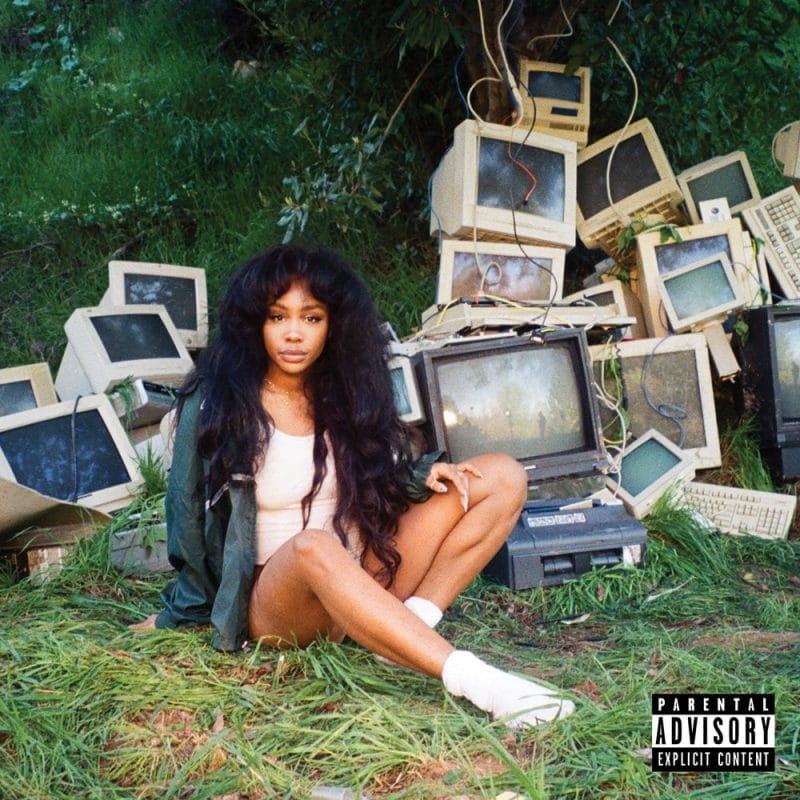 Photo Credit: Sage Adams
SZA's nostalgic album cover for her "CTRL" album.
June 9th 2018 marked the one-year anniversary of the release of SZA's ground breaking "CTRL" album. After dropping EPs over the years such as "SeeSZARun" and "Z," the talented singer and songwriter released her debut studio album "CTRL" on June 9th 2017. For those who may not know, Solána Imani Rowe, or SZA on stage, is the first lady of the label Top Dawg Entertainment (TDE), which houses artists such as Schoolboy Q and Kendrick Lamar. The 27-year old took a four-year hiatus before dropping the emotionally charged album. It'd be an understatement to say that her fans, including me, were elated once "CTRL" was finally available for pre-order. The response from listeners proved that the wait was well worth it.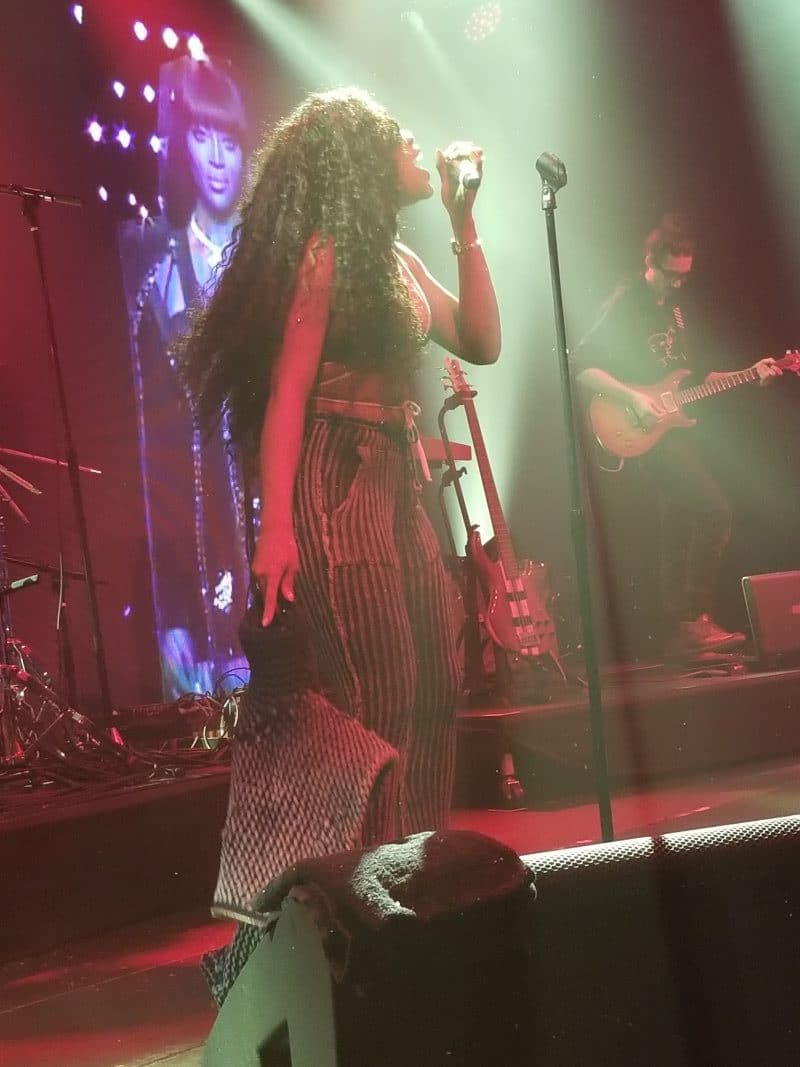 Photo Credit: Serghie Faustin
SZA seen performing at Pandora's "Sounds Like You" showcase.
SZA didn't wait too long after the release of "CTRL" to go on her own tour for the first time. The appropriately named "CTRL Tour" kicked off later on that summer with some shows selling out in just days! Even through sickness, which she encountered during the tour, SZA was still able to attend free shows such as TDE's "Holiday Toy Drive", Pandora's "Sounds Like You," and The Mastercard House's "Start Something Priceless." As a token of her dedication, the powerhouse singer even extended her tour so she could attend the shows she had to cancel while she was ill. While on the road, "CTRL" was making numbers that SZA herself didn't even anticipate.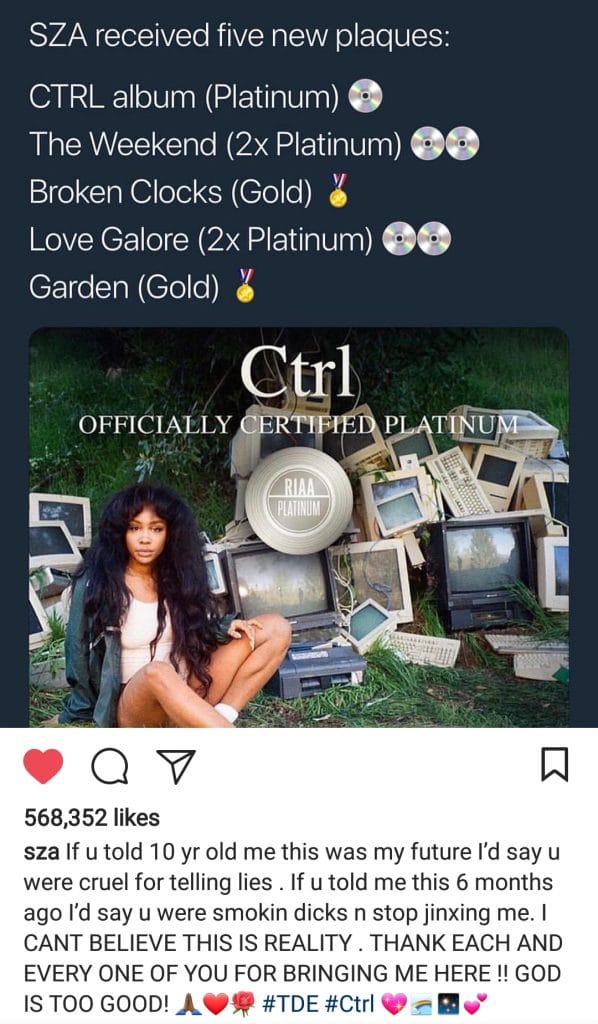 Photo Credit: Screenshot from SZA's Instagram
"CTRL" soon became a certified platinum album! Songs such as "Love Galore," which had an impactful feature from Travis Scott, and "The Weekend," which Solange Knowles directed the music video for, went double platinum. The New Jersey native was clearly thrown by the news. That's one of SZA's consistent qualities, that no matter how much she accomplishes she never stops being humble and grateful. SZA has even written for artists as big as Beyoncé and Rihanna, but she probably wouldn't even mention that if she wasn't asked!
Besides going on her first tour, SZA graced other stages during other special events. She was asked to perform at Michael Jordan's birthday party. Coachella, a festival that most artists would consider is the place you perform when you've finally made it, invited SZA back for the second time to perform her own set. Â Finally, to tie everything together in a neatly wrapped ribbon, she was inducted into the Hall of Fame at Columbia High School, her old high school, four days before the anniversary of "CTRL." This is something the Maplewood native has wanted for a while, and she mentioned this in an interview with Big Boy earlier in 2017. "Easily, the highest honor I've ever received" is what she wrote under an Instagram post of a video clip from the meaningful moment. See what I mean by humble? An artist that was the most nominated female for the 2018 Grammys places a high school Hall of Fame award over five Grammy nominations. Wow, other artists should start taking notes.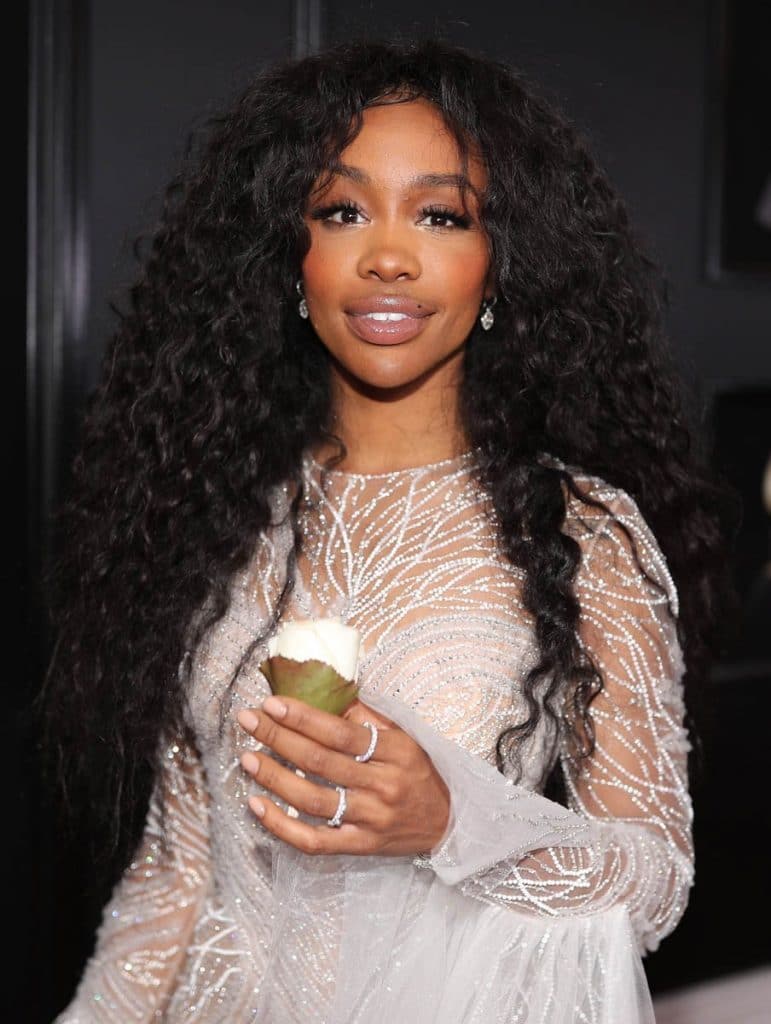 SZA being photographed on the red carpet at the 60th Annual Grammy Awards.
Solána's eventful year can prove one thing to all of us: Hard work will never fail you. Solána has mentioned multiple times how almost miraculous and accidental her singing career was. She dropped out of college, worked as many jobs as you can imagine, and at one point had to sleep on other people's couches. Her intent never was to go into music. The fact that life took the direction it did for SZA can also teach us another lesson, and it's that where you came from does not define where you're headed. Your high school experience has no direct correlation to your future. Just like SZA sung in her extremely relatable song "Normal Girl," "This time next year, I'll be livin' so good. Won't remember no pain, I swear." With your passion and work ethic, we know, SZA. We know.