By Nicollette Samuels
Olay Body's new body wash collection, The Fearless Artist Series, highlights women of color in art and science. This collection is a part of Olay's commitment to uplift the stories of women of color in STEAM, (science, technology, engineering, art, and math), while increasing representation and visibility of products designed for women of color. The collection features bottle artwork by African American artist Avery Williamson. To celebrate the launch of the new collection, Olay Body hosted a virtual event featuring Williamson, along with CEO and founder of Fearless Artist Media, Kiki Somerville in a discussion of their contributions to the collection and their experiences as Black women in art.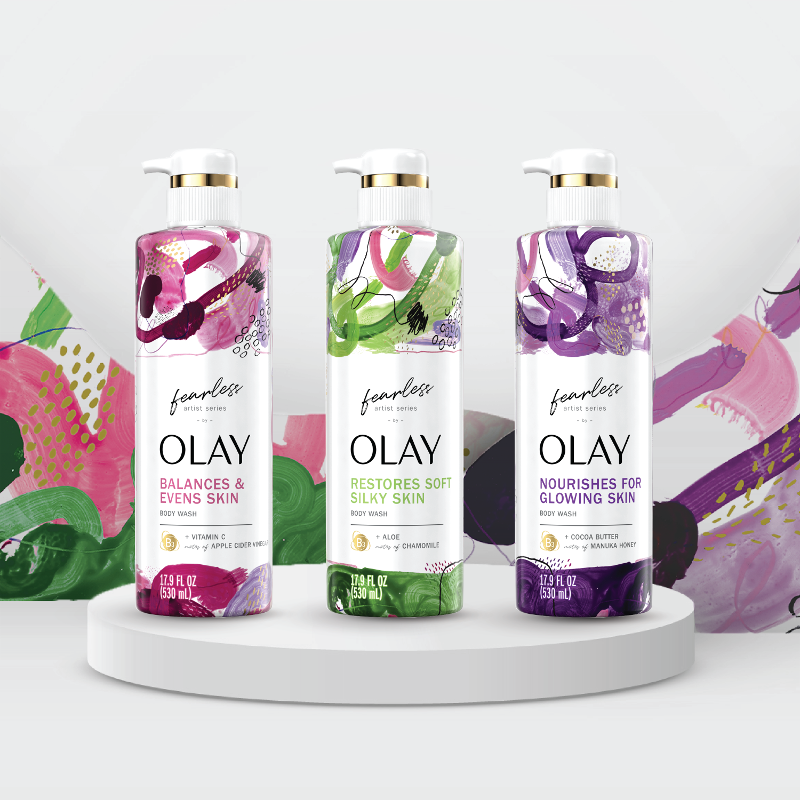 The Fearless Artist Series collection consists of 3 hydrating bodywashes infused with Olay's proprietary Vitamin B3 Complex and petrolatum, the top dermatologist-recommended moisturizing ingredient, to help hydrate and repair the skin's moisture barrier.
The Restores Soft Silky Skin body wash is made with aloe and notes of chamomile which leaves the skin feeling smooth and soft.
The Nourishes for Glowing Skin body wash includes cocoa butter and notes of manuka honey that leaves the skin glowing and radiant.
The Balances and Evens Skin body wash is created with vitamin C and notes of apple cider vinegar to hydrate and balance the skin.
Dr. Elyse Love is an Olay Body brand partner, as well as a board-certified dermatologist practicing medical and cosmetic dermatology at Gramercy Laser and Medical dermatology in New York City. She joined the conversation to discuss the uniqueness and misconceptions of melanated skin and how to maintain skin health.
Melanin is the pigment that gives skin, hair, nails, and eyes their color. Every human being has melanin, but what makes us different is the concentration of melanin. What makes skin of color special is that it has high concentrations of melanin, which means that it has natural protection (to a certain degree) from sun exposure, giving it a delay and decrease in skin aging and skin cancer.
On the flip side, melanin is very sensitive and reactive. The number one skin concern in skin of color is hyperpigmentation because everything causes it. This can include sunlight, pollution, dry skin, acne, etc.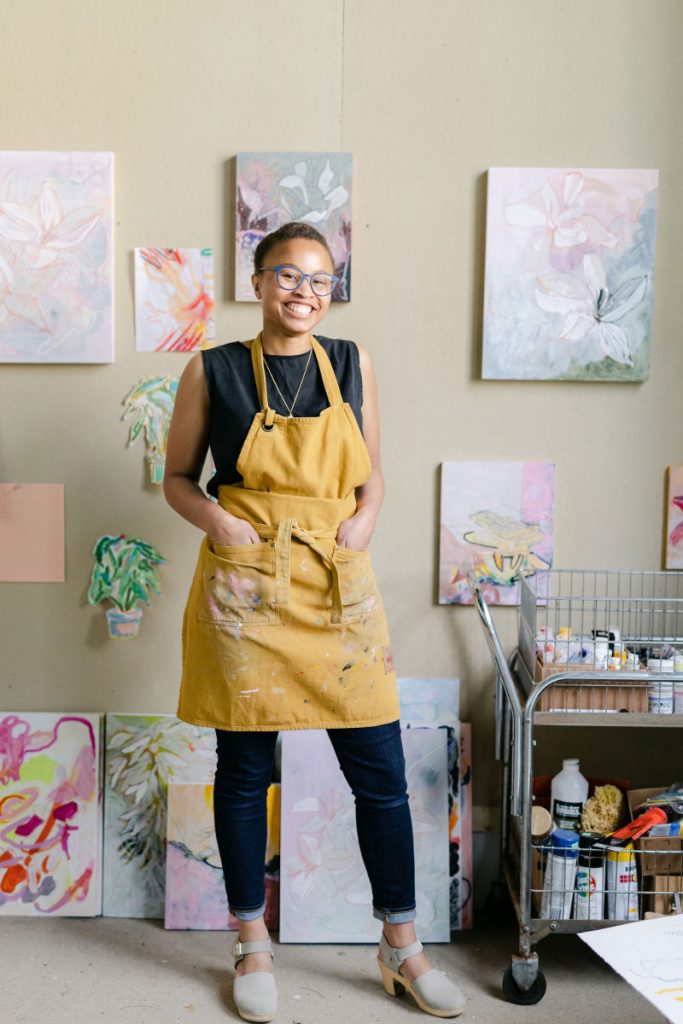 Two myths or misconceptions Dr. Love addressed about melanated skin were:
1. Skin of color does not need any sun protection.
This statement is false although it is widely believed. The amount of sun protection provided by one's natural skin varies depending on the tone, but studies show that it ranges from SPF 4 to SPF 7. This can prevent the skin from getting severe sunburn but there are still many other problems caused by sun damage like hyperpigmentation, light spots, DPNs, and even skin cancer.
2. Black doesn't crack.
"It doesn't really crack, but it definitely can sag," said Dr. Love. This is because while fine lines and wrinkles are delayed in skin of color, the sun damages the collagen that gives the skin its plump and radiant appearance. That is when the sagging and heaviness of the skin starts to appear.
Therefore, adequate sun protection is important to prevent the top two problems seen in skin of color, hyperpigmentation and skin sagging.
All skin is important, not just the parts on the face. The skin's purpose is to protect from the outside environment, especially bacteria, fungi, and viruses, so it is important to take care of the skin's barrier.
"One of the most important things for a skincare routine for people of color, specifically women of color, is having a gentile cleanser that will effectively cleanse and remove pollution and the outside environment without dehydrating the skin," said Dr. Love. She recommends a highly effective moisturizer and some type of active ingredient that helps to regulate pigment production. Some of Dr. Love's favorites are vitamin C and retinol. She also loves ingredients like glycerin, niacinamide, and petrolatum.
Senior Brand Manager of Digital Content at Procter and Gamble, Jazmyne Reid, conducted an interview with artist Avery Williamson and CEO Kiki Somerville to discuss their contributions and their experiences as Black women in art.
Avery Williamson is an artist from Ann Arbor, Michigan whose work conveys the narratives of Black women in personal and institutional archives. She is a graduate of Harvard College, and her work includes photography, painting, jewelry, drawing, and collage.
Kiki Somerville is the CEO and founder of Fearless Artist Media and TFAPOPUP (The Fearless Artist Pop Up Gallery) and the creator of The Fearless Artist Method. She is currently a member of the inaugural cohort of the MFA in the Social Practice Program at the Corcoran School of the Arts and Design in Washington D.C., where she studies the intersections of art, community engagement, and public policy. She is working to level the playing field for emerging artists.
"Black women are my lineage," said Williamson when discussing her artistic process and inspiration. To think about Black women comes naturally when she is creating her art. She thinks about their stories of endurance, inner lives, and conversations; it is a celebration of who she is. She wants to show Black women as complex and not bounded by history.
Williamson thought about the physical experiences when using a body wash for her new Olay Body collection artwork. She also thought about the senses and texture. "My first language is English, but my second language is line, color, shape, form, and texture. That is how I process the world and how I express myself," Williamson shared. The bloom of an aloe plant, the way manuka honey flows when poured, and the lines of flowers were all important to capture when creating her abstract designs. She wanted the bottle to reflect the importance of self-care and pleasure.
Somerville was inspired to create her gallery to showcase the talent of emerging and undiscovered artists and give them a platform, while connecting them to art buyers, fans, press, and art industry professionals. She also wanted to create a community where artists feel empowered and provide them with coaching. Since 2014 she has shown the work of over 300 international artists to tens of thousands of people in Art Basel at Miami Beach.
When asked what more could be done for artists to increase their representation in the art world, Somerville recommended that all artists get an Art Business education and a community or network of other supportive art lovers to gain feedback, mentorship, and opportunities.
"Black artists in particular need to be treated fairly in the systems that comprise the art world. They need to be respected for their journey and their unique point of view," Somerville expressed.
Being a Black woman herself with a platform, it is important for her to reflect that sense of love taught by her mother. That is why she makes it her duty to highlight all women artists and supports women of color and get their stories told.
Williamson defines fearlessness as "being conscious of fear and of the real risks and still proceeding thoughtfully, being open to what could be." What makes Somerville fearless is her belief in herself and her acceptance of failure and being wrong. Doing what makes her feel passionate and living in her purpose unapologetically.