By Nicollette Samuels
New York Fashion Week is one of the most exciting times of the year, especially if you are interested in beauty and fashion. The highly anticipated Maki Oh Spring 2020 Runway Show, sponsored by Tresemmé, took place last Monday, September 9th. Maki Oh founder, Amaka Osakwe, born in Lagos, Nigeria utilizes her culture to create traditional African inspired womenswear with modern detailed construction. The brand has been worn by the likes of Issa Rae, Beyoncé, Lady Gaga, and former First Lady, Michelle Obama. Maki Oh is notable for using models of color in its runway shows; this year even more color was seen on the runway due to the bright makeup looks and accessorized hair.
MAKEUP
The makeup this year was bright and striking. Shiseido makeup artist, Takeda Rena created three types of looks that each accentuated different parts of the face.
The first look focused on the cheeks using Shiseido Minimalist Whipped Powder Blush in various shades to create a watercolor effect along the cheeks, cheekbones, and temples with bright pinks, purples, and oranges. The watercolor effect has become a new trend especially around the eyes. I am sure there will be a lot more watercolor inspired looks seen among makeup artists and beauty enthusiasts alike.
Shiseido's second look was fixated on the lips, using lip color around the edge of the lips forming a vivid outlined look. This look was created using the Shiseido ModernMatte power Lipstick, VisionAiry Gel Lipstick, and Crystal GelGloss. The contrast between the colored edge and the natural color of the lips brought to mind beauty trends from the 90s.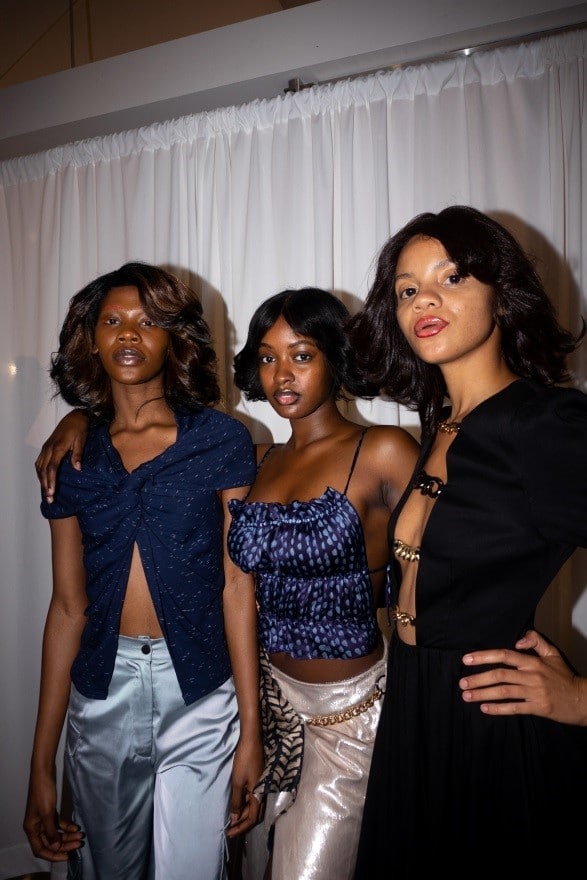 The final look was eye focused; the look created was a bold blue and orange eyebrow and lash using colored Shiseido Controlled Chaos Mascara.
HAIR
The hair looks this year were sponsored by Tresemmé and led by Unilever Hair expert and hair stylist Ursula Stephen. One of the most fascinating hairstyles of the night was a "Finger Wave Dominatrix Braid," pictured below. The hair was tightly braided and then woven with pieces of fabric within and around the braid. This hairstyle reminded me of a Chinese ladder braid – very sleek, put together and powerful; I am sure this is what they were going for, especially with a name like "Dominatrix Braid."
Overall, the show was nothing short of amazing and I look forward to seeing more from this multi-dimensional fashion house.